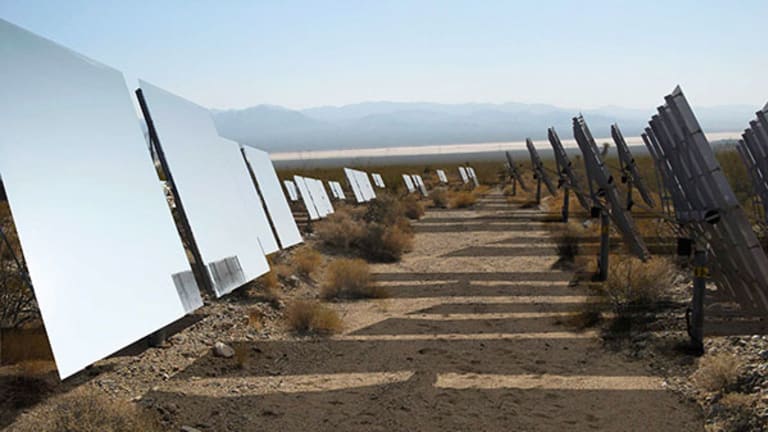 Why Solar Energy Stocks Are Poised to Shine in 2016
What's an investor to do with oil and gas prices so low? Dan Dicker, energy contributor for TheStreet.com, says consider solar stocks.
The coming year is not looking very promising for energy. Oil prices are slumping and look like they will continue to underperform for at least the first half of 2016. Natural gas, if anything, looks worse. Can we find anything in the energy space to interest our investment dollars in the first half of 2016?
One sub-sector looks primed to do better in the coming year: Solar stocks.
Normally, I believe the renewable sector of energy can only do well when oil stocks are doing well. Why? Because despite all our good wishes to have renewable energy replace fossil fuels whenever it can, wind, geothermal and solar energy are still not competitive with oil, coal and gas -- and particularly not as oil hovers below $40 a barrel and natural gas near $2/mcf.
But incentives to increase the global exposure of alternatives and particularly solar power continue to grow and despite its relative inefficiencies, we will continue to see a steady double-digit growth of solar electric generation for 2016 and beyond.
Two recent events make that growth even more sure: The Paris climate accord just signed, and the US Congress extension of renewable tax-credits through 2020.
The agreed carbon targets of the Paris accord were not universal, with each of the 160 countries and particularly the big three of Russia, China and the U.S. contributing their own reduction schedules. Nothing that was in the Paris accord represented a new proposal, nor are they likely to result in a less than 2 degree warming in the climate, the professed goal of the gathering. Still, the collective agreement represents a continued global commitment to increasing dependence upon renewables in the coming decade, despite lower conventional energy prices.
More important for the industry, however, was the recent extension of tax incentives for renewable energy projects, slated to end in 2017 but now extended through 2020. Several long-term solar installations, which otherwise would not be cost effective, can progress only with the help of tax incentives. Another three years of rebates means solar will again figure strongly into replacing the continuing retirement of coal generation.
First Solar (FSLR) - Get First Solar, Inc. Report , because of its largely commercial exposure, remains the likely stock choice when starting a renewables portfolio. It is foremost in precisely the intensive capital, commercial generation projects that the extension of tax incentives is designed to push forward.
J A Solar (JASO) is a Chinese panel maker that has come through the competitive battles in wafer construction and supply with a relatively honest balance sheet and strong exposure in commercial applications as well. It is the other solar stock that deserves a spot on your radar.
While oil and gas may not be the easiest places to invest in energy in 2016, solar is quite likely to have a positive year -- and deserves to be a part of everyone's energy portfolio.
This article is commentary by an independent contributor. At the time of publication, the author held no positions in the stocks mentioned.