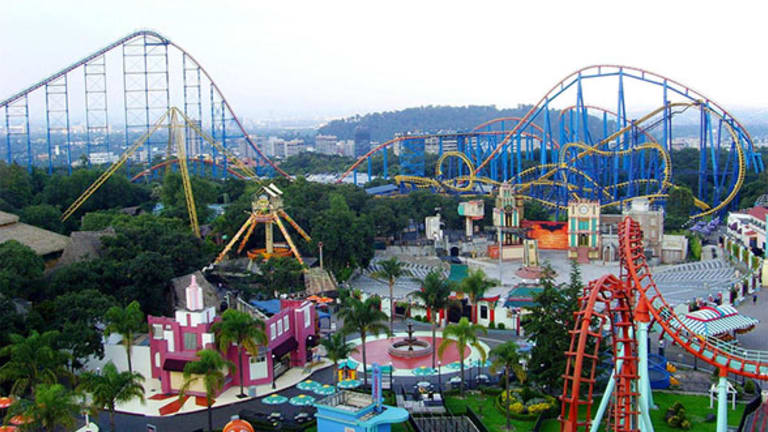 Why Six Flags Wants to Open a Theme Park in the Middle East
Six Flags Entertainment announced plans to expand to Saudi Arabia on Monday morning.
Six Flags Entertainment announced plans to expand to Saudi Arabia on Monday morning.
Six Flags Entertainment (SIX) - Get Report is interested in international expansion, however cultural gaps may prove a challenge to development in the venture.
Executives with the Grand Prairie, Texas-based Six Flags said Monday they are in talks with deputy crown Prince Mohammed bin Salman about the possibility of opening parks in Saudi Arabia. No formal agreement was reached to expand into the Middle East, excluding a location in Dubai that was announced in 2014, according to a Six Flags spokeswoman. Agreements have also been made in China and Vietnam.
Joe Edelstein with Stephens said international markets for theme parks could bring "attractive margins" over time because companies won't invest any initial capital. Licensing deals like this, Edelstein said, are "low risk" for the companies offering their brands.
"It's a very high return," he said. "They are taking a very low risk approach by not investing their own capital and using the licensing of the name to enter the international market."
When Six Flags makes a licensing deal abroad, that location is basically paying to use its name on a per-park basis. Edelstein said the highest revenue will come when international locations are up and running, as licensing fees will double beyond the initial payment. The new park in Dubai will likely garner hefty gains and give Six Flags a "bigger lift" in 2019, he added.
Profits from these fees are the main source of revenue -- but only in the long run, Edelstein added. Analysts forecast an earnings increase of nearly 20% in 2016, but only about a 12% gain in 2017. This is because many of their locations abroad won't be ready for visitors until at least 2019.
For the quarter ended March 31 Six Flags reported a total revenue of $115 million, compared to $85 million in the same quarter in 2015. The company narrowed its losses from about $70 million in 2015 to nearly $47 million year-to-year. Six Flags had negative Ebitda of $9 million in the first quarter of 2016 compared to negative $23 million in the same time period last year.
If Six Flags is successful in inking a deal to open a theme park in Saudi Arabia, there are still hurdles to gaining traction. The risk of creating these new locations isn't just the slow up-take for revenue; it's also the risk of making the parks culturally relevant and appropriate for a region.
Especially in Saudi Arabia, a deeply-rooted Islamic state, some conservative laws may not mingle well with a U.S. theme park environment. According to the nonprofit Freedom House, the kingdom is gender segregated by religious police that often "harass women, using physical punishment to ensure compliance." Women are also required to wear conservative, loose fitting clothing and a full-length cloak (abaya) in public and cannot drive cars.
"[Women] are not permitted to drive cars and must obtain permission from a male guardian in order to travel within or outside of the country," reads the latest Freedom House report on the kingdom. This would obviously impact attendance, as well as the structure of the theme park experience for visitors.
In addition, Ramadan this year began on June 6 and will end on July 5, making it illegal to eat, drink and smoke in public during the daylight. According to UK.gov, the law is strictly enforced. This marks the beginning of theme park season in the U.S., where most of its revenue begins for the summer. UK.gov also noted that alcohol is strictly forbidden and can result in prison sentences for its possession or trade.
Structuring a location around these laws is essential to the success of an international park, evident in other recent ventures abroad in the leisure industry. Disney (DIS) - Get Report opened its $5.5 billion project in Asia, Shanghai Disney, earlier this month. It joins Tokyo Disney, Disneyland Paris and Hong Kong Disneyland in its international ventures. 
Since its opening, visitors have noticed the company's small nods to Chinese culture -- tea house restaurants, a zodiac calendar cherry blossom garden, authentic Chinese food with little choice for Western grub and hot water dispensers to brew tea.
"There's more of a Chinese feel to it than to Hong Kong Disney, that's for sure," Stefan Zwanzger, a German theme park expert who runs the website thethemeparkguy.com, told the LA Times. "But again, it's not a Chinese Disneyland; it's a Disney park with Chinese elements here and there."
The steps to getting the park in China were, not surprisingly, far from easy. The New York Times reported that Disney executives approved everything going into parks through the Communist Party. 
But the situation in China would be much different than in Saudi Arabia -- more than 330 million people live within a three-hour commute of Shanghai Disney. In Saudi Arabia, the entire population totals about 28 million.
There are a handful of existing theme parks in the kingdom today, including Al Shallal Theme Park in Jeddah and Al Hokair Land in Riyadh, but reviews are mixed online on gender segregation inside the parks.
The company currently operates 19 theme and water parks in the U.S. with locations in Mexico City and Montreal, but its interest in the Middle East follows a bout of significant recovery. In June 2009 the company filed for Chapter 11 bankruptcy protection. Since then, it has been driving up revenue through annual ticket price increases and seasonal pass memberships. During the 2015 season, 56% of attendance came from pass holders, up from 32% in 2010, according to the company's website.
Barton Crockett with FBR & Co. noted earlier this month that domestic theme park season started positively for Six Flags. 
"We believe a new leg to the growth story could come from its rapid embrace of virtual reality technology for coasters and from growing momentum in international licensing," Crockett wrote.
Chief Financial Officer John Duffey said he was "honored" with the "opportunity to enter into a partnership" with the state in an announcement to Al Arabiya News Channel following his meeting with Prince Mohammed. He did not elaborate on further details of the talks.