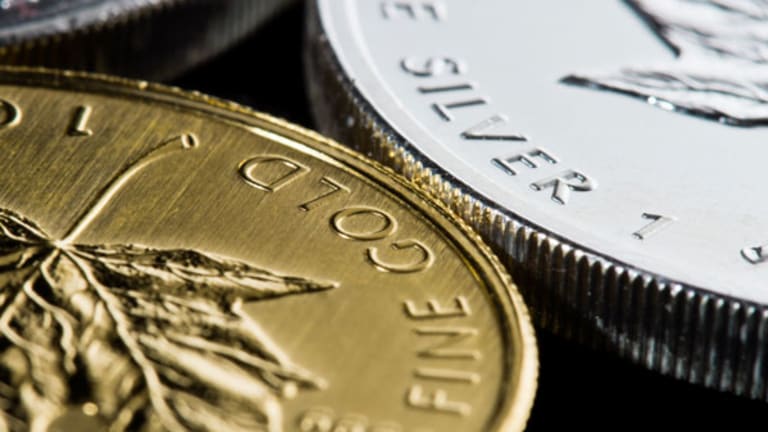 Why Silver Could Outshine Gold
After suffering a long downturn, silver looks relatively cheap.
NEW YORK ( TheStreet ) -- Silver bulls owe a debt to Russian President Vladimir Putin.
With markets unsettled by the Russian move into Crimea, precious metals have climbed.
This year, iShares Silver SLV (ETF) (SLV) - Get iShares Silver Trust Report has gained 7%, and PureFunds ISE Junior Silver (SILJ) - Get ETFMG Prime Junior Silver Miners ETF Report has ranked as one of the top-performing returning exchange-traded funds, returning 36.7%.
"People are looking for safe havens, and that has helped silver prices in the last few months," says Jay Jacobs, a research analyst for Global X Funds, which operates ETFs.
Can silver keep shining? That is hard to know. If Putin retreats, prices could soften. But there are good reasons to include silver in a commodities portfolio. A dose of silver can help to diversify gold-heavy commodity positions, and silver looks relatively cheap compared with gold.
In recent months, silver has risen in lockstep with gold as investors sought safety. But the two precious metals don't always move in tandem.
In the turmoil of 2008, iShares Silver lost 23.4%, while SPDR Gold Trust (ETF) (GLD) - Get SPDR Gold Shares ETF Report gained 5%. In 2010, the silver ETF rose 82.1%, compared with a gain of 29.3% for the gold fund.
Silver prices don't always track gold because the two precious metals serve somewhat different markets. While gold and silver are both used for investments and jewelry, silver has additional industrial customers, including fast-growing makers of mobile phones, television screens and solar panels. As a result, silver sometimes rises and falls along with industrial metals, such as copper.
Even when it tracks gold, silver can be especially volatile because supplies are relatively small. So trades by a limited number of investors can push prices up or down sharply.
The latest silver rally represents a big turnaround from recent years. With markets shaken by the European crisis, silver reached a high of $48.70 an ounce in April 2011. Then investors gradually regained their confidence and shifted to stocks.
Silver prices sank, hitting $19.50 at the end of 2013. This year, silver has climbed back to $21.36.
"By late last year, the overwhelming consensus was against silver, and the market was ripe for a turnaround," says Andrew Chanin, CEO of PureFunds, a provider of commodities-based ETFs.
Some analysts figure that silver is likely to outpace gold in the next rally. They say that silver has lagged lately and now appears to be modestly priced compared with gold.
During the past three years, iShares Silver lost 16.7% annually, compared with a loss of 2.5% for SPDR Gold. An ounce of gold now costs $1331, about 66 times the price of an ounce of silver. As recently as April 2011, gold sold for only 34 times the silver price, according to CPM Group, a commodities consultant.
To play precious metals, you can buy ETFs that hold either bullion or mining stocks. Because it holds bullion, iShares Silver rises and falls along with silver prices. Funds that own mining stocks tend to be more volatile, rising sharply when prices climb.
To appreciate why mining stocks can soar, consider that it costs about $20 to produce an ounce of silver. When the price rises to $21, the mine can earn profits. If the price jumps to $22, profits will double. But the same $1 move would result in only a small percentage gain for a holder of bullion.
For maximum returns -- and greatest risks -- consider PureFunds ISE Junior Silver, which holds a portfolio of 24 small stocks. Some of the companies are producing silver, but many are still exploring and have yet to deliver profits.
When the price of silver rises, the odds of turning profits jumps for the small miners and their stocks can skyrocket. But things can sour in down markets. During 2013, the PureFunds ETF lost 53.6%.
For a bit more stability, try Global X Silver Miners (SIL) - Get Global X Silver Miners ETF Report, which excludes the tiniest miners. Some of the ETF's holdings are large companies with solid profits.
At the time of publication, the author had no position in any of the stocks mentioned.
This article represents the opinion of a contributor and not necessarily that of TheStreet or its editorial staff.