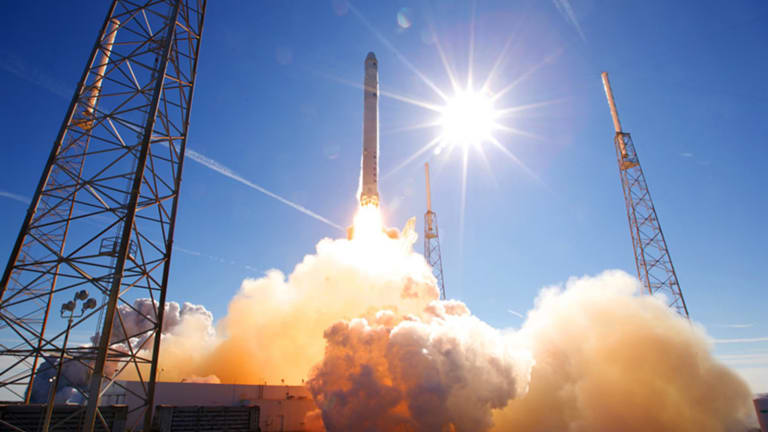 Why Shares of SpaceX Supplier Hexcel Could Soar in 2016
Booming demand for ultra-sturdy composites from aerospace companies such as SpaceX is defying global economic uncertainty, positioning materials manufacturer Hexcel (HXL) for growth.
Elon Musk's SpaceX announced this month the ambitious timetable of launching a new rocket every few weeks, for a total of 16 more launches in 2016. SpaceX's ultimate goal is to shoot for the moon and even Mars.
In this context, it's worth noting that the first lunar footprints didn't actually come from Neil Armstrong. That distinction belongs to Hexcel  (HXL) - Get Hexcel Corporation Report , which is scheduled to report first-quarter fiscal 2016 earnings on Wednesday, April 20.
A pioneer in the manufacture of high-performance materials, Hexcel made the composite footpads on the Apollo 11 lunar module, as well as components for the Mercury and Gemini space programs. Hexcel continues to dominate the composites market and is positioned to ride the accelerating shift toward these super-tough materials in a wide range of industries. And yes, SpaceX is a Hexcel customer.
We think Hexcel is among the most exciting growth stock stories of 2016.
Composites are polymer materials reinforced with carbon fiber, forming a strengthened combination that's light, flexible and durable. The next decade will see an explosion in the use of composite materials, in a variety of applications that include cars, trains, planes, satellites, boats, bicycles, housing materials, sporting goods and wind energy.
The consensus forecast for adjusted earnings per share for Hexcel for the first quarter is 59 cents, a penny better than the adjusted EPS for the same quarter a year earlier. But Hexcel is coming off a strong year. Fourth-quarter fiscal 2015 diluted EPS came in at 56 cents, an increase of 4% compared with the same quarter a year earlier. Full-year adjusted EPS came in at $2.32, a year-over-year increase of 7%.
Hexcel is enjoying several strong tailwinds. A 2012 study from the Freedonia Group, a research firm, forecast that composite sales in the U.S. alone would rise at a compound annual growth rate of 15% annually, to $10.2 billion by the end of 2016. Another report in 2012 said that the two biggest industrial applications for carbon fiber technology -- automotive and wind energy, would account for 46% of the world's total demand by 2020. By tapping these powerful trends, Hexcel belongs to a group of technology stocks on a course for multiyear growth.
The best play on the world's growing thirst for composites is Stamford, Conn.-based Hexcel, the leading U.S.-producer of carbon fiber and by far the No. 1 producer of aerospace composite materials.
Hexcel maintains three divisions: commercial aerospace, space and defense, and industrial. Hexcel is a leading supplier of composites for all markets, but the company's greatest opportunities for growth stem from aerospace, where the use of composites is the most significant manufacturing watershed since aluminum replaced wood in the 1920s.
Hexcel is the chief composite supplier for aerospace giant Boeing, which has bet the farm on its new Dreamliner 787, a composite-built passenger aircraft. Composites offer dramatic performance benefits for aircraft, including reduced weight, improved fuel burn and better resistance against corrosion and damage.
Hexcel's materials also are found in General Electric engines and Lockheed Martin fighter jets, high-tech products that are enjoying burgeoning demand as the aerospace and defense industries surge.
Hexcel stock now trades at $44.02. The median 12-month price target from analysts covering the stock is $47.50 , suggesting shares can gain another 8% this year. The highest price target from analysts is $60, which implies a whopping 36% gain. 
Hexcel sports a trailing price-to-earnings ratio of 18, in line with the trailing P/E for the industrial goods sector, making this composite king a good bet for investors seeking recession-resistant, long-term growth amid a still shaky recovery.
Best biotechnology stock under $10: We've found a small-cap biotech "rocket stock" that's about to take off. UCLA researchers are stunned by a Nobel Prize-winning cancer breakthrough that's proven in clinical trials to eliminate lethal forms of cancer with a single dose. One small company owns the patent to this life-saving treatment. Now trading at about $5 a share, the stock of this innovative company is projected to surge 2,700% on an imminent FDA announcement. To download the full report, click here.
John Persinos is editorial director and investment analyst at Investing Daily. At the time of publication, the author held no positions in the stocks mentioned.