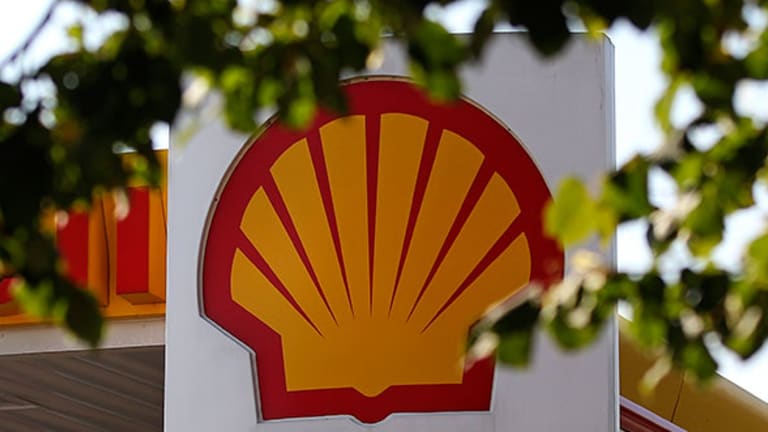 Why Royal Dutch Shell Remains a Solid Long-Term Oil Play
A buy-and-hold strategy on Royal Dutch Shell is the best play, regardless of what the company's earnings results reveal Thursday.
The recent rally in oil prices, which has sent the Energy Select Sector SPDR Fund (XLE) - Get Free Report soaring 10% in the past month, has sparked optimism about an energy sector that has sputtered in negative territory for more than a year. And with industry experts hinting that a sustained recovery in both WTI and Brent crude prices is coming, it's become tough to ignore the potential value in oil majors like Royal Dutch Shell (RDS.A) , which reports third quarter earnings results before the opening bell Thursday.
Like most energy companies, Royal Dutch Shell has been finding revenue and profits hard to come by. The global glut of oil that has existed for better part of the year has pressured the Netherlands-based company, forcing it to significantly cut capital expenses to maintain profitability. Its shares, trading at around $52, have lost some 21% so far in 2015 and 25% over the past year -- even factoring in a better than 14% bounce over the past month.
Nonetheless, there are many reasons to bet on its long-term future. First, it would seem the company -- like the sector -- has already seen the worst. Unlike many businesses in its sector, however, Royal Dutch Shell, which pays a 94 cent quarterly dividend, appears confident in its capital position.
Consider: The company's annual dividend yield of 7.17% is more than three times the 2.00% average yield for the S&P 500undefined index. What's more, compared to its rival oil majors, Royal Dutch Shell's dividend yield is almost twice the 3.69% paid out by ExxonMobil (XOM) - Get Free Report and more than two percentage points higher than Chevron's (CVX) - Get Free Report yield of 4.78%.
That yield stands out, especially in during a period when competitors have reduced or suspended their dividends to remain solvent. Why the implied confidence in Royal Dutch Shell's dividend? It would seem the company's long-term consolidation plans, including its $70 billion April acquisition of British Gas, have something to do with it.
That deal not only gives Royal Dutch Shell more gas exposure and reduces its dependency on oil, it also comes with some $2.5 billion in annual pre-tax synergies, which the company expects to achieve by 2017. Not to mention, the deal is accretive to Shell's earnings. And that oil prices have now begun to rebound, it should accelerate the rate at which Shell can achieve its stated objectives.
Holding these shares for the long term is still the best play, regardless of what the company's earnings results reveal Thursday. This is especially true with the shares trading in the neighborhood of $53, down some 26% from their 52-week high of $72.20. Compare the current price to the share's average 12-month target of $62.34, and factor in its consensus buy rating, and it's hard to argue against taking a position in Royal Dutch Shell.
This article is commentary by an independent contributor. At the time of publication, the author held no positions in the stocks mentioned.