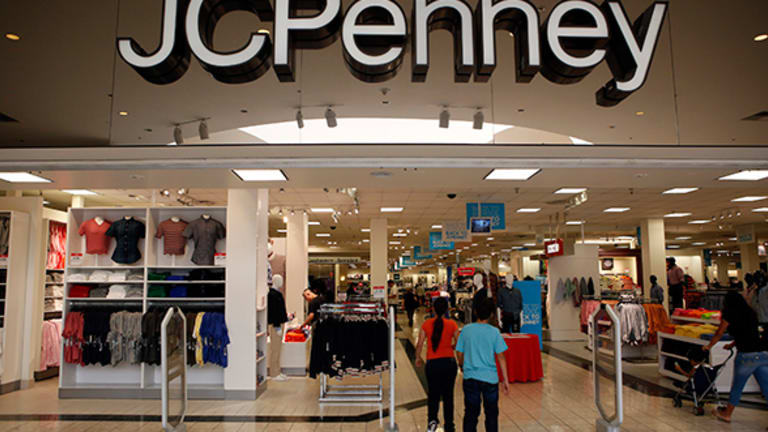 Why Reports of J.C. Penney's Ugly 1Q Should Concern You
If the first quarter is bad for the resurgent retailer, what does the rest of the year have in store?
If a resurgent J.C. Penney (JCP) - Get J. C. Penney Company, Inc. Report couldn't get a lot people through the doors in the first quarter amid several new initiatives, how will the rest of the year unfold?
That may be the question investors are asking about the department chain Friday as a result of reports of sluggish first-quarter sales. The New York Post says J.C. Penney slashed payroll, froze overtime and frowned upon the use of the corporate credit card in April, which is the last month in the quarter. 
Both full- and part-time employees had their hours reduced due to tepid sales -- those who typically work 25 hours a week got their hours cut to 10 or 15 hours, says the report. Product markdowns were also banned in an effort to protect profits. 
Shares plunged 9% to $8.10 Friday on investor concerns weak first-quarter sales would force J.C. Penney to lower its full-year guidance. The company outlined in February that it sees same-store sales growth of 3% to 4% this year and earnings before interest, taxes, depreciation and amortization of $1 billion. Given its heavy indebtedness, any possible reduction in guidance would likely be unwelcome news. Investors have sent J.C. Penney shares surging 23% this year on hopes for continued progress on its turnaround. 
"We are raising near-term concern about J.C. Penney (and largely the broader retailing space) after the New York Post article", said Piper Jaffray analyst Neely Tamminga in a client note. Tamminga, who slashed her first-quarter same-store sales growth estimate on J.C. Penney to 1.9% from 3.8%, added, "Something isn't quite right broadly in retailing and J.C. Penney isn't immune."
A potentially disappointing quarter for J.C. Penney, which has been on the comeback trail as it returned to offering cheap price label products and more discounts under CEO Marvin Ellison, would be extra concerning given its efforts to grow traffic and sales to kick off the year.
The company unleashed a clever week-long promotion in late February that offered certain items in its private label collections for just 1 cent. At the same time, J.C. Penney has continued to revamp the look of its important handbag, footwear and jewelery sections, while pushing forward with the expansion of its popular Sephora cosmetics shops to more locations. 
In addition, in an attempt to better satisfy online shopping, the company began testing same-day in store pickup for online orders in a little more than 10% of its locations in the fourth quarter.