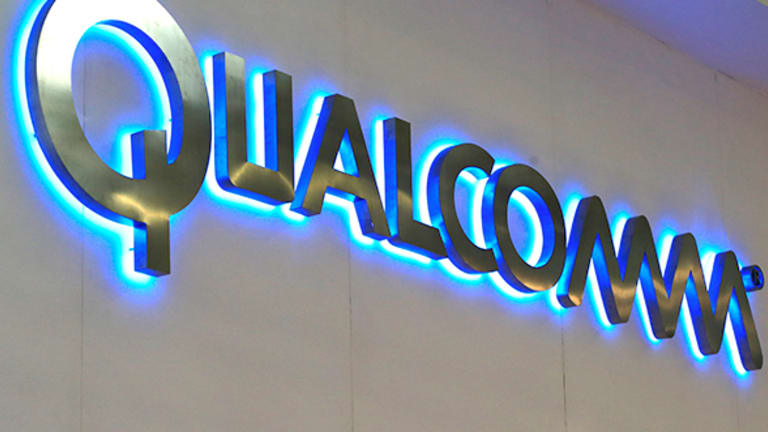 Why Qualcomm Should Snap Up Apple-Supplier Skyworks Soon
Semiconductor giant Qualcomm should make its move to acquire analog chipmaker Skyworks now, before its shares -- which have surged 155% in the past year -- get even more expensive.
 NEW YORK (TheStreet) -- It's not hard to see that M&A has become the new growth strategy in the semiconductor industry -- it's eat or be eaten. And with their survival hanging in the balance, there's no in-between. So it's a bit surprising that chip giant Qualcomm (QCOM) - Get Qualcomm Inc Report has been nothing more than an observer amid all of the wheeling and dealing. However, I don't expect it to stay silent for long.
With Intel's (INTC) - Get Intel Corporation Report$16.7 billion acquisition of Altera (ALTR) - Get Altair Engineering Inc. Class A Report now official after weeks of rumors, the fun continues. That bid follows Avago Technologies' (AVGO) - Get Broadcom Inc. Report $37 billion deal for Broadcomundefined last week, a move that will make them the third-largest U.S. semiconductor maker company (by revenue). Avago's move likely accelerated the talks between Intel and Altera.
The terms Intel and Altera finally agreed on were the same Altera had reportedly rejected previously. Intel didn't budge and Altera, which has struggled with revenue -- missing analysts' average sales targets twice in the last three quarters -- needed the deal.
All of this this brings us to Qualcomm, which remains the second-largest U.S. chipmaker (behind Intel), but is also in desperate need of a shot in the arm. Like Intel/Altera and Avago/Broadcom, Qualcomm could benefit from expanding its product portfolio and diversifying its wireless businesses, which earlier this year lost chip placement in Samsung's (SSNLF) new Galaxy phones.
With shares down more than 6% in 2015 and down some 14% over the past year, Qualcomm, which is experiencing a slowdown in growth, but has tons of cash, needs to do something. This explains why activist investor Jana Partners, which owns roughly $2 billion worth of Qualcomm stock, is circling its headquarters.
While Jana insists Qualcomm could create value by separating its chip business from its licensing business, an acquisition would make more sense. One target that comes to mind isSkyworks Solutions (SWKS) - Get Skyworks Solutions, Inc. Report, which makes high-performance analog chips that connect people, places and things.
Aside from being a well-positioned player in the realm of the Internet of Things, Skyworks -- like Avago -- is key parts supplier to Apple (AAPL) - Get Apple Inc. Report. Skyworks' chips are prominently placed in Apple's iPhones and iPads. Thus, what's good for Apple is good of Skyworks, and with analysts still raising sales estimates for the iPhone 6 and 6 Plus, Skyworks' growth has just begun -- even without factoring in its strong IoT opportunities.
With roughly $18 billion in cash on the balance sheet (and zero debt), and another $8 billion in operating cash flow, Qualcomm has the financial muscle to make a deal for Skyworks, which has a market cap of $21 billion.
What does Qualcomm get in Skyworks? Aside from a hot company whose shares are up more than 50% on the year, Qualcomm would be able to double-down on its wireless exposure since its mobile chips are already in Apple's iPhones.
At the same time, losing its spot in Samsung's Galaxys may be the wakeup call Qualcomm needs to help it realize it may not want to rely too heavily on a single chip platform. Sure, Qualcomm could win Samsung back. But if/when either Apple or Samsung opt for their own internal designs -- whether for cellular modems or Snapdragon chips -- owning a company like Skyworks would lessen the damage.
In short, Qualcomm should pick off Skyworks now before its shares, up 155% in the past year, get even more expensive.
This article is commentary by an independent contributor. At the time of publication, the author held no positions in the stocks mentioned.