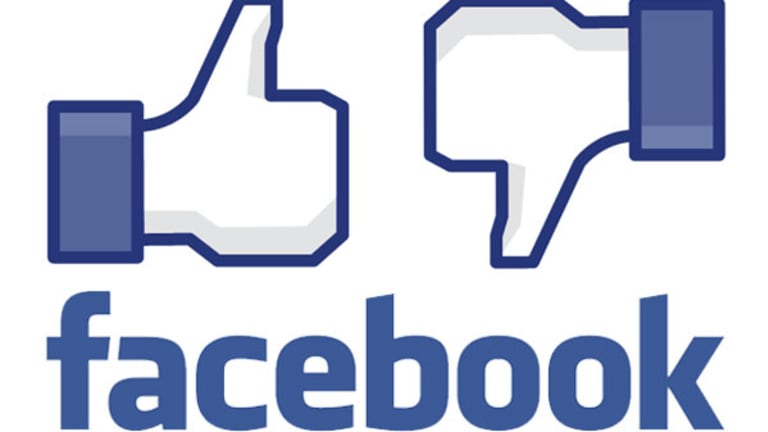 Publish date:
Why Publicis Groupe Will Move Ahead With Facebook
The Publicis Group strategic alliance with Facebook is an extension of the Paris-based ad giant's focus on thought leadership, social media outreach and digital branding.
The Publicis Group strategic alliance with Facebook is an extension of the Paris-based ad giant's focus on thought leadership, social media outreach and digital branding.
NEW YORK (TheStreet) -- Publicis Groupe's (PUBGY)  futuristic partnership with Facebook (FB) - Get Report -- an agreement that achieved closure after several months of meticulous planning and discussion -- signals the French public relations conglomerate's rise from the vestiges of its recent breakup with British bellwether Omnicom (OMC) - Get Report.
The deal, announced with much jubilance on Monday, is a resonance of the Paris-based ad giant's fresh optimism toward a technologically refined society, where campaigns that offer the highest returns on investment are, more often than not, those that involve the coordinated contributions of multiple and multi-device communication channels. Those campaigns involve making compelling, device-friendly ads and placing them in front of the right people.
The partnership between the two media players is an extension of Publicis Groupe's explicit focus on thought leadership, social media outreach and digital branding over the past year. In this context, many Publicis Groupe agencies have been leveraging interactive multimedia content, including slideshows, and social media-based video narratives as tools that would drive and shape conversations between organizations, brands, influencers and audiences.
MSLGROUP, a Publicis Groupe agency that specializes in strategic communications and creative consultations, has already launched People's Lab, a proprietary crowd-sourcing platform that involves planned experiments on social data, industry insights, white label communities and digital storytelling. The People's Lab initiative, which was launched through an exploratory survey towards the latter half of last year, is now in full swing in France and markets across Shanghai, Singapore, Hong Kong and India.
>>Read More: 4 Ways Crowdfunding Can Make You a Better Investor -- Just Ask Buffett
An evolving need to absorb how audiences consume information from the vast sea of data spread out across the virtual universe was the crux of the Publicis-Facebook collaboration, which was orchestrated by Starcom MediaVest Group, Publicis Groupe's digital and media specialist agency in the U.S.
"It (the partnership) focuses on critical areas of the future -- visual storytelling, online videos and data access -- and allows us to reach precision audiences at scale, enabling us to shape that tomorrow with infrastructure, creativity and rigor," said Laura Desmond, CEO of Starcom MediaVest Group.
The value of the deal is expected to be approximately $500 million, roping in global investments from Publicis media networks Starcom MediaVest Group, Zenith Optimedia and other large digital group agencies, including Razorfish, Digitas and Rosetta.
Starcom MediaVest Group emphasizes that spending isn't the main component of this agreement. Instead, it's all about innovative communication channels that successfully deliver product-level messages to target audiences.
"The deal is representative of a new breed of partnerships that move beyond inventory to product co-creation and innovation," Desmond said.
The deal is expected to position Publicis Groupe as a new-media thought leader, and the fast ascending vanguard of a global public relations industry because it comes at a time when images and visual representations are increasingly popular among next-gen users, who are capturing the foray of marketers.
Market analysts say that it is the best time for public relations companies to partner with social networking sites since mobile advertising and rich media content are both social media-driven marketing channels that promise substantially higher revenues for significantly lower costs. Investments in these channels are expected to rise in the future when a larger number of players enter the fray and incite a new wave of competition.
Publicis' strategic alliance with Facebook falls in line with the business objectives of the social media behemoth which has been striving to position itself as a mobile-first company in various markets including the U.S.
The trend looks rosy for all Publicis Groupe clients who aim to gain a competitive edge in the marketplace through access to Facebook's premium video service.
According to eMarketer, a digital market research firm, investments in digital advertising across video channels grew by nearly 50% last year. The research forecasts embedded in this study mirror the market view that these investments will grow at a similar rate this year too.
Starcom MediaVest Group will allow Facebook to leverage its content advertising platform, and sophisticated media planning and convergence modeling technologies to boost audience data planning activities targeting its global user base of 1.28 billion individuals. For now, the Publicis-Facebook partnership program will run in North America.
>>Read More: Interpublic Is in Play After Ugly Omnicom/Publicis Breakup: StockTwits
>>Read More: How Will Publicis Groupe Deal With Facebook Affect Its Stock?
At the time of publication the author held no positions in any of the stocks mentioned.
This article represents the opinion of a contributor and not necessarily that of TheStreet or its editorial staff.