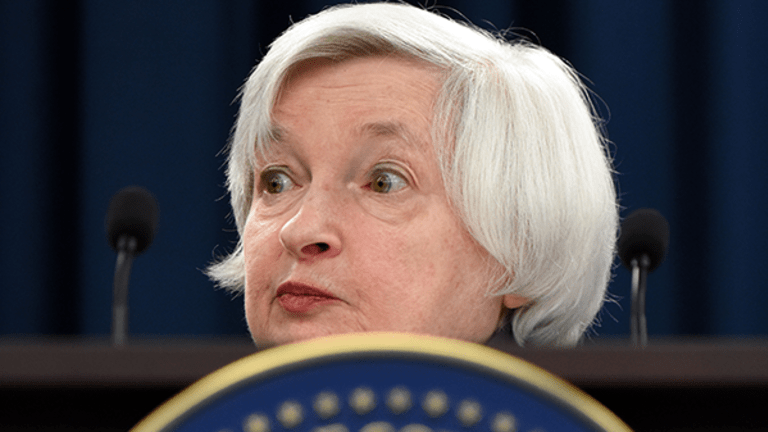 Publish date:
This Is Why President Trump Must Fire Federal Reserve Chair Janet Yellen
Yellen's comments at the Fed's annual soiree in Jackson Hole are a message to president Trump not to mess with financial reforms.
Yellen's comments at the Fed's annual soiree in Jackson Hole are a message to president Trump not to mess with financial reforms.
The Federal Reserve under Fed Chair Janet Yellen has been ignoring the economic pledges made by president Trump during his election campaign. This theme surfaced on Friday when central bankers met in Jackson Hole, Wyoming. Janet Yellen's speech on Friday should be her Swan Song.
Why wait for January when her term is over? The president should ask Yellen to resign now and appoint Gary Cohn, the president's chief economic adviser, as Fed Chairman!
Yellen Fed is not on the same economic page as the Trump administration. In her speech, Chair Janet Yellen made it clear that if she remains Fed chief, she would be against the president's desire to significantly roll-back Dodd-Frank reforms. In my opinion, this provides the grounds for the president to ask Yellen to resign now. 
Yellen says the labor market is near full employment? Well, Trump was elected on the campaign cry of "jobs, jobs, jobs" and the promise of much needed economic growth. His plan to bring back higher-paying manufacturing jobs will not work with the FOMC raising rates and under the threat of unwinding the Fed's $4.5 trillion balance sheet. Congress and president Trump must prevent that from happening.
President Trump wants to repeal and replace Obamacare; roll back Dodd-Frank regulations including the Volcker Rule; implement tax reforms for corporations and individuals; and fund a $1 trillion for infrastructure spending. These programs work best by keeping borrowing costs low.
Some call Yellen's speech a warning to the Trump administration not to unwind regulations that she says strengthened the financial system. I disagree with Fed Chair Yellen. Back in January 2011, I wrote about the causes of the financial crisis.
The No. 1 cause was the activities of the "too-big-to-fail" banks and their shady activities in mortgage lending. Today these banks are also "too-big-to-regulate." For example, Wells Fargo  (WFC) - Get Reportwas found to have committed scandals against their depositors about a year ago. At the same time, the New York Federal Reserve added the bank to their prestigious list of primary dealers. Their rigorous screening process failed to identify these issues, and then they did not remove the bank from this list. The Trump administration is considering a form of modern-day Glass-Steagall act to break them up. This is a must!
The Congress and the Trump administration should not allow the Federal Reserve to un-wind its $4.5 trillion balance sheet. The Fed's balance sheet can help save healthcare reform. Instead of destroying needed funds, use the proceeds from maturing securities on the Fed balance sheet to increase funding to the United States Department of Health & Human Services, headed by Secretary Tom Price. Funds can also be allocated to expand the use of Minute Clinics available at some CVS Health (CVS) - Get Reportpharmacies.
If the U.S. Treasury controlled the Fed balance sheet, increasing the debt ceiling would be a snap. In effect, the $4.5 trillion balance sheet could be considered a savings account that helped ease the pain of the "Great Credit Crunch".
Main Street USA continues to be hurt by Federal Reserve policy. The Fed bailed out the big banks, making them even bigger. Savers were squeezed, a mortgage is still difficult to get, and a small business loan requires a mountain of paperwork. Some on Main Street are living paycheck to paycheck. Funding infrastructure spending could be partially funded using treasury bonds targeted to savers to help rebuild wealth and fund their healthcare and retirement needs.
The time to act is now. Waiting to replace Yellen in January may be too late!
More of What's Trending on TheStreet:
This article is commentary by an independent contributor. At the time of publication, the author held no positions in the stocks mentioned.