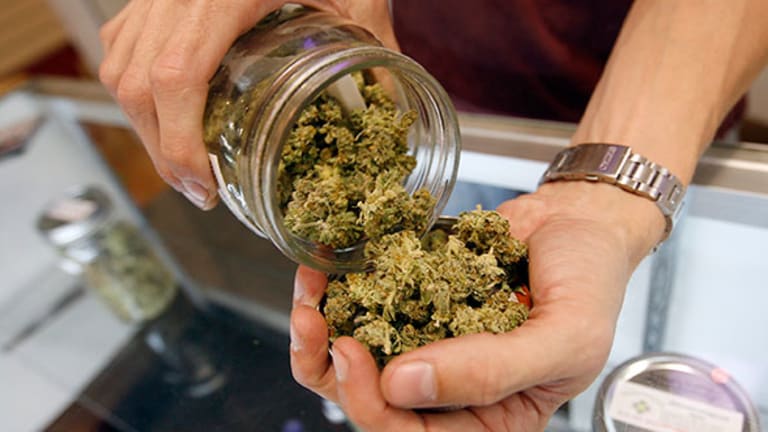 Why Pot Stock GW Pharmaceuticals Could Go Even Higher in 2016
As the marijuana industry becomes a multibillion-dollar business, shares of cannabinoid drug company GW Pharmaceuticals are getting quite high.
The decades-long "war on drugs" has brainwashed generations of Americans into thinking of marijuana as nothing more than a dubious substance used by undesirable elements of society.
But that is changing, as marijuana legal reform sweeps the country and pot becomes a big business.
To date, 23 U.S. states and Washington, D.C., have legalized medical marijuana. Pot is quickly losing its pariah status to pervade the social and economic mainstream.
Indeed, the burgeoning marijuana industry represents one of the hottest investment opportunities right now.
For those hoping to make a lot of green from pot, the best marijuana-related stock now is GW Pharmaceuticals (GWPH) - Get GW Pharmaceuticals Plc Report , a United Kingdom-based biotechnology firm that develops cannabinoid-based medical treatments.
The company's shares more than doubled on Monday after it announced positive results from a late-stage study of its drug, Epidiolex, an experimental treatment for Dravet syndrome, a rare and severe form of epilepsy in children, with no Food and Drug Administration-approved treatments. The results showed that the treatment mitigates convulsive seizures in children compared to a placebo.

GWPH data by YCharts
The stock posted a one-day gain of 120% on Monday. But there is still even more upside for the stock.
With a market capitalization of $1.85 billion, GW Pharmaceuticals, which was founded in 1998, is considerably larger and more stable than the slew of penny stocks with tentative finances that dot the marijuana industry.
However, GW Pharmaceuticals also is a pure play on marijuana treatments, unlike its giant competitors on the other end of the spectrum, such as Biogen (market cap: $54.57 billion) and Gilead Sciences (market cap: $123.55).
With diversified portfolios of drugs, the Big Pharma blue chips aren't likely to see their shares soar to the same extent as GW Pharmaceuticals, especially in the wake of positive news. That is why GW Pharmaceuticals is among a group of biotech "rocket stocks" poised for huge gains this year.
In its annual report on the cannabis industry released this month, the trade journal Marijuana Business Daily estimated that the marijuana industry will generate about $44 billion in "economic impact" by 2020.
The figure includes direct cannabis sales, plus all related revenue from drug treatments, paraphernalia, grow lights, seeds, etc.
The publication has projected an economic impact of $14 billion to $17 billion for 2016 alone.
GW Pharmaceuticals last month reported fiscal first-quarter revenue of £3.7 million ($5.4 million), compared with £8 million a year earlier. The company also reported a loss of £17.7 million ($26.2 million), compared with a loss of £3.4 million a year earlier.
But those operating results are characteristic of a small-cap, fledgling biotech firm that is still developing new products. For patient investors, the future rewards of this biotech growth stock could be enormous, particularly in the context of a broader market that is projected to be tepid at best this year.
What investors should really focus on is the company's strong balance sheet.
With $324.1 million in cash on hand as of Dec. 31 and low debt, with a debt-to-equity ratio of 0.38, GW Pharmaceuticals has the financial staying power that most players in the booming marijuana industry lack. Many of these start-ups face eventual bankruptcy or acquisition.
The company also has forged a proprietary drug technology platform for developing cannabinoid drugs that would be difficult for competitors to replicate. The company holds at least 46 patents for this tech platform, complemented by its own in-house manufacturing facility.
GW Pharmaceuticals is working on an array of treatments for rare and hard-to-treat diseases, and the treatment for epilepsy that received positive news this week is among the most promising. Other treatments in the pipeline are targeted to multiple sclerosis and various seizure-related maladies.
With the stock trading at about $84, the median one-year analyst price target is $148, which would represent a gain of 74.7%. On the high end, the price target is $172, for a gain of 103%.
Keep in mind that those projections take into account Monday's 120% price spike.
As we have just made clear, GW Pharmaceuticals is a fast-growing biotech stock that could double this year. We have found another small-cap biotech "rocket stock" that is about to take off. UCLA researchers are stunned by a Nobel Prize-winning cancer breakthrough that is proven in clinical trials to eliminate lethal forms of cancer with a single dose. One small company owns the patent to this life-saving treatment. Now trading at about $5 a share, the stock of this innovative company is projected to surge 2,700% on an imminent Food and Drug Administration announcement. To download the full report, click here.
John Persinos is editorial director and investment analyst at Investing Daily. At the time of publication, the author held no positions in the stocks mentioned.