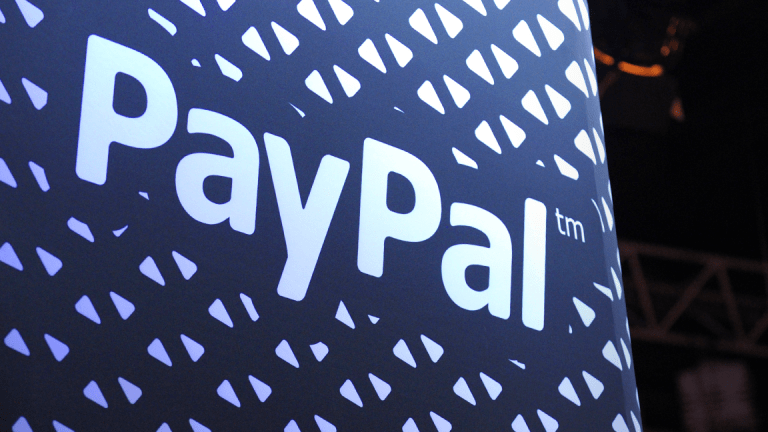 Publish date:
Why PayPal and Amazon Might Be Black Friday and Cyber Monday's Biggest Winners
Amazon Prime's momentum remains a huge growth driver for Jeff Bezos' company. And PayPal's mobile services are quite popular with consumers shopping somewhere besides Amazon.
Amazon Prime's momentum remains a huge growth driver for Jeff Bezos' company. And PayPal's mobile services are quite popular with consumers shopping somewhere besides Amazon.
As their most recent earnings reports make clear, Amazon.com Inc.'s (AMZN) - Get Amazon.com, Inc. Report U.S. operations have been flying high for much of 2017. And from the looks of things, Jeff Bezos' firm added to its 2017 e-commerce share gains during Thanksgiving weekend and Cyber Monday.
What might be a little less appreciated is the extent to which PayPal Holdings Inc. (PYPL) - Get PayPal Holdings Inc Report , which has also been having a good 2017, likely grew its share of online sales involving retailers not named Amazon with the help of popular mobile payment tools.
This column originally appeared on Real Money, our premium site for active traders. Click here to get great columns like this.
GBH Insights estimates Amazon single-handedly accounted for 45% to 50% of U.S. Black Friday sales; given an Adobe Systems Inc. (ADBE) - Get Adobe Inc. Report estimate for total Black Friday online sales of $5.03 billion, that could imply revenue of up to $2.5 billion. GBH also forecasts Amazon could account for up to 50% of U.S. online retail sales in November and December, up from 38% in 2016.
For comparison, research firm eMarketer predicted earlier this year Amazon would account for 43.5% of 2017 U.S. e-commerce gross merchandise volume (GMV), up from 38.1% in 2016. Amazon, as usual, doesn't share holiday season sales figures outside of its fourth-quarter results. The company did issue a PR touting the strong sales seen for Amazon devices, which were heavily discounted and promoted during Thanksgiving weekend and Cyber Monday.
It goes without saying that Amazon Prime's momentum has much to do with Amazon's U.S. share gains. On average, Prime members spend far more on Amazon than non-Prime members, and Amazon is coming off a Q3 during which its subscription services revenue (driven by Prime membership fees) grew 59% annually in constant currency to $2.44 billion. And GBH predicts Prime members will on average spend 20% to 25% more on Amazon during the holidays this year, as the ranks of members who turn Prime into a weekly shopping habit keeps growing.
It also doesn't hurt that Amazon has found that offering tons of promos on big online shopping days are a good way to drive Prime sign-ups -- the company partly attributed its strong Q3 sign-ups to Prime Day's success. And that more consumers are getting comfortable placing orders on their smartphones, given the popularity of Amazon's mobile app.
E-commerce ad firm Criteo SA (CRTO) - Get Criteo SA Sponsored ADR Reportestimates 40% of online Black Friday purchases were made via mobile devices, up from 29% in 2016. Adobe estimates mobile accounted for just 33% of Cyber Monday online revenue, but also believes smartphone revenue grew 39.2%, well above the 16.8% growth seen for online sales in general.
All of that mobile activity bodes well for PayPal, which has tremendous support among big online retailers battling Amazon. In Q3, PayPal saw its mobile payment volume rise 54% annually to $40 billion -- equal to 35% of all volume, and well above the company's 30% total volume growth.
PayPal's ability to address one of the biggest pain points for mobile shopping, the need to input one's shipping and payment-card info on a phone screen, has much to do with its mobile momentum. In February, the company reported 75% of the top-100 U.S. online retailers supported its One Touch service, which allows users to check out without re-entering their login info.
The fact that PayPal is seen as a trusted service, and that many consumers remain nervous about sharing payment data through a mobile app, also helps its cause. Adobe notes Cyber Monday closing rates for planned mobile purchases rose 12% this year; PayPal likely had a bit to do with that.
Still, for all the company-specific drivers that exist, it's hard to overlook how much Amazon and PayPal (as well as some other firms) are benefiting from the secular trend of e-commerce adoption. A trend that might very well be defying the law of large numbers and accelerating this year.
The 16.8% Cyber Monday online growth reported by Adobe represents an improvement from 2016's 12.1% growth. Adobe also estimates online sales from Nov. 1 to Nov. 22 (the day before Thanksgiving) rose nearly 18%. And comScore estimates U.S. online shopping on PCs rose 22% on Thanksgiving and 20% on Black Friday, up from the 17% and 19% growth seen last year.
The convenience and selection provided by online shopping appears to fueling even bigger share gains against offline channels than seen in recent years. And Amazon and PayPal each have their hands on a large and growing piece of this pie.
More of What's Trending on TheStreet: