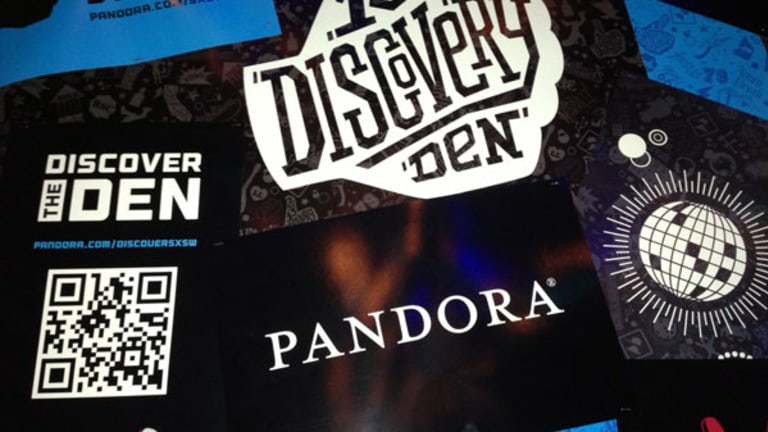 Why Pandora Blows Apple's iTunes Radio Away
The Music Genome Project sets Pandora apart from all other Internet radio, including iTunes Radio.
NEW YORK (TheStreet) -- It deserves a documentary, but, for now, I'll give it the multi-page article treatment at TheStreet. At some point over the next few months, I plan on getting with the team behind Pandora's (P) Music Genome Project to shoot some video and see where it goes.
The MGP and all that it entails -- it's a story that absolutely needs to be told.
If we don't understand the engine that powers Pandora, we don't understand Pandora. And we can't begin to comprehend why the company has beat back and likely will continue to beat back every competitive threat including
Apple's
(AAPL) - Get Report
iTunes Radio
. Without a close look at the skeleton
and
guts of the MGP, it's not possible to realize the full power and potential of Internet radio.
If you can stand this lame attempt at me shooting video myself, my
February 2012 YouTube interview
with Pandora co-founder and Chief Strategy Officer Tim Westergren provides a nice introduction to the MGP and how it led to what we now know as Pandora Internet radio. At the time I thought I knew a lot about the MGP, but after my visit to Pandora headquarters this past Monday, I discovered I didn't know the half of it.
One downside of Westergren's well-known humility is that he shies away from bragging and touting his and Pandora's accomplishments too aggressively. As a result, I don't think he has ever done justice to how the Music Genome Project sets Pandora apart from every other player, including Apple, not just as personalized radio, but as data-driven music discovery and an artist advocate.
However, in typical Westergren form, he leaves the glory for a deserving member of his team, who I was lucky enough to chat with this week.
Pandora Chief Scientist and VP of Playlists Eric Bieschke
Honestly, I wasn't particularly looking forward to my conversation with Bieschke. I figured it would be boring. A chat with a music and math geek about stuff I either wouldn't understand or already knew. I was wrong.
Bieschke is an interesting story himself. He has been with Pandora since 2000. This means he started with the company when he was 17 years old. His personal circumstances with Pandora are best left for the documentary, but I have to at least preview some of the things he told me about the MGP.
Because it's the easiest and most accessible way to proceed, I'll use the term Music Genome Project, or MGP for shorthand, to explain everything from how Pandora personalizes your radio experience to how it leverages its user data to do everything from support musicians -- large and small -- to sell advertising.
A big part of Bieschke's job is to come up with questions that lead to experiments that help make Pandora's user experience the best it can be ... for every single user.
Some examples of how this looks ...
Like the Beatles
You create a Beatles station on Pandora. You're my age. 38. And also a big John Lennon fan.
Another Pandora listener, your 17-year old son who happens to dig the Beatles as well, creates a Beatles station, but he can't stand John Lennon (because you like him so much). Instead, he's into that period when George Harrison went all Top 40 on us with "Got My Mind Set On You."
Bieschke wants to make each user's Beatles station relevant to that particular listener. The 17-year kid with eclectic tastes. The 38-year old like me. And the 65-year old who lived through the British invasion. Whomever.
The thumbs up/thumbs down and other listening data Pandora users submit helps Bieschke figure out this riddle.
But here's the cool part that should make any music and/or science lover geek out: Pandora has so many observations it can use to draw a sample that it's not just guessing when it tweaks Beatles stations for different types of listeners. It's running complex and statistically reliable experiments that allow it to get to know you and serve you the proper songs with confidence.
However, like any great researcher, Bieschke doesn't stop at initial answers. He's clearly the type of perfectionist who tortures himself over the inferences he makes. And, remember, he's dealing -- literally -- with millions of observations.
This resonates with me because, while not as mathematically inclined, I'm just as obsessive, particularly when it comes to my music listening.
During this conversation about the Beatles, I mentioned something about the Pandora experience that makes me anxious.
There are times when I'm not sure what to do with a particular song or artist. Pandora serves something up that I don't want to hear in the moment. But I like the song. I don't want to thumb it down. And I don't want to skip it, out of fear the MGP will look negatively upon my decision and not give me the artist or song in question ever again. And, for the same reasons, I don't want to tell Pandora -- on its desktop platform -- to give the song a rest for a while.
So what do I do?
Funny thing is -- Bieschke and his team of music analysts sweat over the same stuff. Only in reverse. Seems small, but to these guys it's not. It's what they live and breathe.
Maybe you have been listening to the Beatles station for weeks now. And you love that Pandora routinely includes deep cuts from the Byrds on it. You have been thumbing up songs from the Byrds ever since you got hooked on your Beatles station. But then, suddenly, you start thumbing them down. Or skipping them. Or closing your app. Or not coming back for uncharacteristically prolonged periods of time.
Do you not like The Byrds anymore? Are you just sick of hearing them? Or is it about the song selection? Maybe some solo David Crosby would work well for you. Or maybe you just need a break. Or maybe not. These conundrums consume every fiber of Bieschke's being.
Pandora uses large aggregate samples to answer these types of questions, but it's not as if Bieschke ever really considers any outcome definitive. He's always thinking, tweaking and conceiving ways to do a better job figuring out what you want to hear and when you want to hear it.
Breaking Bands
When Apple's Eddy Cue
"It's the quality of the stations. The question -- and what the ability that we have that I felt was unique ... that we could have a radio station that played songs that you would really like," you really cannot classify him as anything but delusional.
This illustration of Pandora's Music Genome Project can help clue him in.
Pandora helped
take indie band Bronze Radio Return's career to the next level
. But how does this happen? How does the Music Genome Project break a band?
Here's one common example.
One of Bronze Radio Return's singles found its way onto Mumford & Sons radio. That not only means serious exposure, but increased serious exposure in front of the right sets of eyes and ears. Pandora's experiment worked and paid serious dividends -- way beyond royalties -- for Bronze Radio Return. It came about because of the MGP's unparalleled precision.
Full-time, highly-skilled music analysts (musicologists, PhD types, actual musicians, etc.) score every song Pandora inserts into its catalog on dozens of attributes related to each song's musicology.
It's a complex list of variables covering everything from instrumentation to rhythm and beyond into the type of minutia you really need to be a music expert to understand. While Pandora adjusts its playlists to be culturally appropriate and smart, these subjective factors do not influence the MGP algorithm. The music you hear when you listen to Pandora includes, as Cue puts it, "songs that you would really like" and selections designed to help you discover tracks you might like. And it's done song-by-song on the basis of the actual song, not simplistic formulas that only take into account obvious and, on their own, unreliable factors such as genre, era and popularity.
Bronze Radio Return made it to Mumford & Sons radio because the MGP identified one of its songs as sharing many of the same and some attributes similar to a popular Mumford song. In other words, the MGP rated the two songs in close proximity to one another on the basis of the complex structure of the song. That's why, in addition to getting the seemingly obvious tracks on Mumford & Sons radio (say, The Lumineers), you might get the equally as appropriate Bronze Radio Return.
When the MGP identifies relationships between songs, Pandora runs an experiment on a "small" sample of its audience, usually about 1%. That can mean a more than statistically robust one million users or so. Then Bieschke sits back and watches what happens ... in real time.
How did this subset of Pandora listeners respond? Did they thumb down the test song? Did they thumb it up? Skip it? Did they tune out? Switch to another station? Or maybe create a Bronze Radio Return station. This data gets analyzed and Pandora makes the decision to ditch the test or increase it to 2%, then 4% and so on of its audience.
You can imagine the endless combinations and variations Bieschke and his team can work through every minute of every day. In fact, Bieschke receives reports listing all of the experiments Pandora runs. Columns highlighted in green indicate tests that worked really well. Columns colored in red alert Pandora to ditch a test and determine what went wrong and why.
This merely scratches the surface, yet it is the type of discussion of the Music Genome Project you simply do not see in the media, be it music, financial or tech. And that's too bad. Because, without it, misconceptions about what Pandora does, how it does it and how others stack up not only form, but turn into toxic Internet memes.
On the bright side, plenty of folks -- more than we saw six to 18 months ago -- now recognize the power of Pandora's platform for advertisers as well as artists.
Witness P's meteoric rise from single digits
.
I saw presentations this week on how Pandora targets audiences for advertisers. I also got a look at the artist dashboard, in beta now, that Pandora expects to roll out to as many musicians who will have it (and why wouldn't they want it?) soon. This gives artists detailed information on where, when, how and who listens to their tracks on Pandora.
It's the technology Westergren and his co-founders devised and developed before Pandora was even Pandora that makes everything the company does possible. There's nothing like it in the business. Nothing even close. And it cannot be replicated overnight -- or even in a few years -- by anybody. Not even Apple.
This doesn't mean Apple will fail. It's not in the music business. It's in the hardware business, a point I get at in "
Again, Apple Proves It's Smarter Than a Dumb Crowd
."
But, make no mistake, Pandora is a technology company that's
in
the music business. And it's in it for the long haul.
I didn't need Bieschke's passion and attention to detail to confirm this for me, but it doesn't hurt. The story he and his team tell in relation to the Music Genome Project needs to be told, if only to put consistently
, shrouded in conjecture, in its proper place.
Having said that, I must in closing give a shout-out to an excellent piece on the MGP, published by John Paul Titlow at
Fast Company
:
At Pandora, Every Listener Is A Test Subject
.
--
Written by Rocco Pendola in Santa Monica, Calif.
Rocco Pendola is a columnist and
TheStreet's
Director of Social Media. Pendola makes frequent appearances on national television networks such as
CNN
and
CNBC
as well as
TheStreet TV
. Whenever possible, Pendola uses hockey, Springsteen or Southern California references in his work. He lives in Santa Monica.