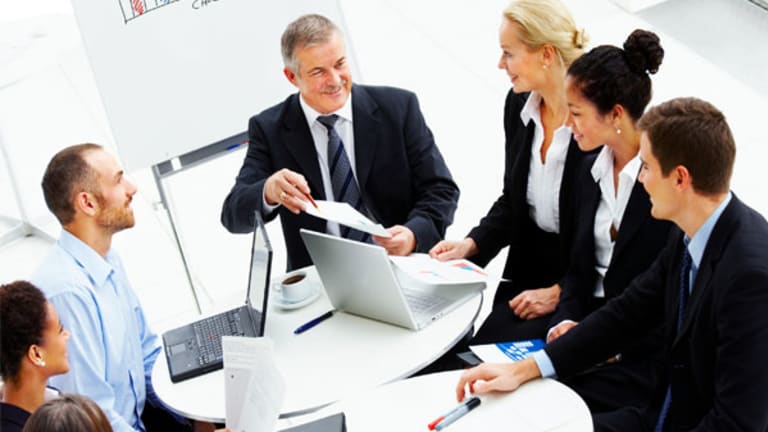 NEW YORK (
) - In a bit of a surprising move,
Oracle
(ORCL) - Get Oracle Corporation Report
announced the
acquisition
of
Acme Packet
(AKPT)
for $29.25 a share earlier this week, representing a 22% premium on Acme Packet's closing price last Friday. The fully diluted equity value of the transaction is $2.1 billion.
However, taking into account Acme Packet's current assets and cash position, Oracle's cash offer represents a $1.7 billion enterprise valuation. Acme Packet's 2012 revenues were $274.4 million, but the company experienced a net loss of $5.2 million for the full year, both numbers announced earlier this week.
Acme Packet is currently the top vendor in the SBC (Session Border Controller) market, with almost a 50% share, and has been the de-facto leader in this space since its inception, amassing almost 2,000 customers in 109 countries and 89 of the top 100 telecom operators in the globe. SBCs are appliances that manage IP traffic at the edges of various networks, both between service providers or an operator and an enterprise.
The market is undergoing an upgrade cycle driven by the need to replace older, first-generation SBCs in order to support video and other bandwidth-intensive services. In recent months, Acme Packet has been able to replace older SBCs from vendors such as
Nextone
, and to successfully launch its newest Net-Net 6300 platform. The Net-Net 6300 represents the dawn on a new era of SBC products, supporting increased transcoding, signaling and media volume and complexity, in addition to high-capacity, wire-rate encryption for new applications such as HD (High Definition) Voice, VoLTE (Voice over LTE), WebRTC (Web Real-Time Communication) and other OTT (Over-The-Top) services.
Diameter signaling is another emerging segment where Acme Packet's active. Diameter is an authentication, authorization, and accounting next-generation protocol for telecom networks, the successor to an older protocol called RADIUS. The advent of a new appliance, the DSC (Diameter Signaling Controller) bodes well for Acme Packet, which has a product in this area. The DSC market is expected to heat up, as more wireless subscribers migrate to all-IP mobile networks (4G/LTE). The competitive landscape is a bit tougher as the DSC market is more fragmented, with players such as traditional network equipment vendors (like
Alcatel-Lucent
(ALU)
,
Ericsson
(ERIC) - Get Telefonaktiebolaget LM Ericsson Sponsored ADR Class B Report
and
Huawei
) and specialists (such as
Tekelec
( TKLC),
F5 Networks
(FFIV) - Get F5 Networks, Inc. Report
, and
Diametriq
) contending against Acme. Despite not being the leader in the SBC space, Acme Packet has gained some good mindshare in DSCs, reaching a total of 18 DSC customers in Q3 (including operators such as
Vodafone
(VOD) - Get Vodafone Group Plc Sponsored ADR Report
), when it notched 9 wins in the quarter alone.
Why Sell Now?
Despite the good future growth prospects, Acme revenues were down 10.7% in 2012 (versus 2011), due to a slower than anticipated uptake of VoLTE rollouts at various carriers. Most operators do not see VoLTE as being ready for "prime time" from a network control plane and operational perspective to justify any meaningful level of rollouts this year.
Not surprisingly, carriers such as Verizon and AT&T indicated they do not plan to deploy the technology until at least 2014, dampening the prospects for more SBC rollouts, despite some implementations done last year (such as
MetroPCS
(PCS)
). In addition, enterprise SBC spend also grew at a slower pace (closer to 5%, as opposed to the 20% previously forecast) due to slower European sales and a shift in the US market towards spending by small and medium-sized business, which historically has not been a forte for Acme. While the overall prospects for Acme are good, as are its products, the company was faced with a longer period of slower growth, and the stock price reflected this, making the company quite attractive to Oracle.
Was That Oracle?
While the acquisition of Acme Packet itself was not unexpected, the buyer did surprise some industry pundits. Oracle, after all, is better known for its database, middleware, applications, software and hardware systems acumen than as a telecom infrastructure vendor. The purchase, though, is not the first time that Oracle has made a foray into the world of telecommunications. In February 2010, for example, the company bought Israeli startup
Convergin
, which provides a carrier-grade IT platform, enabling operators to evolve their service delivery capabilities at a lower total cost of ownership.
The Acme Packet product lineup fits nicely into Oracle's "Service Delivery Network" vision and will be combined as part of the various CRM (Customer Relationship Management), ERP (ERP), OSS (Operations Support System) and BSS (Business Support System) products that the Oracle Communications unit already has in its arsenal. Acme Packet will also act as a Trojan horse for Oracle, enabling the tech giant to upsell its software and IT solutions into the company's installed base. This move could be quite opportune, considering the advent of Big Data and the Cloud, which enable Oracle to pitch its analytics and cloud service architectures to telecom operators. Furthermore, there could be some interesting synergies in the service and solution integration arena, where Oracle already has some capabilities from its
Sun Microsystems
acquisition.
More importantly, the acquisition also signals Oracle's intent to keep enhancing its telecoms portfolio, after recently buying a variety of cloud-based startups and beefing up its service delivery portfolio via a new service broker. Now the company has made a "network edge" play, placing it at the border of enterprise and service provider networks. Time will tell what the next telecom move for Oracle will be, but we believe beefing up in areas such as SDN (Software Defined Networking) or SPIT (Service Provider Information Technology) could be possibilities.
--Written by Ron Gruia.
This article is commentary by an independent contributor, separate from TheStreet's regular news coverage.
Ronald Gruia is the program leader and principal analyst for emerging telecoms at Frost & Sullivan. He covers NGN transitional technologies, 4G, VoIP, Broadband Access, Triple Play Services, IP telephony, Enterprise Communications Systems, among other topics. He has spoken at conferences including Supercomm, CTIA, Intel Communications Summit and VON Canada.