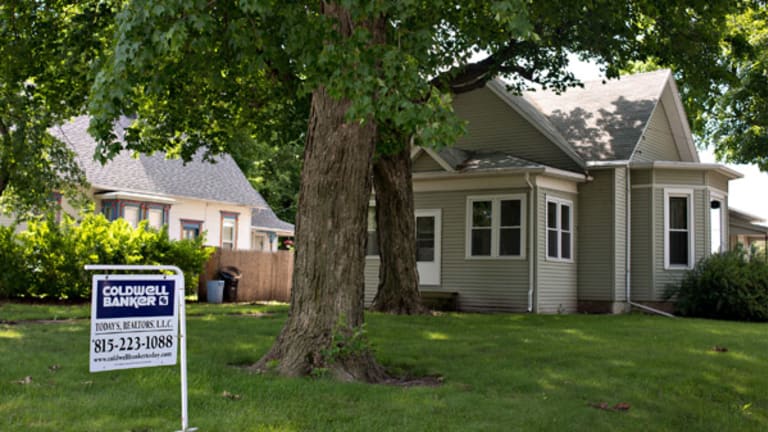 Why Optimism About the Housing Market Doesn't Mean a Big Recovery
Homebuilders are optimistic about the market for new single-family homes, but there are many obstacles that may prevent a robust rebound.
NEW YORK (TheStreet) - The National Association of Home Builders says that the market for new single-family homes will return to near-normal production levels during the next two years as the Federal Housing Finance Agency allows Fannie Mae (FNMA) and Freddie Mac (FMCC) to ease lending standards for qualified residential mortgages.
The NAHB predicts that single-family home production will begin to surge in 2015 on stronger economic growth, low mortgage rates and pent-up demand, forecasting that single-family starts will increase 26% to 802,000 units in 2015 and another 37% to a normal annual rate of 1.1 million units in 2016.
But several statistics and issues indicate that the optimistic outlook won't become a reality.
Disappointing third-quarter earnings from Fannie Mae and Freddie Mac cast a cloud above the possibility that the FHFA can authorize more risky mortgage lending by the mortgage giants.
Looking at data from Fannie Mae, single-family mortgage issuance declined 43% in the third quarter from a year earlier with issuance for home purchases down 15% and refinancings down a staggering 61%. Refinancings that require a Federal Housing Administration guarantee have a higher mortgage insurance premium, and that can be a deal-breaker.
Another determent to mortgage lending involves homeowners who are relocating and who are underwater on their mortgage. If their bank approves a short sale, the amount of the loan forgiven is now considered taxable income. That will put a down payment on new home mortgage in jeopardy. 
Another issue is that first-time home buyers are at the lowest percentage in 30 years at 33%, compared with 38% a year ago and a normal 40% according to the National Association of Realtors.
Home prices are too high, although the rate of price increases is moderating. The S&P Case-Shiller 20-city home price index for August showed a continued deceleration in home price gains. The year-over-year gain of 5.6% was an uptick of just 0.2% from July. From their July 2006 peak, home prices are down 17%, but they are up 29% from the March 2012 lows.
The increase in home prices since March 2012 was fueled by investors who converted homes into rental properties and by foreign cash buyers who took advantage of the weak dollar into the first half of 2014.
At the March 2012 low, home prices returned to the longer-term uptrend where home price increased by slightly more than the underlying rate of inflation. But home prices in August were 22% above the normal uptrend going back to the beginning of 2000, stretching affordability. Meanwhile, a recent U.S Census Bureau study that shows incomes for the average family down 8.7% since peaking at the end of 1999.
Even the FHFA, which wants to allow Fannie Mae and Freddie Mac to increase mortgage lending, is concerned. Millennials -- who are potential first-time home buyers between the ages of 25 and 34 -- are choosing to remain renters. Many people in this age group are delaying starting families as many are saddled with student loans and are living with their parents.
According to the FHFA, demand for mortgage financing comes from former homeowners who lost their jobs, and in some cases their homes, during the financial crisis. They want to buy a home but have damaged credit scores.
The FHFA is involved with formulating guidelines for mortgages with loan-to-value ratios between 95% and 97%, where creditworthy borrowers have the income to afford monthly mortgage payments but do not have the money to make a large down payment or pay closing costs. Purchase guidelines would allow for a 3% down payment.
Haven't we been down this road before?
At the time of publication, the author held no positions in any of the stocks mentioned.
This article represents the opinion of a contributor and not necessarily that of TheStreet or its editorial staff