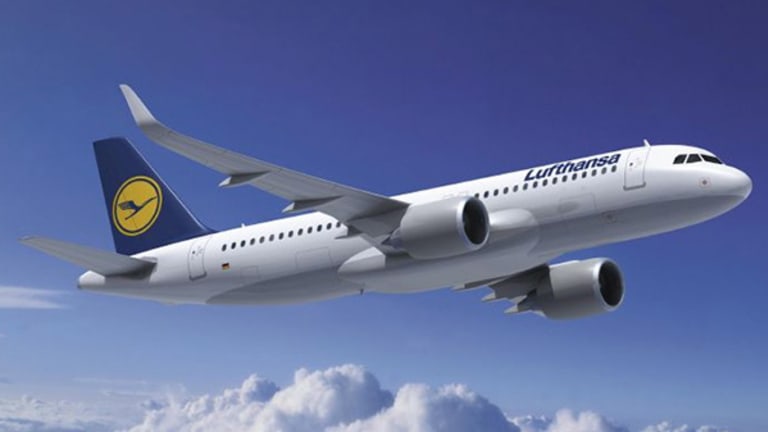 Why Only Some Airline Tickets Are Falling With Lower Oil Prices
Airlines can buy futures contracts, thereby locking in their cost. The same contracts bought not long ago are now costing some airlines millions of dollars.
NEW YORK (TheStreet) -- For most consumers a collapse of oil prices equates to lower prices for everything from the cost at the pump to the food on your table. Since fuel is the largest single component in the price of an airline ticket, would-be travelers may be wondering why ticket prices haven't fallen further.
The fact is that passengers may not see a precipitous fall in airline prices for months to come -- if at all. The reason for this apparent disconnect is most airlines can't afford to lower ticket prices due to losing huge bets they made on fuel prices months ago. 
To understand this situation, we must travel back to late 2007 when the housing bubble was near its peak and oil prices spiked to all-time highs, forcing gas and jet fuel prices to skyrocket higher. The United States Oil Trust ETF (USO) - Get United States Oil Fund LP Report  was just north of $116. These days, it's under $22 a share.
Most airlines were caught off guard and didn't anticipate jet fuel would climb as high, and remain as expensive for as long as it did before finally falling lower. One notable exception was Southwest Airlines (LUV) - Get Southwest Airlines Co. Report. By using commodity derivative contracts, Southwest was able to hedge successfully against fuel price spikes.
Shares in Delta Airlines (DAL) - Get Delta Air Lines, Inc. Report, American Airlines (AAL) - Get American Airlines Group, Inc. Report  and United Airlines (UAL) - Get United Airlines Holdings, Inc. Report were crushed. Delta and United lost over 70% of their valuations. American, ATA, Frontier, Sun Country and others declared bankruptcy. To be sure, Southwest shares fell also, albeit relatively speaking; shareholders dodged the worst of it.
It didn't take long before the other airlines decided they needed to change the way they pay for fuel. In order to protect against another price spike, they began or increased the amount of hedging and/or betting that fuel prices would climb or spike higher. Delta airlines even bought an oil refinery in hopes of dampening price volatility.
Depending on the price, jet fuel can easily comprise 30% or more of an airline's expenses. Accordingly, the only way airlines can accurately predict any given future flight cost is accurately budget the price of fuel purchased for the flight.
Futures trading started with farmers wanting to lock in their price so they could predict their profit for any given crop. The same desire for certainty applies for energy producers and consumers.
Airlines can buy futures contracts for the jet fuel they expect to use months and years in advance, thereby locking in their cost. As a result, airlines that bought contracts six months or a year ago for delivery now are losing money on the contracts that are now trading for much less. Ideally, losses from futures contract should equal amount of savings from fuel purchased. That's what's known as a price hedge, the removal of price volatility.
Unfortunately,m right now for some airlines, there's another way to protect against fuel spikes. The futures contracts mentioned have options trading as well. An option gives the purchaser the right, but not the obligation to either buy (in the case of a Call option) or sell (in the case of a Put option) a set futures contract at a set price, and during an agreed upon amount of time until it expires.
Instead of simply locking in the future fuel price through futures, another strategy is using options. In the hopes of getting a "free ride", several airlines including Delta and Southwest bet big that energy prices would rise, or at a minimum remain level.
They did so through the use of options on futures contracts. By selling put options to pay for purchased call options, creating what's known as collar for free, they wanted to reduce or eliminate the cost to protect against fuel spikes. However, in the process, they left their portfolios susceptible to major price drops.
Again, losses from commodity trading should only offset gains (depending on the level of trading in relation to actual fuel use) and all else being equal, come out in the wash. However, not all else is equal and as of September 30, 2014 American airlines isn't hedged against fuel price changes. In other words, American came as close to perfectly timing the end of their hedges as any airline could hope for.
On the other hand, United and Southwest hedged approximately 24% and 40% of their expected fuel requirements in 2015, respectively. Southwest currently remains 40% hedged through 2016. If fuel prices remain low, American will enjoy a significant cost per passenger mile flown over its rivals that it can exploit to gain market share in the ultra-competitive airline industry.
All of the above airlines' shares have gained markedly during the last six months, however, if energy prices remain stable, American is best positioned to take advantage while others encounter turbulence.
Investors wanting to gain airline exposure because of cheap oil should first consider American on dips below $49 while oil trades below $60, while lowering their entry price by 50 cents for every dollar increase in the price of oil.
This article is commentary by an independent contributor. At the time of publication, the author held no positions in the stocks mentioned.