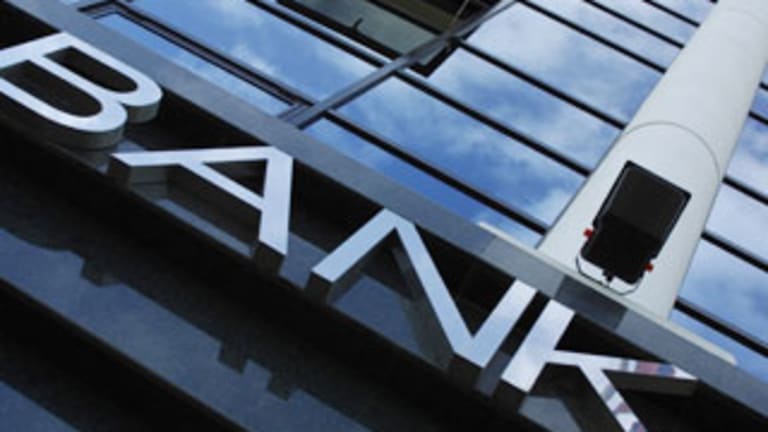 Why Only Big Bankers Can Flout the Rules and Get Away With It
Wrongdoing in the financial world can lead to big fines, but individuals at household-name firms rarely get charged. How about punishments that draw some blood?
NEW YORK (TheStreet) -- In its case against Standard & Poor's, the government finally found a punishment that hurt.
I'm not talking about the $1.37 billion deal that the ratings agency made with the government Feb. 3 over its role in the financial crisis. That's a big check to write, but the executives didn't issue it from their personal accounts. They didn't even chip in.
It's the actions against S&P and one of its former executives in late January that actually left a mark. In a $77 million settlement with the Securities and Exchange Commission and other regulators over post-crisis violations, S&P had to do more than write a check.
It agreed to a one-year ban from rating a segment of the commercial mortgage-backed securities market. And in a related SEC action that really got people's attention, Barbara Duka, the former co-head of S&P's commercial mortgage group, was accused of fraud in an administrative action. The case is now tied up in the courts.
Finally, a case involving a firm we've all heard of where an actual person was named. A boss, even.
Why don't we see more of that in enforcement cases against financial firms?
Settlements are typically made with the firm, not with the people running it. Indeed, that's what happened when the Justice Department, 19 state attorneys general and the District of Columbia settled with the ratings agency in the case on Feb. 3.
Weird as it sounds, there are incentives for regulators to charge firms, but not people. Banks will settle for bigger amounts if executives get a pass, which leaves management with a clean record and lets regulators take a bow for negotiating colossal deals. Then there's the cultural thing.
"It's very much a question of 'Are you in the club?'" said William K. Black, a law professor at University of Missouri and former senior deputy chief counsel at the Office of Thrift Supervision. "Boiler room folks don't wear nice suits and don't give political contributions, and they're never going to give you a job offer you would accept."
Thus, we wind up with a system that favors punishments that don't hurt over those that do -- for big firms, anyway. Allegations against CEOs, dismissal of rainmakers and temporary shutdowns of businesses all hurt. But fines? Shareholders pay those things.
To get an idea of how this played out in a recent case, consider the action that the Financial Industry Regulatory Authority settled with 10 firms in December.
All ten were pitching to get a piece of the proposed initial public offering of Toys "R" Us in 2010. It was a deal that the retailer ultimately canceled, but not before employees at the toadying investment banks had flouted Finra rules by promising or implying that they'd offer favorable research in return for a role in the IPO. Research analysts, in case you're wondering, are supposed to actually do research to determine whether a stock is worth buying -- not tout something because it will bring in banking business.
The firms -- Barclays Capital, Citigroup Global Markets, Credit Suisse, Goldman Sachs, J.P. Morgan, Deutsche Bank, Merrill Lynch, Morgan Stanley, Wells Fargo and Needham -- were fined a total of $43.5 million and neither admitted nor denied the charges.
The settlement documents were loaded with examples of people who broke the rules, yet not a single one was charged. Finra cited several examples of supervisors who knew that their analysts were planning to pitch Toys "R" Us in violation of the agency's regulations, but let them proceed anyway. And there were the usual email doozies.
"I would crawl on broken glass dragging my exposed junk to get this deal," wrote an analyst at Needham. They may be ethically challenged, but you can't say these guys don't have a commitment to getting the job done.
Nancy Condon, a Finra spokeswoman, said in an email that the case involved "an institutional issue and not one that could be attributed to a single individual or for that matter a single department."
Well I suppose that's right. There were lots of individuals, not one. Why not charge them all? "In this particular case, there was not sufficient evidence to support the chief compliance officers' intent to violate the rules," she wrote.
By comparison, in a case last month brought by the Securities and Exchange Commission, a stock promoter, a lawyer, three figurehead CEOs and seven auditing firm partners were named for their roles in a sham stock offering. I'd list all their names, but the players are unknowns outside the penny stock world. Are you catching on to how this works?
Regulators have offered the reasonable explanation that, unlike CEOs at big banks who are layers removed from many daily decisions, smaller firm CEOs are more likely to be involved when there's wrongdoing. That makes it easier to nail the small-firm boss, but doesn't explain why regulators aren't putting in the more demanding work to bring cases against Wall Street's elite.
Black says the system works to protect executives from the CEO on down. Even a "dirty as hell" CEO would be reluctant to throw an underling to the wolves, according to Black, because that person could wind up testifying against him. "So you don't just protect yourself," he said. "You do enormous amounts to try to protect even small people in the organization who might turn on you."
That protection comes by way of very expensive lawyers whose bills are paid by shareholders.
Bill Singer, a former regulator at the American Stock Exchange who today represents investors and brokers, said that even if regulators are too wimpy to pursue individuals, they could at least get more heavy-handed about finding novel ways to punish firms. "How about you say that as part of a settlement, all the board members have to resign or be replaced?" he asked. "Draw a little blood once in a while."
Although it isn't expected to have a significant impact on the agency's bottom line, Singer says the decision to bar S&P from a portion of its mortgage-rating business is a good start. It was also encouraging to see the SEC announce Tuesday that Craig S. Lax, the former head of the brokerage firm G-Trade Services, had agreed to a settlement in which he will be barred from the industry for five years and pay $783,000 in ill-gotten gains related to hidden commissions to customers.
Still, Lax wasn't from the community of too-big-to-fail bankers who Black would like to see roughed up by regulators. When it comes to those guys, "You have to do something unbelievably awful to somebody's grandmother before they come after you individually," he said.