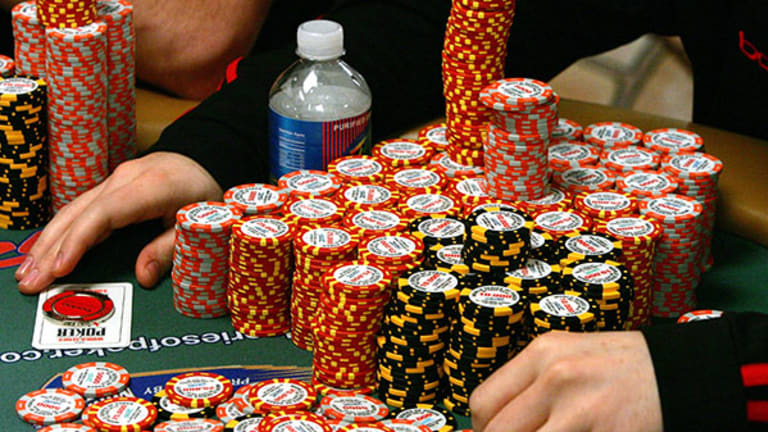 Why Online Poker Company Amaya Is a Great Investment Idea for 2016
Amaya (AYA) is poised to benefit from the growth of online gambling, yet the stock is trading at a deep discount. Patient investors could see the share price double.
The recent selloff in Internet gaming company Amaya (AYA) gives investors a chance to buy the stock at a substantial discount to fair value -- a discount so huge that patient investors should see it double in 2016.
That is because participation in online poker continues to increase. Online gaming is also slowly winning state approvals that are likely to further the industry's growth. Meanwhile, Amaya's financial situation has improved, as the company has repaid nearly $700 million in long-term debt that was on its balance sheet.
Amaya made headlines last year when it purchased the premier online poker brands PokerStars and FullTilt for $4.9 billion, including debt. Management's plan is to expand the brands internationally then patiently work online poker back into the U.S., where it has been effectively banned for years. Meanwhile, Amaya also plans ramp up both domestic and international offerings in online casino games and sports betting.
The U.S. is considered the big market, although the international market provides more than enough players to make Amaya a juggernaut. Below you'll find the prospects for U.S. poker and a discussion of Amaya's valuation.
While most states have no restrictions on online poker, for Amaya to grow, states must enact enabling legislation. So far, a patchwork of permissions has rolled out. Delaware and New Jersey both approved online gaming. Nevada has legalized online betting, as well, and that's one of the big kahunas. Players located in these states may play legally. California lawmakers have been discussing passage of online poker legislation, although they were unable to reach an agreement in their 2015 session, and Pennsylvania has been considering online gambling bills, too.
Early adopters will provide a foundation for other states, as kinks get worked out and policymakers evaluate the programs, particularly with respect to tax revenue. Given how desperate many state governments are for revenue, it won't be surprising if online gaming spreads quickly.
When Amaya purchased Oldford Group, the owner of PokerStars and Full Tilt Poker, full-year results for 2013 showed that Oldford generated $1.1 billion in revenue and $473 million in earnings before interest, taxes, depreciation and amortization, or EBITDA. The $4.9 billion purchase price was 11 times EBITDA, and it included $2.9 billion of debt.
When the acquisition was announced, Amaya's stock ran from $9.82 to $18.50, or to a market cap of only $2.5 billion. In the ensuing months, the stock ran up to nearly $34, or a $4.6 billion market cap -- just short of the purchase price.
So where do we look for a comparison to use in valuing Amaya?
Well, to our knowledge, the only other online poker company to be traded publicly was PartyGaming, which owned the popular PartyPoker Web site and conducted an initial public offering on the London Stock Exchange in 2005. It was one of the largest providers of online poker in the U.S. at the time, and it's probably the best proxy for estimating Amaya's possibilities.
In late 2006, PartyGaming stopped its real-money gambling business in the U.S., because the U.S. Congress had passed the Unlawful Internet Gambling Enforcement Act of 2006, which effectively banned online gambling by prohibiting "gambling businesses from knowingly accepting payments in connection with the participation of another person in a bet or wager that involves the use of the Internet and that is unlawful under any federal or state law." What was PartyGaming is now a part of Bwin.party Digital Entertainment.
But let's look at PartyGaming's results and valuation before the company exited the U.S. In 2005, PartyGaming had $977.7 million in revenue, with earnings before interest, taxes, depreciation and amortization of $583.7 million. The company was valued at $8.5 billion when it went public later that year. Its 2006 midyear report showed 51% revenue growth and a 42% increase in earnings per share.
At its peak following the IPO, PartyGaming was valued at 17.7 times EBITDA.
The implication is that if Amaya can ramp up its results to PartyGaming's previous ones, then it should trade at the same valuation.
Amaya's management said it expects full-year 2015 EBITDA to be in a range, of which the midpoint is U.S. $445 million. If you assume a 5.5 price-to-EBITDA ratio, which is how the market valued the stock following the announcement of the Oldford purchase, that would mean an increase from Wednesday's closing price of $16.40 a share to about $18.50 a share, a nice 13% pop.
If you assign a price-to-EBITDA ratio of 11, which is how the purchase price for Oldford Group valued it, that would mean a market cap of $4.9 billion, or nearly $37 per share, which is more than a 100% return.
This is definitely achievable in 2016. For starters, Amaya's financial position is much better now than it was at the time of the purchase. It has sold off several assets, and repaid $690 million of long-term debt. It also bought back some $45 million in stock.
Currently, casino gaming only accounts for 13% of revenues at Amaya. That should increase as it expands next year, and sportsbook offerings will also enhance revenue. Online poker should continue its worldwide growth.
Resort casinos are valued at price-to-EBITDA ratios around 11.  Las Vegas Sands trades at a price-to-EBITDA ratio of 10, based on trailing 12-month results. Wynn Resorts trades at 13, and MGM Resorts at 15, even though it's loaded with debt. In addition, these are bricks-and-mortar casino resorts, so they have overhead that Amaya doesn't.
A price-to-EBITDA ratio of 11 seems perfectly reasonable.
Is it possible that Amaya hits PartyGaming's 17.7 ratio, putting the stock close to $56? The bet is that online poker will regain the status it once had in the U.S., although the firm is in the nascent stages of its expansion. When revenue from casino and sportsbook are added, it becomes more likely.
So why did Amaya stock sell off from the mid-20's all the way to $16 recently? This was a massive overreaction to the company's third-quarter results, which showed some nasty hits from currency exchange rates. As a business that is primarily international yet based in Canada, the strong greenback appears to have harmed the company's revenue and bottom line.
Yet when one examines the numbers on a constant-currency basis, they look great. Revenue was up 19% on that basis, and Amaya added 1.85 million customer registrations, to a total of 97 million. That's 97 million players on the platform, and almost none yet in the U.S.
Do foreign-exchange rates matter? It depends on whom you talk to. Exchange rates are an ongoing fact of operations in all companies. Some years they boost earnings and in other years they detract. In the long run, they balance out.
This stock appears underpriced right now and poised to benefit from the inevitable expansion of online poker.
This article is commentary by an independent contributor. At the time of publication, the author held shares of AYA and January 2017 WYNN call options.