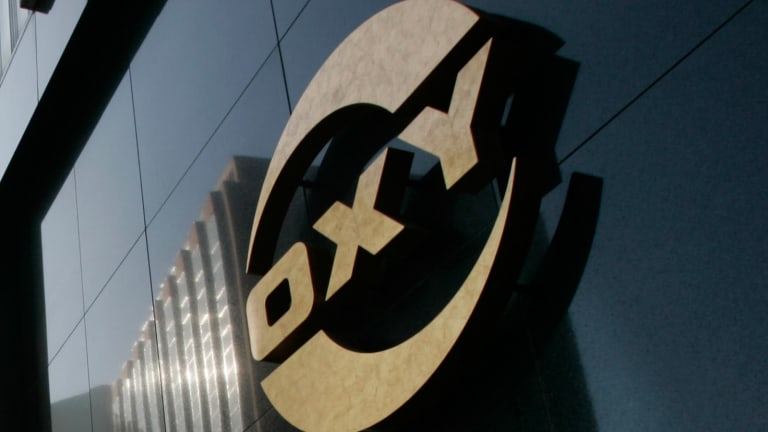 Why Occidental Petroleum Will Soar Above the Energy Sector's Woes
Energy prices are heading down again, but this oil company is strong enough to weather the storm. Here is why it is a smart and rare industry growth play now.
The recent rally in oil and gas prices has fizzled, dragging down global equity markets.
Whether investors own Anadarko Petroleum,ChesapeakeEnergy, Chevron, ConocoPhillips or a host of other battered energy stocks, the descent in oil prices has pummeled their portfolios.
Investors are again abandoning oil and gas stocks for more promising growth opportunities in other sectors. Just a handful of energy companies have managed to stay relatively unscathed.
One such company is Occidental Petroleum (OXY) - Get Occidental Petroleum Corporation Report .
Because of its comparatively limited exposure, the company has escaped this red tide, hardly facing any of the liquidity troubles that have laid waste to so many other well-known stocks. This is why 2016 could be a very different year for Occidental Petroleum, unlike many of its peers.
Occidental Petroleum's shares are actually up 1.05% year to date, a rarity considering the carnage all around it.
Multi-year lows for crude oil have devastated company after company. What is most worrisome is the sinking feeling that low oil prices are here to stay and probably for a very long time.
Occidental Petroleum's acreage in West Texas, clean balance sheet with debt that remains manageable, sustained cash flow, low costs of production, and solid positions in both shale and conventional oil are some of the key elements helping the company weather the turbulence. That's why OXY is among a group of intrinsically strong investments that should withstand any market turmoil this year.
The company isn't a "super major," but the market doesn't perceive it as energy firm desperate to replicate the moves of the bigger players either.
Occidental Petroleum's focus on lowering costs has helped it survive in a weak oil price environment. What's more, the company thinks that it can trim costs further.
Like many energy firms, Occidental Petroleum has laid out plans to reduce capital expenditures, but its capital allocation strategy is probably one of the smartest, even as it has aims to spend on assets that have a higher rate of return and a low base decline rate.
A large chunk of the company's strategy has been reducing non-core businesses. For many energy firms, the inability to cut bloated debt has forced them to sell off assets, and some are even contemplating fire sales to get hard cash.
Occidental hasn't had to contend with such a situation, thanks to its liquidity profile. However, it's moved ahead with some selective trimming in the form of offloading its Bakken shale, Williston Basin properties as well as currently eyeing an exit-route from its non-core Middle East ops.
The company can also adjust the capital spending required to maintain its asset base while generating modest production growth. Its $4-billion-plus cash balance can bank roll dividends. Maintaining dividends is a clear indication that Occidental is now among the market's reliable growth prospects.
As we've seen, energy firms have been suspending or slashing dividends consistently, even as they seek to conserve cash. NRG Energy and Consol Energy are the latest to cut dividends.
Energy companies in the S&P 500 alone cut around $6 billion in dividends last year. While Occidental isn't immune to the negative free cash flow plaguing the energy sector, its cash chest can protect the 4.3% yield and 13-year dividend growth track record.
Occidental pays about $550 million a year in dividends. Notwithstanding its healthy cash balances, the smartest path for Occidental would be to shed its $8.33-billion debt. But hang on, there isn't any need to ring alarm bells since Occidental doesn't have to battle the kind of challenges ailing debt-laden entities like Chesapeake and SouthWestern Energy.
Occidental's more stable operating profile and balance sheet make it a defensive play compared to the several energy companies that are sinking down to the bottom by the day.
You see Jim Cramer on TV. Now, see where he invests his money and why Occidental Petroleum stock is a core holding of his multimillion-dollar portfolio. Want to be alerted before Jim Cramer buys or sells OXY? Learn more now.
85% Accurate Trader gives his Personal Guarantee. He turned $50,000 into $5 million trading this way and for a limited time, he's guaranteeing you at least $67,548 per year in profitable trades if you follow this simple step-by-step process. Click here to see how easy it is to collect thousands of dollars in "Free Money" every month.
This article is commentary by an independent contributor. At the time of publication, the author held no positions in the stocks mentioned.