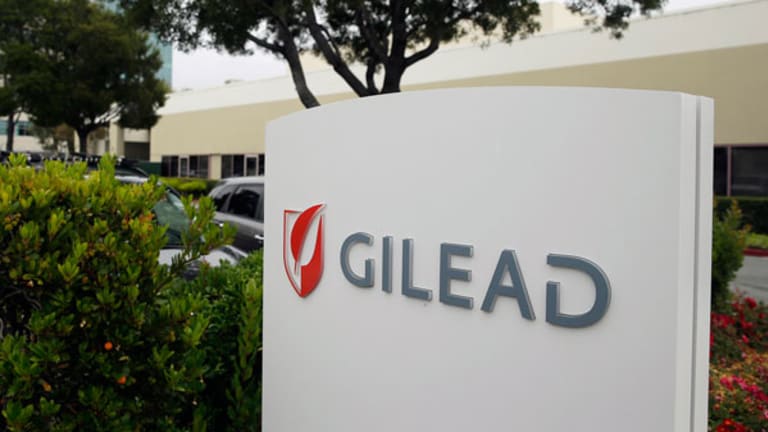 Why Now's the Time to Buy Shares of Gilead Sciences
Trading at just seven times earnings, this stock is a biopharmaceutical bargain.
Shares of biopharmaceutical company Gilead Sciences (GILD)  have been subject to much downward pressure after reporting disappointing first-quarter earnings late last month.
But the selling is overdone and creates an opportunity for investors to start accumulating shares at current levels and below. 
Gilead trades at a trailing 12-month price-to-earnings ratio of 7.06 and has an estimated forward P/E ratio of 6.85. The reason for this rather low multiple is because Gilead's growth has stalled and the market is worried about future growth prospects.  
But Gilead is sitting on $21 billion that can be used at any time to acquire a promising company that will provide it with much-needed growth.
"It's time for us to go out and do important deals. We need some other assets that can bolster our pipeline," Chief Executive John Milligan told Bloomberg recently.
If and when these deals come to fruition, Gilead's shares could see massive appreciation due to their low valuation. The fact that the biotechnology industry has a median P/E ratio of 28 makes the case for an investment in Gilead even more compelling. 
In order to get a clearer picture of the opportunity at hand, let's use a method used by one of the most prominent investors of all time, Peter Lynch. He would create a chart that showed the stock price and earnings per share together and would then equate $1 in earnings per share to $15 in stock price.
The result allowed Lynch to get a better picture of whether a stock was undervalued or overvalued, and he used this to help him achieve superior gains.
Below is a chart for Gilead, using Lynch's methodology with expected earnings.
Chart Source: GuruFocus.com
As the chart shows, Gilead's share price (green line) is far below its earnings (blue line), indicating a good opportunity to purchase shares at an extreme discount. 
Gilead is a fundamentally sound and disciplined company that has many qualities typical of successful investments.
One quality that specifically stands out is its return on equity.
ROE is an indication of a company's ability to use investment funds in order to increase earnings. An ROE above 15% is considered good.
Below is Gilead's ROE since 2007.
| | | | | | | | | | |
| --- | --- | --- | --- | --- | --- | --- | --- | --- | --- |
| 2007 | 2008 | 2009 | 2010 | 2011 | 2012 | 2013 | 2014 | 2015 | TTM |
| 61.24 | 52.02 | 49.25 | 47.44 | 44.49 | 32.30 | 29.74 | 90.32 | 106.64 | 104.70 |
Other signs that point to Gilead being a favorable investment are that its P/E ratio is close to a 10-year low, its price-to-sales ratio is near a 10-year low, its stock price is close to a two-year low and the dividend yield is near a one-year high.
The biotech industry in general has seen declining share prices recently, and this is another positive for Gilead because as shares of other companies in the sector become cheaper, they become more attractive acquisition targets. 
Due to the biotech industry's massive potential, buying shares of Gilead at this level and holding them until this potential is fulfilled could prove to be very profitable.
Brent Botwin is a value investor and previous Fortress Challenge winner. He is a stock specialist who is constantly monitoring the market and uses strong fundamental and technical analysis to provide timely investment advice over a wide variety of sectors. He is long GILD.