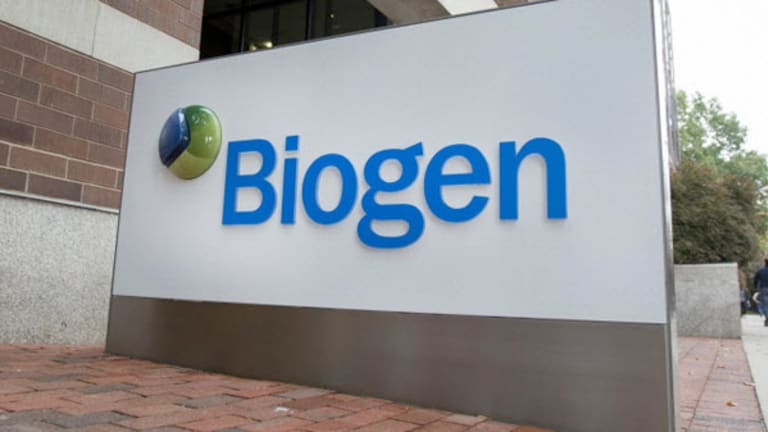 Why Now Is the Time to Buy Shares of Biogen
The massive selling of the biopharmaceutical company's stock has created a good entry point for long-term investors.
Shares of biopharmaceutical company Biogen (BIIB) have been subject to much downward pressure since hitting an all-time high of about $475.
But this downward move is only temporary and creates a good opportunity for long-term investors to start accumulating shares at current levels and below.
Chart Courtesy of GuruFocus.com
Biogen trades at a trailing 12-month price-to-earnings ratio
 and has an estimated forward P/E ratio of 11.98. For a company with solid growth potential, these multiples represent a bargain. 
To get a clearer picture of the opportunity, let's use a method used by one of the most successful investors of all time, Peter Lynch. He would create a chart that showed the stock price and earnings per share together and would then equate $1 in earnings per share to $15 in stock price.
The result allowed Lynch to get a better picture of whether a stock was undervalued or overvalued, and he used this to help him achieve superior gains.
Below is a chart for Biogen, using Lynch's methodology with expected earnings.
Chart Courtesy of GuruFocus.com
As the chart shows, Biogen's share price (green line) has recently fallen below its earnings (blue line), indicating a good opportunity to start purchasing shares at a discount. 
Biogen is a solid and promising company that has many qualities typical of successful investments. 
One quality that specifically stands out is its return on equity.
ROE is a company's ability to use investment funds in order to increase earnings. An ROE above 15% is considered good.
Below is Biogen's return on equity since 2009. 
| | | | | | | | | |
| --- | --- | --- | --- | --- | --- | --- | --- | --- |
| Year | 2009 | 2010 | 2011 | 2012 | 2013 | 2014 | 2015 | TTM |
| ROE | 16.13 | 17.31 | 20.88 | 20.62 | 23.90 | 30.21 | 35.15 | 33.90 |
Other signs that point to Biogen being a good long-term investment are that its stock price is close to a two-year low, its P/E ratio is near a five-year low, its price-to-book ratio is close to a three-year low, and its price-to-sales ratio is near a three-year low. 
The biotech industry has a bright future and Biogen will continue to be one of the industry leaders. 
Due to Biogen's proven performance and high-growth potential those who continue to buy shares at a discount and patiently wait for this growth potential to be fulfilled could be greatly rewarded. 
This article is commentary by an independent contributor. At the time of publication, the author was long BIIB.