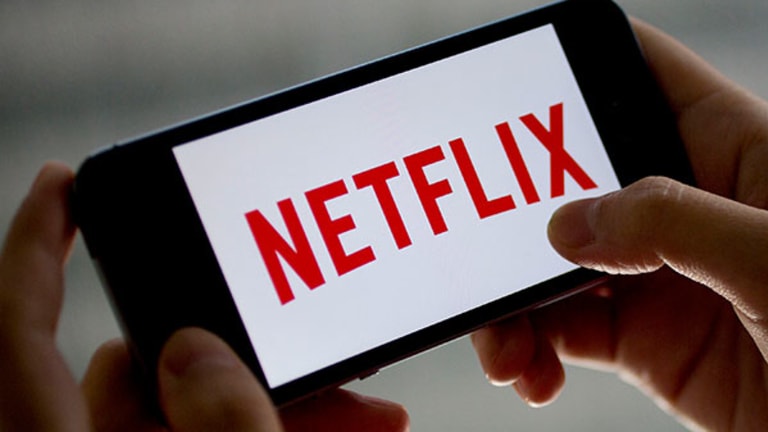 Why Now Could Be a Great Time to Pick Up Shares of Netflix
Investor confusion about Netflix compounded by year-end tax loss selling has the company's stock selling at a bargain. Don't miss out.
NEW YORK (TheStreet) -- The end of the year is often a good time to pick up bargains on stocks being sold off for tax loss purposes. These troubled stocks get beaten down even more by investors selling to generate losses to offset gains.
Typically, investors shop for these kinds of stocks among thinly traded small-caps, since they get hit the hardest. But Connor Browne, a portfolio manager at Thornburg Value Fund,has another idea: Consider buying Netflix (NFLX) - Get Netflix, Inc. Report -- hardly a microcap name -- on tax-loss selling weakness.
At around $342 a share, down 7% for the year to date, Netflix certainly qualifies because many people who bought it this year are under water. 
Besides the current tax-loss selling, Netflix shares are in the doghouse after a big gap down in October caused by a slowdown in third quarter subscriber growth. Management cited price increases and the lack of new content to offset those hikes. The second season of the wildly popular Orange is the New Black helped offset the negative of higher prices in the second quarter.
More original content is on the way, and that should help combat the negative of the price increases over time. "I tend to think it was only one quarter," says Browne, whose fund owns the stock. "As their content improves, I think there will be a continuing appetite from new users."
Of course, moving into original content is risky. It's tough to constantly keep producing more hits. But there's also a lot of potential upside here.
For one thing, there's a virtuous cycle inherent in the model. "The more subscribers they have, the more money they have to spend on content, and the more subscribers they can get," says Browne.
Next, while cable companies have to pay more for content when they have more subscribers, Netflix pays once, and it can show that content to as many subscribers as it wants, with no additional content costs, points out Browne. This explains why third-quarter revenue from the U.S. streaming business was up 25% to $877.1 million, but profits from this division grew more than 50% to $250.8 million. Cable companies don't have this kind of operating leverage.
Why Netflix Looks Cheap
Netflix is using a lot of its money to expand in international markets. This heavy reinvestment hits earnings, and that makes Netflix look stupid-expensive on a price-earnings basis with a P/E of around 72. But Browne looks at Netflix differently. He looks at the earnings contribution from the domestic U.S. business alone, a few years out, to come up with a much more reasonable valuation.
He expects the U.S. business to produce $15 per share in 2018, which gives the U.S. business a P/E of about 22. That's not only reasonable, but it gives Netflix no credit for the international business -- which should eventually be even bigger than the U.S. business, given the rapid growth rates.
Browne thinks all of this could drive Netflix stock to $500 by 2018.
Original Content Risk
But what about that risky original content gambit? After all, Netflix's recently released Marco Polohas not gone over well with critics. But Browne believes over the long run there may be something to the idea that Netflix has so much data on what people like to watch and how they watch it, it will continue to help them buy or commission hits like House of Cards and Orange Is the New Black.
Netflix famously opted to produce House of Cards, an adaptation of a British miniseries, starring Kevin Spacey and produced by David Fincher after it noticed users watching Fincher's movies through to the end and the popularity of Spacey's films, points out Morningstar analyst Neil Macker.
Macker expects more of the same, which is why Morningstar now assigns Netflix a narrow moat rating, meaning its "Big Data" give it an edge over competitors. "We believe that the company can leverage its rapidly expanding subscriber base and the data set that it creates to better purchase and create content," says Macker.
A couple of other factors give Netflix an edge in original content. Once it selects shows to fund, it steps aside and doesn't interfere with directors, a key advantage in the competitive market for content, says Macker. Unlike networks, it doesn't have to split revenue generated by shows with cable or satellite companies. "They have a more efficient distribution model. So as they grow, they should be able to pay content creators more for their content," says Browne.
All of this suggests more quality original content should continue to entice TV fans to cut the cord to get away cable companies, which force them to subsidize programs they don't watch in the "bundled content" model. "The bundle is fraying, and Netflix stands to be one of the beneficiaries," says Browne.
This article is commentary by an independent contributor. At the time of publication, the author held no positions in the stocks mentioned.