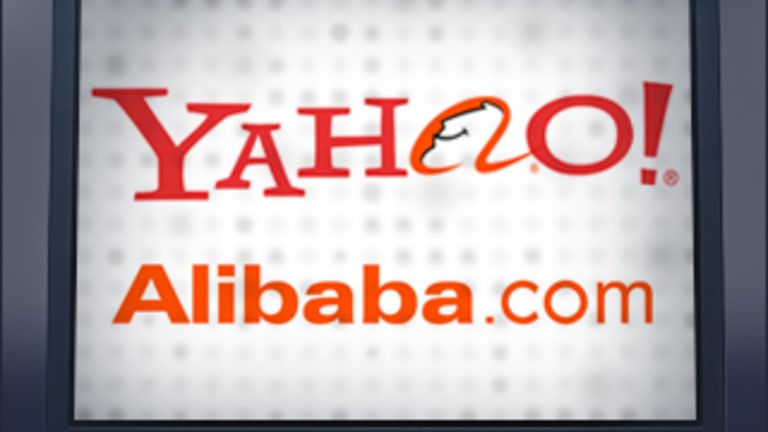 NEW YORK (TheStreet) -- Alibaba, the best-known face of China's Internet, is ready to pounce on U.S. investors in what could be the biggest Chinese initial public offering ever.
After months of speculation, the Chinese online e-commerce giant finally revealed the IPO is coming to a U.S. stock exchange. Alot of the excitement comes from Alibaba being a huge and profitable company, with a charismatic leader and no direct competitor.
Perhaps no company is more ready for that IPO than Yahoo! (YHOO) , which owns a 24% stake in Alibaba. In the coming weeks, Yahoo!'s shares could outperform its peers in anticipation of the IPO. What happens after the IPO is another matter because Yahoo! has to sell a significant portion of that stake. Over the past 52 weeks Yahoo!'s shares are up 67% but for the year to date they are down nearly 6%. Shares recently traded around $38.
Alibaba controls nearly 80% of China's e-commerce market, which makes it one of the biggest Internet companies of the world. It has essentially worked as a middleman between buyers and sellers.
Although Alibaba is known for its business-to-business services, the company also owns dozens of other properties including email services, social media services and Alipay, which is akin to PayPal. It doesn't have any direct competitor in the U.S. because its business is essentially a blend of Amazon (AMZN) - Get Amazon.com, Inc. Report, eBay (EBAY) - Get eBay Inc. Report PayPal and Google (GOOG) - Get Alphabet Inc. Class C Report. Alibaba on Thursday invested $251 million for a minority stake in the messaging app called Tango.
To get an idea of how big Alibaba actually is, consider its two shopping Web sites, Taobao and Tmall. These two alone accounted for more 50% of all parcel deliveries in China. Last year, the two Web sites reported transaction volume of more than $160 billion, which is above and beyond what eBay or the retail behemoth Amazon have ever witnessed.
In the previous quarter, Alibaba revenue climbed 51% to $1.78 billion from the same quarter a year earlier while net profits came in at $792 million. The company operated with a healthy profit margin of 44.6%.
In short, Alibaba, unlike Amazon, is extremely profitable.

Then there is founder and CEO Jack Ma. Ma has been able to successfully navigate Alibaba through the difficult Chinese Internet regulatory environment. He is a popular public speaker with his fluency in English, which helps him greatly dealing in the U.S.
Analysts have given varying value estimates for Alibaba but the consensus is $153 billion. This makes Alibaba nearly twice as big as eBay.
What does the IPO really mean to Yahoo!! and Japan's Softbank (OTC: SFTBF), which owns 37% of Alibaba?
Yahoo!'s stake in Alibaba is valued at more than 95% of Yahoo!'s current market cap while Softbank's stake is 59% of its current market cap. Yahoo!'s shares could rally on the hype surrounding Alibaba's IPO but it has to sell 10% of that stake once the IPO is completed.
However, the equity sale could give a significant boost to Yahoo!'s cash reserves. If Alibaba is valued at $153 billion, then Yahoo! could get $15.3 billion from the sale.
Yahoo! has been struggling with increasing its revenue. The company could use the massive cash inflow from Alibaba's equity sale to expand in other areas in its hunt for top-line growth. Like other technology companies such as Facebook (FB) - Get Facebook, Inc. Class A Report, Alibaba and Rakuten, which just bought messaging app Viber, Yahoo! could also go after a company with a hot messaging app.
Or Yahoo! could use the cash to increase its non-acquisition-related capital expenditures, or return the cash to shareholders.
But first the dust must settle after the IPO, when Yahoo!'s shares could go either way.
At the time of publication, the author held no positions in any of the stocks mentioned.
This article represents the opinion of a contributor and not necessarily that of TheStreet or its editorial staff.