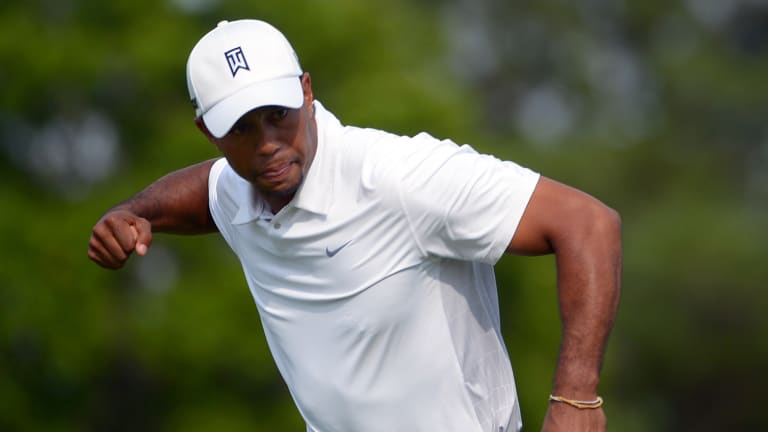 Tiger Woods Denies Alcohol Led to His DUI Arrest, But Nike Should Still Cut Him Loose
It's time for Nike to part ways with Woods.
It may finally be time for Nike (NKE) - Get Free Report to just do it with golf legend and spokesman Tiger Woods: cut bait at any cost in order to save itself from continuing to be associated with a troubled, low return on investment athlete.
Woods was arrested around 3 a.m. Monday on suspicion of driving under the influence (DUI) in Jupiter, Fla. He was booked into a local jail and released on his own recognizance with no bond several hours later. It's unclear whether Woods tested positive for alcohol for drugs.
In a statement Monday evening, Woods said an unexpected reaction to prescription medicine led to his DUI arrest. Woods denied that alcohol was involved. 
Nike has been through it all with Woods over the years.  
Woods broke onto the tour in grand fashion in 1996 and dominated the rankings and winner's circle into the early 2000s, shaking up a sport previously known for white guys in baggy khaki pants and oversized polo shirts. Nike chose to stick by Woods following his notorious sex scandal in 2009 and subsequent poor play. Ultimately, his comeback in 2012 and 2013 netted him a new contract from Nike in July 2013.
Nike has not disclosed the current length and amount of Woods' contract, but the company has rewarded him extremely well for helping to market to weekend hackers, low handicappers, kids and fellow golf pros.
Woods' original contract with Nike in 1996 was for five years and a reported $40 million, while in 2001, he signed another five-year deal for a reported $100 million. Terms of Woods' contract that ran from 2006 to 2013 were not released.
Golf Digesthas pegged Woods' annual haul from Nike at more than $20 million per year. Sports Illustrated, on the other hand, put it closer to $40 million annually. 
But Nike sticking with Woods right now may be as wise as trying to drive home after 10 beers. For starters, Woods' role model status among kids -- if it didn't already -- is likely to take a fresh hit amid his DUI arrest. Parents may think twice before putting Woods' "TW" Nike brand on their kids -- after all, Woods could end up being convicted for DUI and is also known for his aforementioned sex scandal.
In effect, the next generation of golfers could grow up wearing Under Armour (UA) - Get Free Report , whose clothes are hawked by squeaky-clean golf phenom Jordan Spieth. 
Secondarily, Woods' persistent health issues continue to leave him -- and his Nike clothing -- off the course and off prime-time TV. With there being no assurance that Woods returns to competitive golf in light of his balky back, Nike can't be confident in how many sales he could help drive. 
All in all, Woods' ROI continues to shrink by the day. Time for Nike to take that money and invest it elsewhere. 
A Nike spokesman didn't immediately return a request for comment. 
Click here for the latest business headlines.
Trending stories on TheStreet:
Dying Sears Could Be Quickly Running Out of Cash
Sears Mind-Blowing Loss and Evaporating Cash Should Only Question If It Could Survive
Amazon's New Bookstore in New York City Is More of a Showpiece Than Anything Else