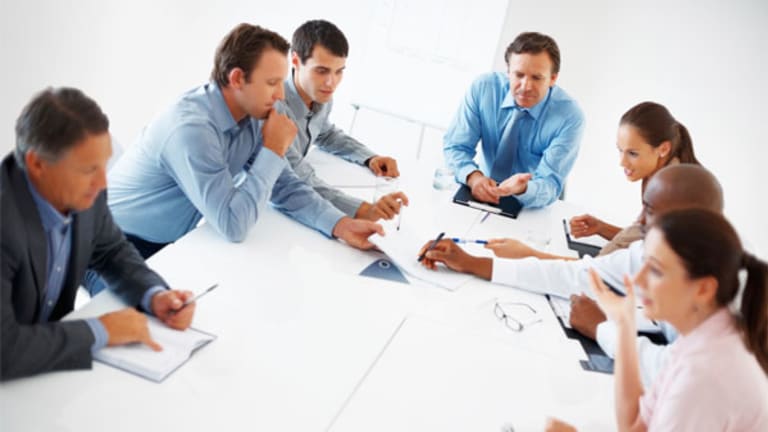 Why Netflix Crashed: Opinion
Rocco Pendola explains why, before long, Netflix might just change its strategy on DVDs yet again.
The following commentary comes from an independent investor or market observer as part of TheStreet's guest contributor program, which is separate from the company's news coverage.
NEW YORK (
) -- To be clear, the headline does not contain a direct quote from
Netflix
(NFLX) - Get Netflix, Inc. (NFLX) Report
CEO Reed Hastings. When asked on his company's Monday afternoon conference call if he had plans to spin off the DVD division, Hastings did not give his usual long, thorough, articulate and well-thought out answer.
"No, we're not thinking of that." That was Hastings' exact response. It sounded as if it came mid-swallow or during a yawn. And it was typical Reed Hastings: Discount the idea as complete and total lunacy by feigning indifference and apathy with the standard touch of arrogance. It's almost as if the question is so stupid, I have to reduce myself to serf or peasant status to muster a response.
Let's go back to July of 2011. Here's what Hastings
had to say about his company's DVD division:
Because we believe we can best generate profits and satisfaction by keeping DVD by mail as a division, we have no intention of selling it. In Q4, we'll also return to marketing our DVD by mail service, something we haven't done for many quarters. Our goal is to keep DVD as healthy as possible for as many years as possible.
Finally, at least a hint of consistency.
We will not sell DVD.
At least in the first sentence, but not so much in the second and third. Here's what Hastings said about DVD just six months later:
DVD will do whatever it's going to do. We're not -- we're going to try to not hurt it, but we're not putting a lot of time and energy into doing anything particular around it . . . .
I fully realize
we've been over this before, but it bears repeating because things have a way of changing on a dime at Netflix.
Lots of folks are wondering this morning why
Netflix crashed on what was not a horrific earnings report.
In this article, I explain why Netflix crashed (and will continue to crash). I also discuss why, before long, Hastings might just change his mind on DVDs yet again.
Reason for the Latest Implosion
It's really quite simple. You can break down the numbers all you want. You can try to pinpoint particulars that shed light on what happened here. There's little need for that, though. Netflix tanked because it is no longer a growth company in the spirit of today's "overvalued" growth companies like
Pandora
(P)
and
Lululemon
(LULU) - Get Lululemon Athletica Inc (LULU) Report
.
As I have explained in
several recent articles , Wall Street will always "overvalue" companies in perpetual start-up mode. Profitability, for all intents and purposes, does not enter the equation. Investors in high-flying growth stocks look for three things: (1) logical and realistic long-term opportunity, (2) enough reinvestment into the business to seize those opportunities (spending) and (3) rapidly growing revenue.
You can argue that Netflix scores high on No. 1, though I would question if the long-term goals it looks to achieve are within its reach. It definitely spends like a drunken bootlegger; therefore it wins on No. 2. Without No. 3, however, you're toast. Netflix lost its hold on No. 3. And, because it's not going to regain that hold anytime soon, the company's stock should be toast for the foreseeable future.
Revenue growth at Netflix is on a downward spiral. Consider the year-over-year changes in total revenue over the last several quarters.
In Q2 2011, revenue increased 52% year-over-year. In Q3 2011, it jumped 49%. For Q4 2011, it popped 47%. This past quarter -- Q1 2012 -- officially kicks off the swoon: Revenue only increased 21% year-over-year. Based on Netflix's own guidance, revenue will increase by between 10.6% and 13.4%, year-over-year, in Q2 2012. That type of waning performance gets you kicked out of the growth and momentum stock club hard and fast.
And, with "increased seasonality" (Netflix's words) about to provide subscriber growth with another relative pause, Hastings loses the silver bullet he has always been able to fall back on. After the price increase and Qwikster debacle, Hastings salvaged things by shifting focus to subscriber growth. When it's tepid, it's really tough to keep people's eyes off of those revenue numbers. Thus the 2012 version of something we have all come to expect -- a NFLX implosion.That brings us back to DVD.
No, we're not thinking of that.
Hastings, however, did not rule it out. I'm not thinking of drinking a beer right now, but when they get set to drop the puck tonight in the hockey playoffs, I probably will be.
Expenses continue to increase for Netflix almost across the board. Total operating expenses jumped nearly 4% between quarters. Total current liabilities continued to soar, up roughly 18% quarter-to-quarter. I can only imagine where off-balance sheet obligations will land when Netflix releases its 10-Q, probably later this week or next. They stood at $3.91 billion at the end of last year.
Cash, still propped up by last year's $400 million financing fast grab, only increased 1.6% between quarters. It stands at about $805 million. So, without another round of fundraising where will the cash come from to rebuild the brand in the United States, fund international expansion, license digital content and produce original programming? I doubt Netflix wants to call the big money for another bailout anytime soon.
As such, my money remains on another 180-degree turnaround. At some point, Reed Hastings has got to start "thinking" about selling his DVD business to make up for the end of Netflix's rapid growth phase.
At the time of publication, the author was long P and LULU; and closed a long position in NFLX puts this morning.