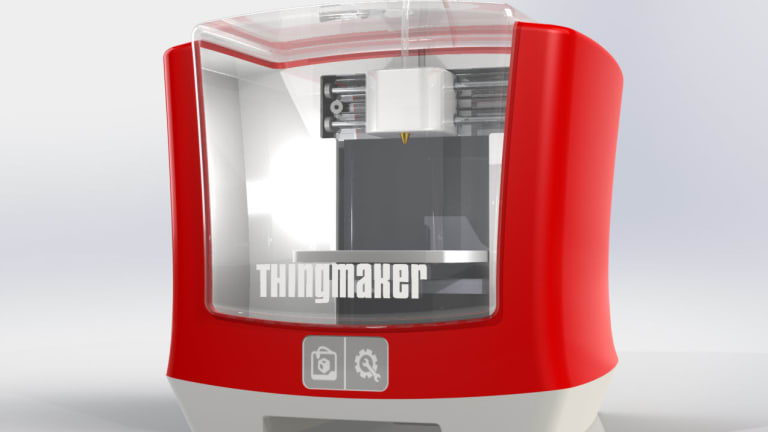 As the 3-D printing industry gains momentum, one of the most intriguing applications is how the technology could be used by the toy industry.
To that end, toy giant Mattel (MAT) - Get Mattel, Inc. Report  announced earlier this year that it was making a low-priced 3-D printer for kids that would be available starting this fall.
Some toy experts say this type of 3-D printer, which makes small plastic toys that kids can design, could be part of a technological training ground that gets kids ready for a world in which everyday items are 3D printed at home. Others say such a printer is a practical next-step for toy companies to maintain relevancy for their young consumers, but that the device won't inherently change the way children play and develop.
"Toy companies are very quick to adapt new technologies to play," said Jeffrey Goldstein, a professor at Utrecht University in the Netherlands who studies toys and children's play. "The toy industry isn't really far behind medical, business and military applications."
Mattel's 3-D printer, called the Thingmaker, was announced at the New York Toy Fair in late February. The printer uses software by Autodesk (ADSK) - Get Autodesk, Inc. Reportand children can print pre-made templates or can design generic ball-and-joint pieces that snap together to create small toys, such as a dinosaur figurine, a bracelet or a samurai.
The printer retails for just under $300 and will be released starting October 15, according to its Amazon order page. The name Thingmaker is a throw-back to a 1960s Mattel product by the same name that kids used to make toys with molds.
At this point, Mattel hasn't said which brands, such as Barbie or Hot Wheels, it will pair with the printer, but experts say that could be a natural upgrade if the printer proves popular. Mattel said in a release that brand-based products will be "rolling out at a later date."
"Are they eventually going to allow you to print out a doll? Or are they going to let you print out accessories? I think these are going to be a lot of fun," said Richard Gottlieb, president of toy industry consultant firm Global Toy Experts, noting it may be a smart move to integrate other popular franchises, like Star Wars. "How would they carve out the licensing rights?"
Mark Allen, a former lecturer at Brunel University in Uxbridge, United Kingdom, on toys and technology, said the lapse of some early stage patents is opening the floodgates for new types of 3-D printers, but falling prices on materials are really why toy companies are throwing their hats in the ring.
At the same time, children who start using 3-D printers at home may have an easier time adapting to educational 3D printers -- and possibly even commercial printers down the road, said Brian Federal, filmmaker of the education-focused documentary, 3D Printing Revolution. He said while 3D printers haven't caught on large-scale in U.S. classrooms, Taiwan's XYZ Printing pledged last year to bring a 3D printer to every primary school in China.
"They haven't been able to integrate education because they're not education companies. They're manufacturing companies," he said of most 3D printing manufacturers. 
Allen said XYZ Printing's Da Vinci Jr. 3-D printer was a game-changer because of its $350 price tag, and the Thingmaker could be just as big of a disrupter.
If 3D printers that are a few hundred dollars are popularized, the shift could force smaller businesses out of the industry because they can't keep their prices low enough. Most of the consumer printers he deals with are closer to $1,000.
"If this were cars, it would be cars going from $20,000 to $5,000," he said.
The at-home 3-D printer market has exploded in recent years, and market research firm CONTEXT stated in November the industry has sold more than 500,000 desktop units -- and is on track to sell one million units by 2017.
In a 2013 report, management consulting firm McKinsey & Company estimated at-home 3D-printed products could create $4 trillion in sales at retail prices worldwide by 2025. Toys and similar products were estimated to make up 5 percent to 10 percent of that consumer-use market. McKinsey & Company estimated this could bring a 60 percent to 80 percent value increase per 3D-printed product, and a 35 percent to 60 percent cost savings to customers.
Mattel's stock is up about 22% over the last 12 months.
Gottlieb said while Mattel's printer is interesting, the potential for manufacturing disruption to the entire toy industry is the biggest potential break-through.
"The real goal of this is what could ultimately be the result of in-home production," he said. "You don't need trucks. You don't need boxes. You don't need molds. You don't need anything."
This article is commentary by an independent contributor. At the time of publication, the author held no positions in the stocks mentioned.