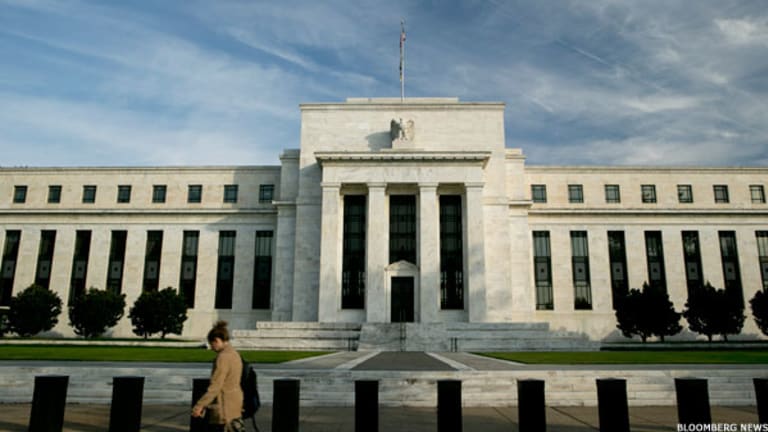 Why Markets Shouldn't Worry So Much About Higher Interest Rates
History suggests that markets shouldn't be afraid of higher interest rates -- and should even embrace them.
NEW YORK ( TheStreet) -- Sometime next year, the Federal Reserve will begin raising interest rates. The central bank may even signal that move next week when its policymaking committee meets for the final time this year.   
Investors are already bracing for the announcement. But history suggests that markets shouldn't be afraid of higher interest rates--and should even embrace them.
"I don't think the market should freak," S&P Capital IQ strategist Sam Stovall says. "We've had these kinds of [small, short-term] losses 60 times since World War II. It takes us two months to recover."
Take a look at three examples from the past two decades. They all teach the same lesson.
The most recent case happened in May 2013, when then-Fed Chairman Ben Bernanke offhandedly told a congressional committee the central bank might begin winding down its stimulative bond purchases within "the next few meetings."  Markets quickly sold off, and stocks lost some $3 trillion in value, Merrill Lynch strategist Savita Subramanian estimated at the time. 
But by the end of the year, the S&P 500 (SPY) - Get SPDR S&P 500 ETF Trust Report was up 11% from the day before Bernanke spoke. Treasury bonds took longer to recover, but eventually did get all the way back to their old yields by this fall. And even when the Fed actually did stop new purchases of bonds this past October, the market briefly swooned and then came back.
Much the same thing happened in 2004 and in 1994. 
In January 2004, the Fed signaled its intent to start raising rates by removing its pledge to keep rates low for a "considerable time." That's exactly what policymakers are expected to do next week.
After the Fed move in 2004, the S&P fell to about 1,060 from about 1,150, but  then closed the year at 1,212 even though rates had begun rising. The economy grew 3.8% that year.
Now go back to 1994, when the Fed was also raising rates. Barclays' Aggregate Bond Index declined 2.9% that year, but then climbed 18.5% in 1995. The index rose every year of the mid-2000s recovery as well. Even last year's short-term losses were concentrated in derivatives, rather than stocks and bonds, S&P Capital's Stovall says.
The lesson is that the real economy matters most, especially when the recovery is as stable and well-rooted as the U.S. recovery is getting to be now. (Europe is another story).
When the real economy gains, you see increases in corporate profits like the near-9% climb that Standard & Poor's Capital IQ projects now. That's the foundation of the firm's call that the S&P will hit 2,250 next year, up about 8.5% from now.
With stock valuations close to historic norms, it's a logical calculation than stock prices will follow profits, Stovall says.
The real economy can support an argument either way on whether the Fed should signal its rate hike now. Removing the "considerable time" pledge next week would signal that hike is coming in June, not September. But it would also mark a vote of confidence that the U.S. economy, which grew at a 4%-plus annualized rate in the second and third quarters. Thursday's better-than-expected retail sales report bolsters that view.
On the other hand, fourth-quarter growth is going to be much weaker, since there's no pop in defense spending this quarter. And there's little movement on wages yet, with workers' purchasing power still several percentage points lower than in 2007 or even 2000.
The Fed does have to worry about Europe -- if only because the continent is a key market for everyone from industrial giants like GE (GE) - Get General Electric Company Report and Boeing (BA) - Get Boeing Company Report to services firms like IBM (IBM) - Get International Business Machines Corporation Report and consumer-facing tech names like Google (GOOG) - Get Alphabet Inc. Class C Report and especially Priceline (PCLN)
But whether the Fed starts the clock on rates next week or not, the U.S. economy is going to do fine. And investors in relatively straightforward American stocks and bonds are going to do just fine.