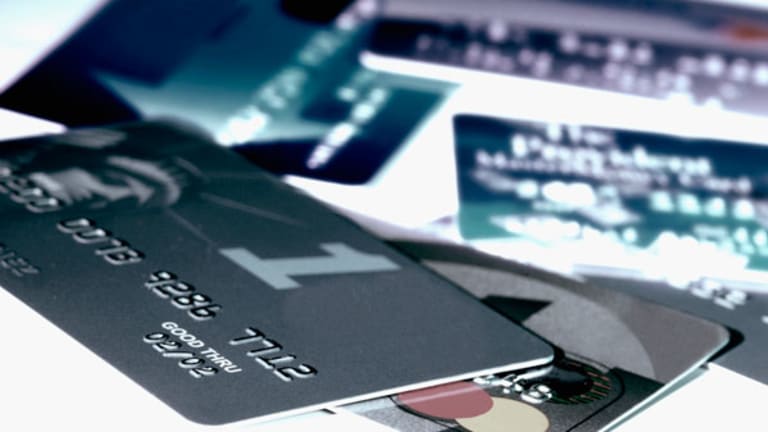 Publish date:
Why Many Americans Will Soon Be Getting Microchip Credit Cards
Recent breaches mean you'll have to learn a new way to use credit and debit cards soon. The good news is they're safer.
Recent breaches mean you'll have to learn a new way to use credit and debit cards soon. The good news is they're safer.
NEW YORK (TheStreet) -- If you travel overseas regularly or live in a state like Florida or Nevada where credit card fraud is rampant, you are likely to get a new Visa (V) - Get Report , MasterCard (MA) - Get Report , or American Express (AXP) - Get Report credit card in the mail very soon.
The new cards contain a computer chip in place of the magnetic stripe you're used to. Half of all merchants are expected to be using them by next year. 
Blame or credit Target (TGT) - Get Report , said Julie Conroy, research director for Aite Group, a financial services research firm in Boston. The 2013 theft of 40 million account numbers there lit a fire under the industry. "We're going to catch up to the rest of the world" where the new cards are already standard. 
Target shone a bright light on the problem, bright enough that the White House launched a BuySecure initiative in October, with an executive order accelerating the government's own use of what's called "chip-and-PIN."
Walgreen (WAG) has already replaced its terminals and Walmart (WMT) - Get Report said its terminals will be replaced by next month. Visa has said it is launching an education campaign to help consumers understand the new system.
Instead of swiping a card's magnetic stripe through a terminal and then signing a form, a chip-and-PIN card is dipped into a reader, which encrypts data off a computer chip. (Some readers also support "contactless" transactions, in which the card is never inserted.)
You then input a four-digit number, like the PIN used at a bank's cash machine, to finish the transaction. Terminals won't keep card numbers and all transaction details, both online and inside credit processing systems, will be encrypted. 
Card processing networks are ready for chip-and-PIN, having already implemented the system in Europe. The problem has been the cost of getting new cards, terminals and ATMs into the field to support it.
The terminals cost $300 to $400, the cards about $1 to $2.50 each, and new ATMs over $2,000. The switch was underway when Home Depot (HD) - Get Report announced its breach in September.
Square, backed by Starbucks (SBUX) - Get Report , has announced a chip-and-PIN reader but has yet to release it.
The new system is safer because more data will be transmitted and everything is encrypted. In Europe, where the system has been used for years, credit card fraud was cut by 75%, to .035% of transactions, according to a 2012 study by the Federal Reserve Bank of Atlanta. In the U.S., by contrast, credit card fraud is a $3 billion-a-year enterprise.
Merchants will buy the new terminals because if they're installed by October 2015 their own risks from fraud will fall away. A "liability shift" will move that risk from merchants' banks to those of card holders, said Conroy.
You, on the other hand, may have to wait for your new card, Conroy noted. There are over 1 billion cards outstanding in the U.S. and many people will have to wait until their current cards expire.
What about ATMs? Many of them were only recently replaced under amendments to the Americans with Disabilities Act that did not become final until March 2012. MasterCard has given banks until 2016 to upgrade ATMs for chip-and-PIN, while Visa is giving until 2017, Conroy said.
If losses accelerate, however, even the banks might move those dates up.
At the time of publication, the author was long SBUX, although positions may change at any time.
This article is commentary by an independent contributor, separate from TheStreet's regular news coverage.