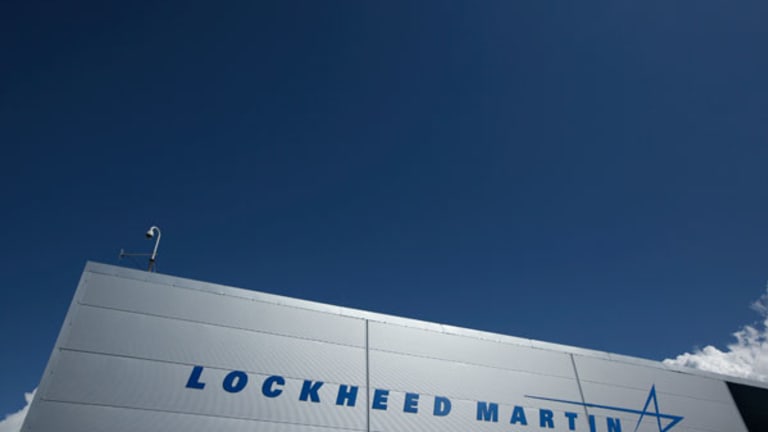 Why Lockheed Martin, Not Elon Musk, Is Poised to Win in Space
Lockheed Martin knows where the big space bucks are and has a better chance of retrieving them than Elon Musk's start-up does.
NEW YORK (TheStreet) -- Of all the great science fiction works of the last generation, which do you think might be closest to becoming reality?
Star Wars? Nope. Star Trek? Not a chance. Alien? Go back to your room, kid.
Nope, it's probably Buck Henry's short-lived TV series Quark, whose hero ran an interstellar garbage scow.
News this week of a space contract awarded to Lockheed Martin (LMT) - Get Lockheed Martin Corporation (LMT) Report shows we need such a scow badly. The company won a $915 million contract to track the junk that 50 years of space flight has sent spinning around the planet. Raytheon (RTN) - Get Raytheon Company Report was the loser.
With orbiting waste traveling at 17,500 miles per hour, space satellites of all types and the International Space Station itself are at increasing risk of being knocked down by the detritus of past flights. Someone needs to clear out that garbage and can make money doing it.
Space operations are a small part of what Lockheed Martin does. People buy the stock for its defense contracts.
The company reported sales of $10.65 billion for the first quarter, with net income of $933 million, or $2.87 per share, compared with revenue of $11.07 billion a year earlier, with net income of $761 million, or $2.33 per share.
The stock has been a highflier, rising 58% during the last year and commanding a price-to-earnings ratio of 17, thanks in part to a quarterly dividend of $1.33 a share that yields 3.25%.
On Wednesday morning, the stock was trading at $163.77, down 12 cents.
With the U.S. Defense budget flat and possibly heading down in future years, what's going on?
One answer may be space, which Tesla (TSLA) - Get Tesla Inc Report founder Elon Musk has made a hot investment area thanks to the success of his start-up, SpaceX, in creating fully automated systems for ferrying supplies to the International Space Station. 
SpaceX receives much of the media hype concerning space these days, as it uses 3D printing for rocket parts and has rolled out a capsule that could ferry astronauts, or other humans, into space.
The competition may be just what Lockheed Martin needs to get its own space act in gear.
Lockheed Martin builds many of the Atlas rockets and satellites the military depends upon, and is thus poised to compete against SpaceX, and even beat it.
Lockheed has joined with Boeing (BA) - Get Boeing Company Report to form the United Launch Alliance, which competes successfully against SpaceX for government launch contracts, to the point where SpaceX sued the Air Force, alleging a launch monopoly. 
The military side of the space launch business alone is estimated to be worth $70 billion over the next 15 years.
The point is that if any company can compete with SpaceX in the space market and win, that company is Lockheed Martin, and this is a market that seems suddenly poised for growth.
SpaceX has been talking about an IPO a year now, and its most recent estimated valuation was $4 billion. That compares with a $53 billion valuation for Lockheed Martin, which has annual revenue of $45 billion.
A SpaceX public offering could lead Lockheed Martin to consider a spinoff of its own space operations, unlocking enormous value for shareholders. Even if you don't care to speculate on that, Lockheed's high dividend yield is a good thing.
>>Read More: You Think This Is a Boring Market? Be Careful What You Wish For
>>Read More: Verifone Is Ready to Pay Investors After Paying for its Mistakes
>>Read More: Ciena Continues to Feel Pressure From Weak Carrier Spending
At the time of publication, the author owned no shares in companies mentioned in this article.