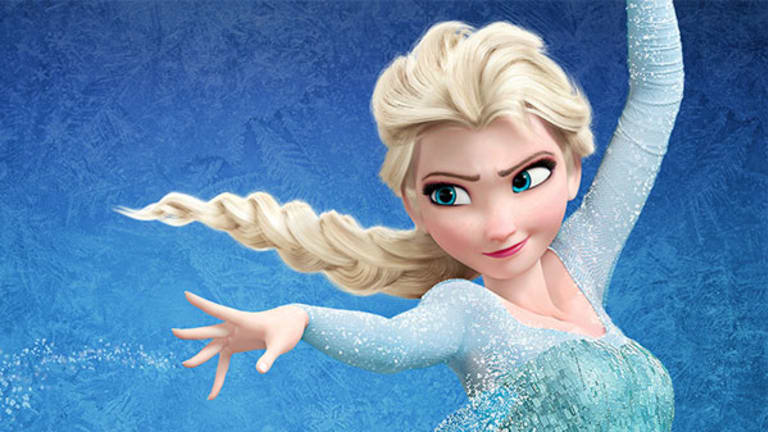 Why 'Let It Go' From Disney's 'Frozen' Needs an Oscar
<I>Let It Go</I> is still driving box office sales for <I>Frozen</I>, has produced two separate <I>Billboard</I> singles and has firm roots in musical theater. Its resonance with the youngest generation of moviegoers may be its most compelling argument for an Academy Award.
PORTLAND, Ore. (TheStreet) -- There is little to no consensus on music, which makes it duly important to recognize anything approaching it.
As scores of kids, parents, music teachers, glee club leaders, theater majors, directors and casting agents have already discovered within the last few months, there is perhaps no single piece of music that generated something resembling consensus in 2013 quite like Let It Go from Disney's Frozen. Holy sweet mother of all things, that song is just ubiquitous, pervasive and -- perhaps most frustratingly of all -- catchy.
An entire generation of kids already knows the words by heart, an entire sea of parents begrudgingly makes the same claim and an entire company had the shrinking core of its business jolted back to life by it. It's taken on a life far bigger than the movie it came from, and for that -- and with apologies to Pharrell William's insanely bouncy Happy from Despicable Me 2, Yeah Yeah Yeahs singer Karen O's The Moon Song from Her and U2's Ordinary Love from Mandela: Long Walk To Freedom -- it deserves this year's Academy Award for Best Original Song.
Consider that, since opening at the end of November, Frozen has made $384 million in the U.S. alone and $980 million worldwide... and is still chugging through its first run. Its soundtrack, meanwhile, has sold more than one million copies and is only the second soundtrack to do so since 2010 (the Pitch Perfect soundtrack hit one million in December). The Frozen soundtrack topped the Billboard 200 again this week for its fifth non-consecutive week at No. 1. Since Nielsen SoundScan began powering the Billboard 200 chart on May 25, 1991, only four soundtracks have spent at least five weeks at No. 1: Titanic, Waiting to Exhale (five weeks in 1996), The Lion King (10 weeks in 1994 and 1995) and The Bodyguard (20 weeks in 1992 and 1993). The last soundtrack to hit even four weeks at No. 1 was Bad Boys II in 2003.
There's a reason that Disney-owned ABC just hosted a giant sing-along of Let It Go on Good Morning America this morning. That soundtrack put two versions of Let It Go on Billboard's Hot 100. While former Disney kid and part-time TV talent show host Demi Lovato's version from the film's credits peaked at No. 38, Idina Menzel's version from the film itself hit No. 18. That's the same Idina Menzel who's spent two decades making Take Me Or Leave Me from Rent an audition standard, giving the world the definitive version of Defying Gravity from the Broadway hit Wicked and sealing her place in in musical theater's pantheon of beloved belters. Never mind that her version of Let It Go charted below Pharrell's No. 2 for Happy. The charts aren't really where this story ends.
Disney released a sing-along version of Frozen in theaters on Jan. 31 with karaoke-style onscreen lyrics. It also posted a version of Let It Go sung in 25 languages, as if a world accustomed to the various Idol series, X Factor, The Voice, Glee, etc., wasn't going to produce dozens of covers on its own.

The Hollywood Reporter shrugged off Let It Go as "what one has come to expect from animated Disney musicals" while summing up its Oscar hopes, but the grown-ups who took their kids to see Frozen may expect more than their kids do or should. In truth, Disney hasn't produced a song like this on its own in about 15 years.
Much of its animated films' success during that span came courtesy of Pixar, which likes to brand its own films and put as much distance between it and parent-company Disney as possible. If you weren't Randy Newman and weren't singing some melancholy number about monsters (as he did when he won for If I Didn't Have You from Monsters Inc. in 2001) or forgotten toys (We Belong Together from Toy Story 3 in 2010), a song from an animated film just wasn't winning an Oscar.
The notion that Disney just bowls over this category was last true from 1989 through 1995. In those seven years, tunes from Disney animated films won Best Original Song five times: Under The Sea from The Little Mermaid in 1989; Beauty and the Beast from the film of the same name in 1991; A Whole New World from Aladdin in 1992; Can You Feel The Love Tonight from The Lion King in 1994 and Colors Of The Wind from Pochahontas in 1995.
That last year marked the end of the Disney Renaissance of films that followed a period of lesser, lower-budget Disney Animation offerings in the 1970s and 1980s. It was also the year the first Toy Story installment was released and computer-animated features began overtaking Disney's cell-shaded traditional animated features. Toy Story not only completely overshadowed Pochahontas, but Toy Story 2 overwhelmed Disney's Tarzan the last time a song from one of its animated features won Best Original Song for Phil Collins' You'll Be In My Heart in 1999.
In reality, the link between animated films -- Disney or otherwise -- and the songs in them has been severed for nearly 20 years. Newman's droll little numbers were awards fodder, but they weren't what kids across the U.S. and around the world were singing in the halls, what parents couldn't get out of their heads and what radio was playing. They served no greater end and, thus, never quite connected with the world at large the way Disney's songs did during those five years from Little Mermaid to Lion King.
Parents who grew up with those earlier songs and the Celine Dion/Peabo Bryson or Peabo Bryson/Regina Belle versions of Beauty and the Beast and A Whole New World, respectively, should know better. The writers of Let It Go certainly did. Husband-and-wife duo Robert Lopez and Kristen Anderson-Lopez had each written for Disney before -- for 2012's Winnie The Pooh -- but Robert brought his experience writing the songbooks of irreverent Broadway musicals Avenue Q and The Book Of Mormon to the table to give Idina Menzel some theatrical presence and some themes atypical of the "some day my prince will come" days of Disney's animated past.

You know who else found great success with that formula? Alan Menken, who wrote all of the songs for the original off-Broadway version of Little Shop of Horrors in 1982 before being tapped on the shoulder by Disney to write for The Little Mermaid, Beauty and The Beast and Aladdin. Menken's greatest strengths came from merging musical theater seamlessly with Disney's animated features to the point that not only did an entire generation of singers grow up performing the Little Mermaid's Part Of Your World in auditions, but all of those Disney Renaissance films he wrote for have since been adapted for Broadway, with Aladdin hitting the stage this year.
Menken knew how to write both funny and endearing songs that weren't just shoehorned into the plot, but an essential part of it. He knew how to make the audience laugh, how to tug the heartstrings a bit and how to make them remember a scene just by hearing the song from it. It makes the music a vital portion of the experience and inextricably ties it to the musical production that features it. It is exactly the type of song that the Academy of Motion Picture Arts and Sciences should be looking for when it considers the Best Original Song category and is the type of song that improves a film just by being a part of it.
The Academy has thrown Oscars at songs only tangentially related to films before, but it's shown a tendency in recent years to reward songs that make a contribution to the films they're in. For the benefit of an entire generation that will forever make the connection between Let It Go, Frozen, Disney and their earliest movie-going experience, the Academy needs to allow Let It Go to leave on one last high note.
-- Written by Jason Notte in Portland, Ore.
>To contact the writer of this article, click here: Jason Notte.
>To follow the writer on Twitter, go to http://twitter.com/notteham.
>To submit a news tip, send an email to: tips@thestreet.com.
RELATED STORIES:
>>Don't Bother Going To The Movies In Winter
>>10 Best Christmas Movies That Aren't About Christmas
>>No, Christmas Isn't The New Summer Movie Season
Jason Notte is a reporter for TheStreet. His writing has appeared in The New York Times, The Huffington Post, Esquire.com, Time Out New York, the Boston Herald, the Boston Phoenix, the Metro newspaper and the Colorado Springs Independent. He previously served as the political and global affairs editor for Metro U.S., layout editor for Boston Now, assistant news editor for the Herald News of West Paterson, N.J., editor of Go Out! Magazine in Hoboken, N.J., and copy editor and lifestyle editor at the Jersey Journal in Jersey City, N.J.