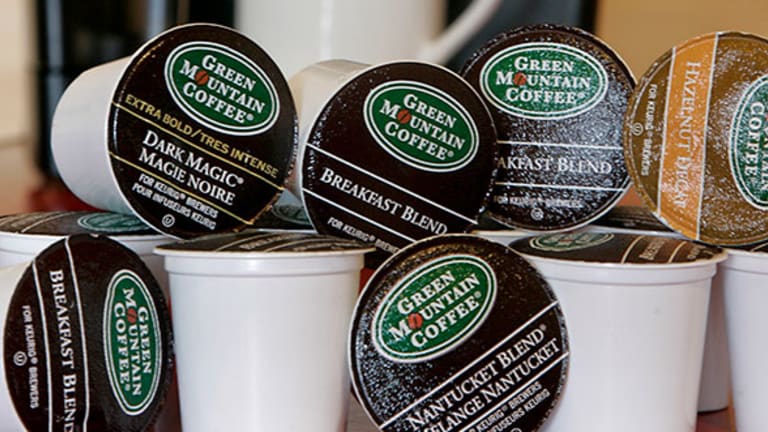 Why Keurig Green Mountain Had no Choice but to Sell Itself for $13.9 Billion
The coffee machine and pod maker has had a rough year, and things aren't looking much better for 2016.
When the going gets tough, sometimes the tough just need to get going -- literally.
For Keurig Green Mountain (GMCR) , slowing sales of its home brewing machines and increased price competition for its popular coffee pods have likely spurred it to go private before it loses shareholders any more money.
On Monday, Keurig Green Mountain, the leader in the single-serve coffee business, announced that it will be acquired by an investor group led by JAB Holding Companies for an eye-popping $13.9 billion, or a 77% premium to last Friday's closing price. With the deal, Keurig will join a diverse portfolio of consumer-oriented companies for JAB, which owns controlling stakes in Jacobs Douwe Egberts, a coffee and tea giant that owns Gevalia, among other brands); and Coty (COTY) - Get Report , a leader in the beauty and cosmetics industry. JAB also has a controlling stake in luxury goods purveyor Jimmy Choo.
In a statement announcing the deal, Keurig Green Mountain president and CEO Brian Kelley said "this transaction will deliver significant cash value for our shareholders and offers an exciting new chapter for our customers, partners and employees by combining Keurig Green Mountain with JAB's global coffee platform."
Kelley's comments on the company's quarterly earnings call a few weeks ago might explain his enthusiasm for the deal. On that call, Kelley highlighted ongoing tough industry conditions that may have forced the company to take the nice chunk of cash from JAB Holding before any more shareholder value was lost.  
Before Monday's spike, shares of Keurig had nosedived about 61% over the past year amid growing competition and the weak launch to an important new product.


Competition in the pod business has intensified. 
For the fourth fiscal quarter ended Sept. 26, sales of pods fell 9% from the previous year, driven in large part by increased price competition. The company has ceded market share in the pod business to companies such as Starbucks (SBUX) - Get Report and Dunkin Donuts (DNKN) - Get Report , both of which have moved aggressively into the single-serve category over the last two years.
Meanwhile, sales of Keurig's brewing machines plunged 32% in the quarter year over year as consumers stick with their coffee machines longer and the market has become saturated by other makers such as DeLonghi and Nespresso. For Keurig's latest fiscal year, sales of pods rose a meager 1%, while those of brewing machines saw a drop of 23%.
"Our results for the quarter, and the year, reflect the competitive and dynamic marketplace in which we operate, as well as the steps we are taking to position our company for longer-term growth and value creation," Kelley acknowledged on a Nov. 18 earnings call. 
On the call, Kelley said he didn't see those headwinds abating in 2016, either. To stimulate demand, Kelley hinted at cheaper prices for the new, more compact Keurig Mini and K200 brewers as a means to "bring new consumers into the single-serve category." As for pod prices, they were seen as remaining under pressure due to what Keurig believes is "excess capacity" on the part of competing manufacturers.
Analysts were attuned to the possibility of further pain for Keurig in 2016.
"Our store surveys point to aggressive promotions at Walmart (WMT) - Get Report stores with the K200 being sold at $89.99 (vs. the normal list price of $119.99 at most stores), and also to visible promotions at selected supermarkets (at Shop Rite, for example, the K200 is at $79.99)," said Susquehanna analyst Pablo Zuanic in a Nov. 25 note. Although Zuanic reiterated his hold rating on Keurig, he cautioned clients, "Our concerns with Keurig Green Mountain continue to mount."


The new Keurig Kold soda maker has met with tepid interest from consumers.
Keurig also was on the verge of being forced to explain to shareholders and analysts why its ballyhooed at-home soda maker known as the Kold, developed in partnership with Coke (KO) - Get Report , has been a flop thus far this holiday season.
Launched in late September, Keurig has estimated sales for the first 12 months of Kold to be a lackluster 60,000 to 100,00 units. Consumers may well be balking at the $369 price tag for the Kold brewer and what amounts to about $1.25 per pod, which only produces an 8-ounce soft drink.
On the call, Kelley opened the door to dropping the Kold's price in 2016 to drive increased sales. "We intend to test different methods of marketing, both retail and digital, as well as pricing during the upcoming year to guide us as we build this new category and this new technology," Kelley said.
Considering the Kold took some six years to design, and significant investment in the launch that includes new manufacturing lines and pop-up stores in malls and retailers dishing out free drinks, the Kold has been a colossal disappointment.
Fortunately for Green Mountain, it seems as though it won't have to explain that disappointment, and others, to shareholders in the new year.