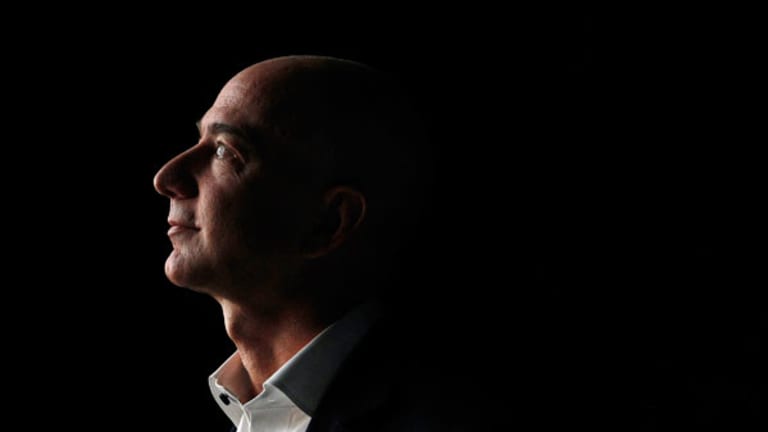 Why Jeff Bezos, Amazon Are Now on the Hot Seat
The company should continue to be an incredible growth story for a couple more years. But at some point the growth stops.
NEW YORK (TheStreet) - Amazon's (AMZN) - Get Report "growth at all cost" mentality is quickly becoming an annoyance for investors and analysts. Persistent growth in the absence of profits is no longer sexy. CEO Jeff Bezos has always been proclaimed the next Steve Jobs, but Apple's (AAPL) - Get Report founder knew how to make money.
I don't doubt for a moment that Bezos understands the endgame for Amazon. But patience has its limits. After Amazon's first-quarter report revealed another loss, it's time for this company to alter its thinking -- perhaps drastically.
Let's go through the numbers.
As of the Friday close of $308, the stock is down nearly 23% for the year to date but up 21% for the last 52 weeks. For the period ending in March, Amazon reported revenue of roughly $20 billion, which grew 23% year over year. Amazon has never had a problem with revenue and $20 billion was more than enough to beat the consensus. The issue, as noted, has been profitability. Although net income of $108 million was enough to beat estimates, investors were not blown away by the company's persistent spending.
Now, I don't have a problem with the spending, particularly since Amazon's overall health seems solid.  The 26% year-over-year jump in the company's operating cash flow confirmed this. But after reporting weak margins of 0.7%, Amazon offered worst-than-expected guidance.
Despite projecting second-quarter revenue to growth in a range between 15% and 26%, Amazon is now expecting a loss in the range of $455 million and $55 million. Last year, the company earned $79 million. Immediately thereafter the stock plummeted 14%, falling to a low of $288 three days later. While the stock has since recovered 6% to get to that $308 range, Bezos is on notice that valuation matters again.
In fairness, Amazon has not changed. The company's first-quarter results didn't sway that drastically from what Bezos has produced in the past. But with everyone now skittish about these so-called momentum stocks, investors want some assurances the pot of gold they're expecting from this company is still realistic. The projected second-quarter loss raises questions about Amazon's focus.
Now, Bezos wants to take on Apple and Samsung (SSNLF) in smartphones, according to the Wall Street Journal, which cites an anonymous source. Allegedly the phone announcement will be made in July and the company will begin selling the device in September, the same expected timeframe for the release of Apple's iPhone 6.
But how much will that matter?

 How much traction can Amazon achieve in a phone market that is already crowded, saturated and suffering from weak average selling prices? Apple is the only one making any money in hardware. This fact won't matter to Bezos since Amazon already sells its Kindle Fire tablets at a loss. Even then, Apple is still the top seller. For Amazon, the phones will likely be another loss-maker.
Recall, even though Amazon has taken on Netflix (NFLX) - Get Report in the realm of movie streaming with its Prime service, Netflix, which just grew its subscriber base to 48 million, has suffered no effects. The only thing that has been affected by Amazon's ambitions has been its margins and its profits.  And Wall Street appears to have gotten tired of it.
All told, Amazon is not going to fall off the face of the earth tomorrow. The company should continue to be an incredible growth story for a couple more years. But at some point the growth stops. If Bezos no longer has the top line to hang on to, the bottom is going to fall out.
Investors who have have been long on the stock for more than five years have certainly done well. But the easy money has been made. From this point forward, Amazon and Bezos will be evaluated on different standards, like profits.
Bezos is now officially on the hot seat to deliver.
At the time of publication, the author was long AAPL.
This article represents the opinion of a contributor and not necessarily that of TheStreet or its editorial staff.
>>Read more: Android Stinks and Apple's About to Prove It