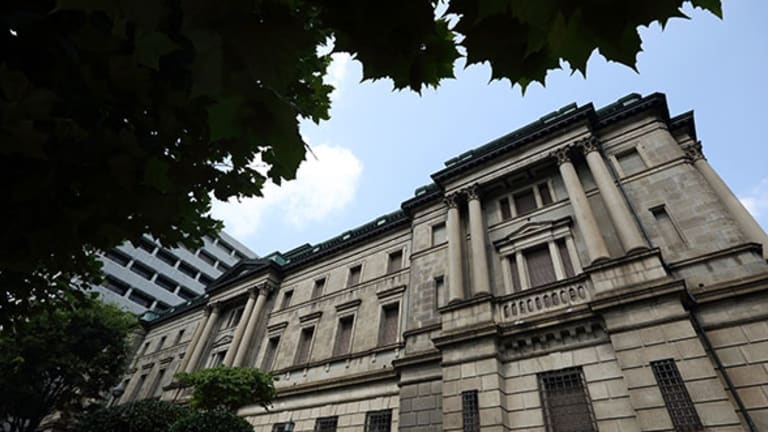 Why Japan's Negative Interest Rates Shouldn't Have Surprised Anyone
Markets were surprised last week by the Bank of Japan's introduction of negative interest rate policy, but they shouldn't have been. Here's why.
The Bank of Japan's announcement of negative interest rate policy last week surprised global financial markets, but it really shouldn't have come as a shocker if you look at recent Japanese economic data and the central bank's past aggressive actions.
Let's quickly review what Japan's central bank did and then see how it fits into the country's longer-term battle against economic stagnation. We'll also look at its potential side effects and what we can expect to see in the future from Tokyo's policymakers.
The Bank of Japan, under Governor Haruhiko Kuroda, cut interest rates to minus 0.1% on some -- but not all -- deposits it holds for commercial banks. It joins the European Central Bank and counterparts in Switzerland, Sweden and Denmark in venturing into negative interest rate territory.
Following is a table that shows which bank balances held at the Bank of Japan will be subject to the negative rate.
Source: Bank of Japan, Aranca Research
The negative rates apply to reserves of about 10 trillion to 30 trillion yen initially, according to a Bloomberg report that cited anonymous sources familiar with the situation. They'll be imposed only on new reserves deposited at the central bank after Feb. 16, the report added.
The Bank of Japan expects near-term interest rates to fall and the overall yield curve and real interest rates to be pressured downward. The end goal is to stimulate consumption and investment.
The move to negative interest rates makes good on Kuroda's previously stated commitment to do "whatever it takes" to reach the Bank of Japan's 2% inflation target as quickly as possible.
The latest inflation data -- released just one day before the Bank of Japan's latest move -- showed things haven't been moving in the direction Kuroda wants. Japan's inflation rate rose just 0.2% year over year in December, a slowing from the 0.3% increase in November. Excluding fresh food prices, the rate was nearly flat, at 0.1%. That data should have alerted market participants to the potential for one of Kuroda's "surprises."
The negative interest rate policy is just the latest in a series of aggressive steps Kuroda has taken to revive the world's third largest economy, which has been stagnating for the past two and a half decades. Kuroda took office in March 2013, just a few months after Prime Minister Shinzo Abe came to power promising to attack deflation with his three "arrows" of fiscal stimulus, monetary easing and structural reforms. Kuroda kicked off his tenure by introduced the "bazooka" monetary stimulus in April 2013, which consisted of massive bond-buying program and a formal adoption of a 2% inflation target.  
Kuroda announced additional stimulus in October 2014. But here, just like last week, economic data preceded the action: The Bank of Japan's preferred inflation gauge had slowed to its lowest level in the past 12 months, to 1% (down from 1.5% the previous month), and was at risk of moving lower. In addition, job creation had weakened for the first time in three years. 
In December, the bank expanded its security-purchase program.
So have these measures helped revive Japanese growth and inflation? That the Bank of Japan has had to adopt increasingly bold measures answers the question all by itself.
One might also ask whether the negative interest rate policies already adopted by the ECB and other central banks have worked. So far, the verdict on the ECB's moves has been mixed. While the monetary stimulus and negative interest rates appear to have halted the slow slipping of the eurozone into recession, they haven't caused inflation to rise to the ECB's target of 2%. The jury is still out on how long will it take for inflation to reach that target. The ECB is more patient in terms of its expectations and believes the impact of inflation will be visible with certain lag. To its credit, the five-year, five-year forward break-even rate, which measures the outlook for inflation over the five-year period from 2020, increased to a five-month high of 1.83% in December. At the same time, unemployment fell to 10.7% in October 2015, which was the lowest rate since January 2012. This may encourage the Bank of Japan to further pursue unconventional monetary policy including deeper interest rate cuts, though it would do well to observe how long is it taking for inflation in the eurozone to move up.
The expansion of Japan's monetary base has already risen to equal that of the U.S. and appears set to further accelerate.
Japan vs. U.S. Monetary Base (in trillions of dollars)
Source: Bloomberg, Aranca Research
Given the rapidly expanded monetary base, there may be limits to how much more the Bank of Japan can venture into uncharted areas of monetary policy without further affecting the currency. The weakened currency does boost exports to a limited extent, but it also creates grounds for competitive devaluation of peer currencies. Consequently, the ball may now very well be in the court of the Japanese government, which needs to take further action on the structural reforms that formed one of its three "arrows."
There's also the issue of sales tax. In the late 1990s, when there was a hint of recovery, the Japanese government raised its value-added tax, which depressed consumer spending and brought back deflationary pressures. The government increased it again in early 2014 in order to help reduce debt. One more policy move that observers should look for would be a fiscal one, in the form of a tax cut aimed at spurring consumption.
In addition to these areas, keep a close eye on Japan's economic indicators. They could flash early signs of further expansions of the Bank of Japan's monetary policy, as it goes where no central bank has gone before. Then you'll be the one who's not surprised. 
This article has been co-written by Nikhil Salvi, senior analyst, Investment Research & Analytics, Aranca Research.
This article is commentary by an independent contributor. At the time of publication, the author held no positions in the stocks mentioned.