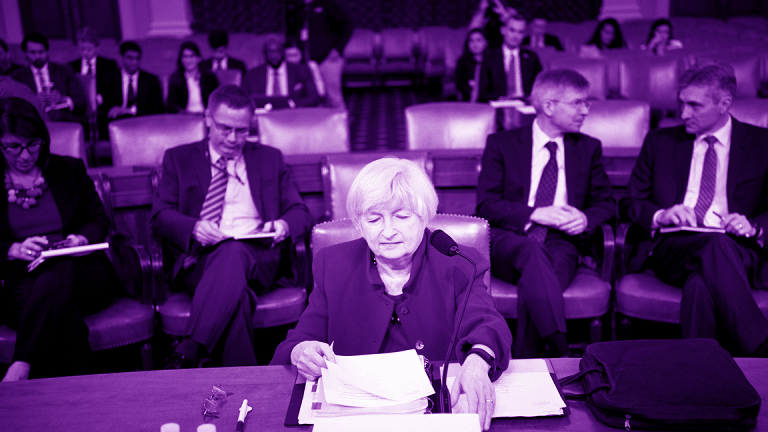 WATCH LIVE: 3 Reasons Janet Yellen Won't Crush Stocks on Her Last Big Fed Day
Janet Yellen is about to have her final big day as Federal Reserve chairman. Don't expect any big news.
Don't expect Janet Yellen to make any big news at her final press conference. Sorry to disappoint, new stock market bears. 
Why? There really isn't any reason to sound super hawkish, according to strategists at Deutsche Bank. Here are three reasons:
No Need to Make News Right Now
There is no "pressing need" to signal a strong change in interest rate strategy via its policy statement, says Deutsche Bank. The market is already pricing in a "very probable" rate hike in March. 
The market's swift selloff this week likely has Yellen & Co. on high alert for disrupting asset prices further. Although, of course, Fed members won't admit they care about the stock market.
Get It All Done in March
With the market already pricing in a rate hike in March, the Fed could use that meeting to alter its policy language and articulate it via a press conference with new Fed chair Jerome Powell. 
Respect the New Person
Writes Deutsche Bank, "Typically it is better for the new Fed Chair to show off their leadership qualities by making the policy shifts early in their tenor." "It is not rare for new Fed Chairs to hike rates at their first meeting in part to establish their independent, anti-inflation "don't mess with me" credentials."
Welcome to the show, Mr. Powell. 
Unfortunately for those bulls banking on Yellen saying nothing on Wednesday, best relax before getting too excited. Deutsche Bank believes the Fed could ratchet up the pace of rate hikes and hawkish comments under Powell as to avoid a repeat of 2004-2006 policy mistakes (starting too late in lifting rates). 
Tune into TheStreet's LIVE analysis of the Fed decision below.
More of What's Trending on TheStreet: