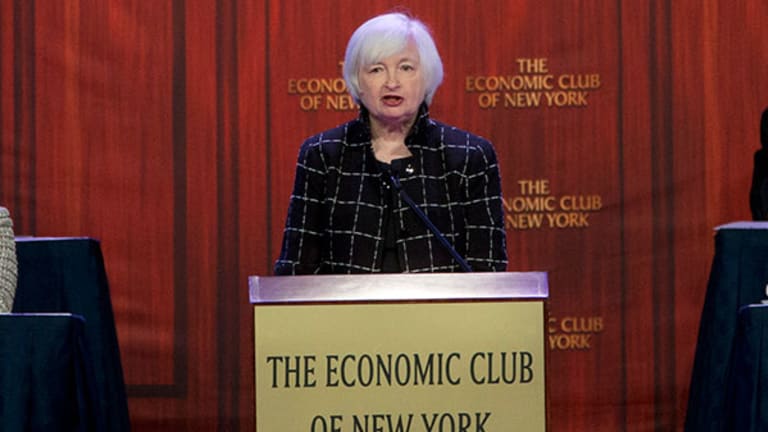 Why Janet Yellen Has to Keep Rates at Zero
Although global interest rates are declining, disinflation is hindering policy effectiveness.
Federal Reserve Chair Janet Yellen said in a speech on Tuesday that various headwinds existed which made it difficult to justify aggressively increasing lending rates. While global growth has become an issue, rising real interest rates have also weighed on both economic activity and financial market euphoria.
Below is a chart comparing real interest rates (blue), the S&P 500 (orange), as well as economic activity (green). The real interest rate indicator is essentially the inflation-adjusted interest rate, taking nominal interest rates, such as the 10-year Treasury rate, and subtracting the annual pace of inflation. When the real interest rate rises, it tends to correlate inversely to growth in both equities and overall economic activity.
While the Fed, and many other central banks have held key rates at or near negative levels for many years, disinflation has led to rising real interest rates recently. With reference to the U.S., real rates have been rising since late 2012. Again, rising real rates alone are not cutting off economic activity, but are certainly weighing on the cost of financing debt.
Moreover, as real interest rates trend higher, momentum in U.S. equity markets is slowing. Rising real interest rates have caused many central banks across the globe to view negative nominal lending rates as a viable solution.
Low inflation is prevalent in most areas of the world currently, and is the reason central bankers are scrambling. Disinflation causes policy easing measures to be less effective than intended. While the efficacy of monetary tools is waning, rising inflation could lead to positive effects.
Considering real rates matters heavily to both equities and economic activity, rising commodity prices could push headline inflation measures higher. This would then lead to a boost in policy effectiveness, without central banks having to enact further measures.
While a fix-all solution is easier said than done, it is promising that inflation expectations have risen in recent months. As commodity prices, such as oil, rise, it will gradually diminish real lending rates. While the global economy is faced with a multitude of problems, requiring just a many solutions, the case of falling real interest rates could make conditions easier for policymakers, while boosting financial market sentiment as well.
This article is commentary by an independent contributor. At the time of publication, the author held no positions in the stocks mentioned.