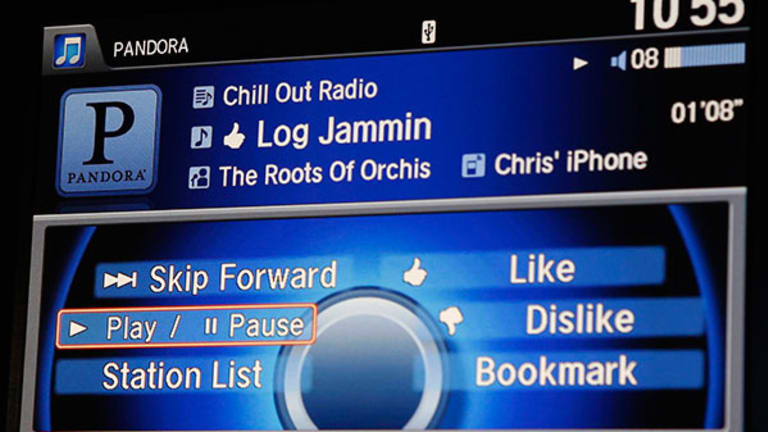 Why iTunes Libraries Look Like CD Collections
As music downloads decrease and streaming options multiply, iTunes and Amazon are looking bloated, messy and increasingly outdated. The format is changing.
As music downloads decrease and streaming options multiply, iTunes and Amazon are looking bloated, messy and increasingly outdated. The format is changing.
PORTLAND, Ore. (TheStreet) -- In my garage, there are two seat-cushion-sized Case Logic binders filled with hundreds of compacts that sit next to an old stereo system that came with the house and required a butter knife to open its CD player.
Like the CD collections of many music fans of my generation, it eases to a gentle halt sometime around 2001. There are a handful of exceptions, but it mostly remain frozen in the post-Napster, pre-iPod/iTunes/Amazon world of Sam Goody, Compact Disc World, Columbia House, the BMG music club and countless independent record stores that populated it. It speaks to a certain period in history and says quite a bit about how it ended.
Many of my friends keep similar collections kicking around the dark recesses of attics, basements, storage units and closets. They're kept for sentimental value and as backups, long replaced by iTunes, Windows Media, Amazon (AMZN) - Get Report and countless other digital players. They've been ripped down, filed away and all but forgotten -- passed over for the digital file format that was supposed to march music fans into the 21st century and beyond.
We should have known better. How could 20th Century listeners who went through vinyl, eight-tracks, cassettes, mini-discs, CDs, Hit Clips and various other formats believe that the MP3 and other digital sound files were going to be the last word in music ownership -- or that ownership would still be as prized a concept at it was in their youth? As we speak, the iTunes library and others like it are turning into hard drive, cloud-stored versions of those forgotten CD collections -- and buying patterns indicate that resemblance will only become more acute with each passing year.
As Nielsen SoundScan indicated earlier this month, album sales were down 8.4% in 2013. For the first time since Apple launched the iTunes store in 2003, digital downloads declined from the year before. It was by less than a percent, but it was less than a percent in the wrong direction.
There were only two forms of music buying that gained traction in 2013. The first was vinyl which saw sales increase 33% last year. If you look back to 1993, vinyl sales rose 250% in the last 20 years as overall music sales slid 50%. However, vinyl is still only 2% of the overall music market compared to 41% for digital downloads and 57% for CDs. It should be noted, however, that CD sales dropped 15% last year and have fallen steadily since the early 2000s.
The only other way U.S. consumers were buying music didn't give them ownership of anything. Streaming services like Pandora P, Rdio and Spotify, which saw streams jump 32% in 2013 to 118 billion. Why would you stop stockpiling soundfiles at $1 or less for LPs that sell for $15 to $20 a pop or streaming services that take a monthly subscription fee? Because digital libraries and the services used to access them have become unwieldy and, in some cases, unnecessary.
As Apple, Amazon, Google and others tout the merits of cloud-based storage of sound files, there's been some question about how much of that storage space would go to good use. Back in 2011, the music management service Music With Me took a look at anonymous user data and found that their iTunes-based users had an average of 5,409 songs in their libraries, only 19% of which were ever played.
That same year, iTunes library cleanup app TidySongs found that their users' libraries had an average of 7,100 songs, but about 4,230 songs were missing artwork, 490 didn't have an artist name, 1,984 lacked track or year information and 814 were just duplicate versions of other songs. Competitors including TuneUp once charged $40 a year just to fix those shortcomings.
That's how little anyone cares about their vast libraries anymore: They're willing to pay others just to navigate and fix them so they don't have to spend even more time curating than they already have. Unless you're a fastidious fan who's stayed on top filling in missing data, building folders, maintaining playlists, clearing out playlist and unwanted songs or countless other bits of minutiae, just the extremely simple process of moving music over to a device can yield sighs and an overwhelming sense of dread.
As users realize, however, this isn't all their fault. Longtime iTunes users have watched their service morph from a nice, tidy music list to a multi-layered clearinghouse for sound files, podcasts, videos and iOS apps. The user interface has become an unnecessarily complex labyrinth of artist pages, album pages and genre tabs. Updates wipe playlists clean, mess with synchronization and reduce sound quality to that of a middle-school classroom PA system. The Shuffle and Genius features, meanwhile, have become so reductive that they almost guarantee it'll be years before you hear entire pockets of your collection.
Amazon users, meanwhile, are doomed to have nearly every bit of music they purchase immediately added to their cloud account. Did you buy an album of Celtic folk songs for your quilt-clubbing aunt? It's yours now. Did you pick up a copy of Denis Leary's No Cure For Cancer for your abrasive 40-something uncle? Smoke 'em if you've got 'em. That copy of the Beverly Hills Cop soundtrack your mom wanted another copy of? It's putting The Heat Is On into your gym mix as we speak.
As the streaming and download numbers indicate, music no longer needs MP3s or even sound files to stay mobile. As free wi-fi grows more widely available and 3G and 4G data plans pile on more data, streaming services become a more palatable option. The selections are more varied, the input and algorithms help neatly tailor playlists and the station and playlist formats don't require mixing things up manually before each trip. You don't own the songs and can't always get one you're dying to hear when you want to hear it, but all those years of skipping and scanning on various MP3 players weren't exactly a grand exercise in instant gratification, either.
The old library-and-playlist model is wearing out its welcome, and the music industry knows it. Beats Music is built on the idea of enveloping listeners in a mix of old favorites and new artists that fit their tastes. Apple, meanwhile, gave in and made streaming service iTunes Radio a reality. Billboard noted that downloaded digital track sales fell 12.9% in the fourth quarter of 2013 and dropped at a similar pace over the first three weeks of this year -- coinciding with the launch of both iTunes Radio and Beats Music.
People aren't opposed to owning music, but they don't want to buy it while they're streaming it. In some cases, they don't seem too keen on buying it in a digital format anymore, either. As was the case with CDs, there will still be people who continue to buy digital files for their collection and play them using the conventional methods of roughly a decade ago. However, there are going to be a whole bunch of music fans for whom -- with few exceptions -- the last big additions to their libraries are made in 2013 or 2014.
Their small crate of records may fill and their streaming stations may get more thumbs up and thumbs down, but sound files will become what the previous generation's CDs already are: Warmly remembered but seldom used failsafes from a fading era.
-- Written by Jason Notte in Portland, Ore.
>To contact the writer of this article, click here: Jason Notte.
>To follow the writer on Twitter, go to http://twitter.com/notteham.
>To submit a news tip, send an email to: tips@thestreet.com.
RELATED STORIES:
>>Vinyl Is Streaming Music's Flipside
>>The NFL Has No Faith In Bruno Mars
>>A Music Fan Should Never Watch The Grammys
Jason Notte is a reporter for TheStreet. His writing has appeared in The New York Times, The Huffington Post, Esquire.com, Time Out New York, the Boston Herald, the Boston Phoenix, the Metro newspaper and the Colorado Springs Independent. He previously served as the political and global affairs editor for Metro U.S., layout editor for Boston Now, assistant news editor for the Herald News of West Paterson, N.J., editor of Go Out! Magazine in Hoboken, N.J., and copy editor and lifestyle editor at the Jersey Journal in Jersey City, N.J.