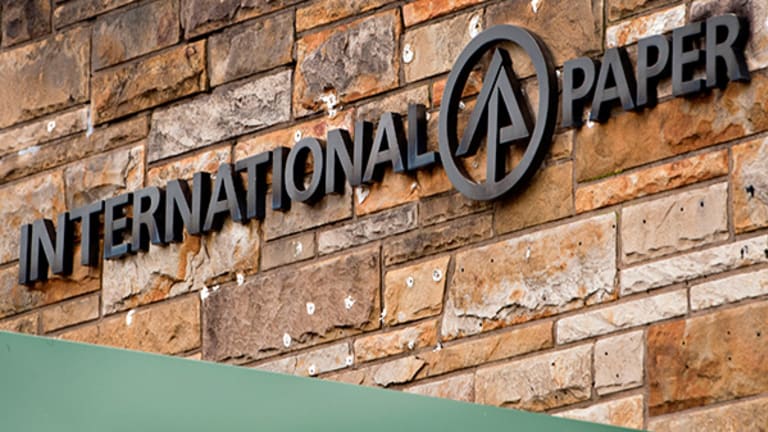 Why It's Time to Take Profits in International Paper
Time to wrap up your position in this stock. Here's why.
At around $54, shares of International Paper (IP) - Get Report  are up nearly 44% for the year to date. The stock was rolling over until it got a mighty push from the Trump rally.
Is it time to wrap it up and take profits? Yes, because shares are already fully valued. Here's why.
After the election IP shares jumped 26% thanks to the rally and hope tax cuts will be implemented to save the company millions of dollars. At the time, the stock was reeling from a disappointing third quarter and potentially heading into a lousy fourth quarter. International Paper is scheduled to report its fourth-quarter and year-end results on Feb. 2.
Third-quarter earnings were 91 cents a share, 2 cents worse than the consensus estimate. Revenue fell 7.5% to $5.27 billion versus the $5.37 billion consensus. The company said the decline in revenue was mostly related to selling out its share of a joint venture with Shandong Sun Holding Group, among other factors.
Adjusted Ebitda fell 14.6% to $927 million, while adjusted operating earnings were down 6.1%. Operating profits fell 19% to $625 million.
It seems the quarter was impacted by higher costs and weaker results in the Industrial and Consumer Packaging business. The Consumer Packaging segment reported below most forecasts because expenses rose $36 million. The Industrial segment reported earnings before interest and taxes of $429 million, about $40 million below the consensus estimate. The company faced higher energy costs and fewer shipping days in the quarter. Box volume was up 1%.
Meanwhile, the fourth quarter looks tough. Cost inflation, fewer box shipping days, higher maintenance and higher taxes seem to be coming together to make the quarter weaker than expected. Also during the fourth quarter, IP is expected to complete its purchase of the pulp business of Weyerhaeuser (WY) - Get Report . This deal could offset some of these factors, but not all. Fourth-quarter earnings are likely to be 70 cents per share, which equates to a 21-cents sequential drop in earnings.
But investors have ignored those factors and bought the shares anyway. In the third quarter, IP paid a 27.7% tax rate and is expected to end the year with a tax rate between 24% and 25%. Last year the company had a 36.8% tax rate, which is why investors are betting the Congress will cut taxes. 
To me, shares of International Paper are fully valued. At the current price, the stock is trading at 15 times fiscal 2017 earnings of $3.50. Historically, the stock trades between 13 and 15 times estimates, so I wouldn't get too wrapped up in the shares. I would take profits.
This article is commentary by an independent contributor. At the time of publication, the author held no positions in the stocks mentioned.