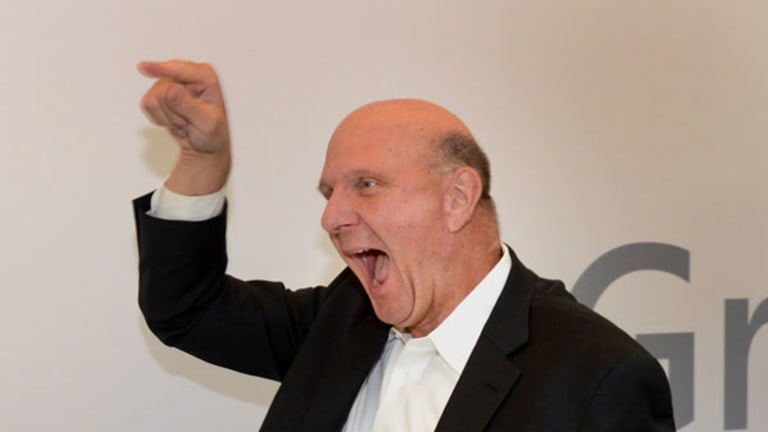 NEW YORK (TheStreet) -- A quick glance at my article history reveals I'm not the biggest fan of Netflix's (NFLX) - Get Netflix, Inc. (NFLX) Report potential for long-term success, let alone survival, as a purveyor of original programming. That said, I tend to give Reed Hastings credit where it's due.
Nearly one year ago,
I suggested investors buy NFLX stock "before it rises from the dead"
because of, in part, a better-focused content strategy. The bet paid off; since July 30, 2012, NFLX shares have popped 358 percent. And, while I expect the business -- and, subsequently, the stock -- to implode (again) sooner or later, I have come around to the consensus: The SEC wasted its time policing Hastings'
Facebook
(FB) - Get Facebook, Inc. Class A Report
account only to make the right decision after a whole bunch of pomp and circumstance.
It's beyond dereliction of duty to take a public stance against Hastings, yet ignore acts that could, quite possibly, mislead investors and cost them money.
I can't help but go back to 2011, wondering where in the world the SEC was when
the artist formerly known as RIM
--
Blackberry
undefined
-- led shareholders down the primrose path to destruction. Consider, via this October 2011
article I wrote, how former RIM CEO James Balsillie handled guidance and expectations for Playbook tablet sales as the overall business was unraveling.
You can draw similar comparisons between
Microsoft
(MSFT) - Get Microsoft Corporation (MSFT) Report
CEO Steve Ballmer's public statements and the company's ugly reality.
It's not so much the EPS miss (
Microsoft earned 52 cents for Q4 on $19.9 billion in revenue, whereas Wall Street expected 75 cents and $20.73 billion
) as it is
the company's $900 million charge on unsold Surface tablets
.
In July 2012, Ballmer indicated Microsoft would sell
within the year. In November 2012, Ballmer told MSFT shareholders about
"a sea of upside"
for Microsoft in the tablet market. In January 2013, UBS
dismal surface sales, but a Microsoft spokesperson said:
We're pleased with the strong customer reception of Surface ... We've recently increased production and expanded distribution to additional retailer partners given the growing demand. We look forward to more customers getting hands-on time with the product as we continue to expand its availability in the coming months.
I added the
bold
emphasis to that passage.
In February 2013, Ballmer refuses to talk sales numbers, but calls Surface
In May 2013, Surface owned, for want of a better word, 1.8 percent tablet market share (
Apple's
(AAPL) - Get Apple Inc. (AAPL) Report
iPad was at 39.6 percent).
Circle back to October 2012 when Ballmer said this to pump Surface:
I don't think anyone has done a product that I see consumers wanting
.
Mind you, the aforementioned May 2013 data shows that Microsoft shipped 900,000 tablets in Q12013, while Apple shipped 19.5 million. Last week, Microsoft had to write down nearly $1 billion worth of inventory for a device that, just six months ago (and three months before to this abysmal quarter) was, based on official company statements, seeing
strong consumer reception
with
growing demand
that spurred company plans to
expand its availability
. Now, according to
David Gilbert, Ballmer sits on about six million unsold tablets.
RT. Pro. Doesn't matter which flavor, the Surface tablet is an unmitigated disaster that, even to this day, Ballmer and Microsoft refuse to admit failure on. The guy continues to
shamefully and unabashedly pump Microsoft's device strategy
. Ballmer's optimism, no doubt, had to play a role in the 28 percent year-to-date upside in MSFT prior to Friday's 11.4 percent crash.
Instead of policing Hastings' social media activities -- only to have its bluff called -- the SEC needs to take a look at how it provides "safe harbor"
vis-à-vis
"forward-looking statements." There's too much protection for companies, too little for investors. And not enough attention paid to public statements made by CEOs, other executives and spokespeople inside and outside of the official SEC filings that most people never take the time to read, or know how to access, anyway.
--
Written by Rocco Pendola in La Jolla, Calif.
Rocco Pendola is
TheStreet's
Director of Social Media. Pendola's daily contributions to
TheStreet
frequently appear on
CNBC
and at various top online properties, such as
Forbes
.