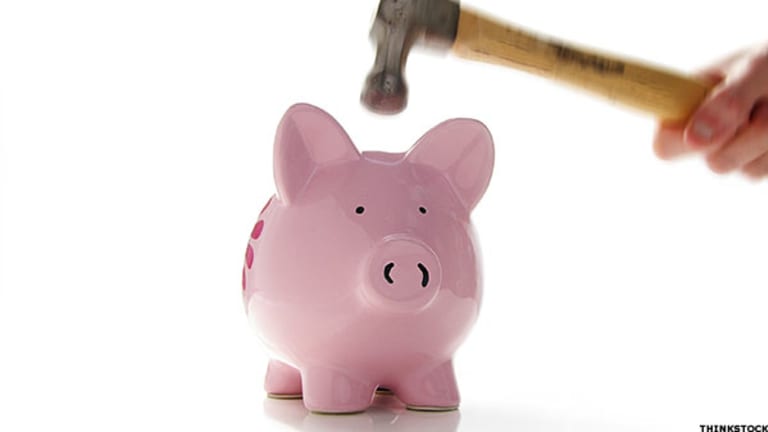 Why Investors Should Care About Gaudy CEO Pay Ratios
Shareholders will get another reason to vote 'no' to lucrative executive compensation plans once companies are forced to disclose how much CEOs make relative to their employees.
NEW YORK (TheStreet) -- Workers and investors will soon know just how much greener the grass is on the other side -- and it probably won't be pretty. Last week, the Securities and Exchange Commission approved a new rule requiring companies to disclose just how much more their CEOs make than the average employee. 
The changes will make the financial reports of publicly traded companies all the more juicy -- some CEOs make hundreds of times what their rank-and-file workers do. Part of the 2010 Dodd-Frank financial reform law, the mandate requires firms to publish a ratio showing how the median pay of their workforce compares with their CEO's pay. Due to go into effect Jan. 1, 2017, the rule will give shareholders another data point when voting on executive compensation.
Should investors care? Many experts say yes.
The ratio will provide "important context about a company's executive compensation and worker compensation strategies," said Heather Slavkin Corzo, director of the AFL-CIO Office of Investment. "It will allow investors to make more informed decisions when they are casting 'Say on Pay' votes and assessing corporate strategies around both executive and worker compensation." 
While most pay packages get investor approval, when shareholders see how much more CEOs make than many of their employees, it may change the equation.
"[Investors] have to make a judgment whether they think the kind of disparities within a firm are good for a firm's growth or not," said Lawrence Mishel, President of Washington, DC-based think tank the Economic Policy Institute. "They now don't have a way to make that judgment, because they don't know the actual ratio."
CEO-to-worker pay ratio disclosures will have an impact in other, more personal ways, as well.
"There is certainly room for the social investment crowd to use these ratios as an indicator," Mishel said.
More returns-minded investors may also be interested in corporate America, in general, paying its workers enough so that they, too, can meaningfully invest in the markets. Most people are invested in the stock market, if not directly, through 401k retirement plans.
"Average Americans own a large portion of the stock market in their 401K plan, so people will think about this from their personal experience both as investors and as employees," Slavkin Corzo said.
Proponents of the rule hope that it will rein in what many consider to be runaway executive pay. Charles Elson, director of the John L. Weinberg Center for Corporate Governance and a professor at the University of Delaware, said the rule will force boards to change how executive compensation is calculated. Instead of basing it on whether pay is competitive with that at other companies, it will be based on whether it's fair to pay a CEO so much more than his or her employees.
"Comp is going up because compensation for CEOs is based not on internal factors but on external factors -- how other CEOs are being paid a peer companies," said Elson. That "creates this disconnect with the CEO's package and everyone else in the organization's, which is very bad for morale. This disclosure is going to exacerbate that." 
But not everyone thinks CEO pay will factor into whether investors like a particular stock.
"We can understand the public interest in this," said Dan Marcec, Director of Content and Marketing Communications at executive compensation data provider Equilar. From an investor's viewpoint, however, "there hasn't been a lot of evidence that the rule itself will help them evaluate their investment, better or worse, in one way or another."
The U.S. Chamber of Commerce has been a vocal opponent of the pay mandate, calling it a "misleading, politically-inspired, and costly disclosure" in a statement. The pay ratio doesn't allow investors "to compare companies, it doesn't tell them anything about the health or direction of a company," said Tom Quaadman, vice president of the Chamber of Commerce's Center for Capital Markets Competitiveness, in an interview with TheStreet.
Fast food chains, which have seasonal and hourly workforces, are likely to produce high CEO-to-worker pay ratios, he said, while Wall Street firms, where employees make more money, likely have lower ratios.
"Neither ratio tells you anything about that company, neither ratio allows you to compare different businesses in different industries," he said.
Many companies argue that the pay ratio mandate is a time-consuming measure with little real meaning.
"The idea that this is going to require a huge amount of bookkeeping on their part, and that they're going to have to spend large amounts of time from their accounting position calculating this number, it strikes me as close to crazy," said Dean Baker, Co-Director of the Center for Economic and Policy Research, a think tank based in Washington, DC. The SEC has said the rule is written to reduce its burden on companies.
What the rule will do is normalize data that can prove to be quite complex.
External entities that analyze CEO-to-worker pay ratios come up with varying figures. The AFL-CIO calculates the average ratio among the largest companies to be 373-to-1, and the Economic Policy Institute estimates 303-to-1. Others argue that the true figure across all firms is closer to 4-to-1.
Like it or not, the CEO-to-pay ratio appears to be here to stay -- or it will be as of 2017.
"It was designed to foment employee discontent, and it probably will," Elson said. "That being said, let's make lemonade out of lemons. Let's take this, and let's rethink the way we do pay and make it so that pay is explainable and rational." 
This article is commentary by an independent contributor. At the time of publication, the author held no positions in the stocks mentioned.