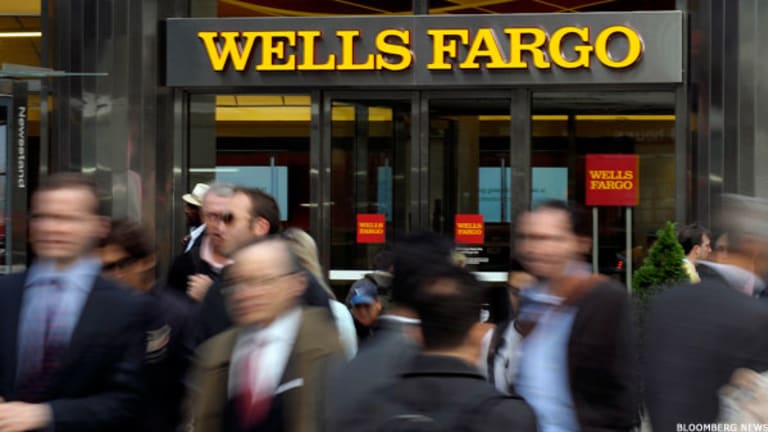 Publish date:
Why I'm Raising My Price Target on Wells Fargo
Even with the bank's recent struggles, Wells Fargo has always remained safe.
Even with the bank's recent struggles, Wells Fargo has always remained safe.
NEW YORK (TheStreet) -- We've been following money-center giant Wells Fargo (WFC) - Get Report pretty closely this year. I've taken a personal interesting in seeing just how far it can really go.
While I've always considered the Wells Fargo to be the safest name among the "big four" with
JPMorgan Chase
(JPM) - Get Report
,
Bank of America
(BAC) - Get Report
and
Citigroup
(C) - Get Report
, Wells Fargo has shown no immunity against a tough interest rate environment and weak loan growth.
Even so, unlike some of its rivals,
is that, despite the bank's sluggishness in mortgage lending and an overall weakness in loan demand, Wells Fargo's management has made no excuses. Instead, it has consistently raised the bar -- adding pressure on the bank's ability to perform better. Investors have responded by aligning their trust with the banks direction. It's turned out to be a smart move.
On Jan. 9, I issued a
on the stock. This was while shares traded at around $34 per share. Admittedly, it wasn't a huge gamble. But considering that we were all just slowly backing away from the "fiscal cliff," it didn't make sense for me to then go too far out on another limb. Not surprisingly, shares would hit my $40 mark four months later.
Read: United Still Can't Convince the World That Its Merger Worked
At that point, given the improvements I had seen by management, I then
. On July 23, the stock reached another new 52-week high of $44.79, less than half of a percentage point from $45. With an improved interest rate environment, which coincides with Wells Fargo's better-than-expected second-quarter earnings results, these shares still look cheap.
Essentially, despite some headwinds, Wells Fargo has done everything that I've asked it to do. Heading into the second-quarter report,
(among others) had to do with the bank's lackluster performance in net interest margin (NIM), which was down by 33 basis points in the April quarter and down 8 basis points from the January quarter.
I don't want to overstate the importance of NIM, but this is the metric that tells investors if management made sound investment decisions relative to the bank's debt situation. As I said above, investors aligned themselves with management. So it's important that these sorts of details aren't overlooked. From my calculation, last quarter's 33-basis-point decline told me that the bank's interest expenses were higher than the returns Wells Fargo generated from its investments. It's wasn't a good feeling.
In the recent quarter, however, NIM was basically flat (sequentially) while the Street was looking for another decline. Likewise, when compared to last quarter when there was virtually no growth to speak of, operating revenue did climb slightly this time -- albeit by 1%. Wells Fargo also exceeded expectations in areas like fee income. Although the bears have every right to gripe about the 1% decline in fees, it's not as if Wall Street was looking for a quick fix in this category.
What's more, the 3% sequential increase in net interest income more than offset the 1% fee decline. And let's not forget the 3% year-over-year increase in average earning assets, which helped improve the NIM situation that we've outlined above. As with the April quarter, which produced a 2% decline in expenses, management was just as diligent with expense contro, helping to grow operating income by 3% sequentially.
I don't believe Wells Fargo's management has gotten enough credit for this level of fiscal awareness. The Street continues to take for granted how hard it is to keep costs down amid a highly competitive banking market where everyone is scrounging for loan growth. Along similar lines, management continues to get rid of assets and loan ratios that have not been performing well.
Read: Delinquent Student Loans Get Out of Detention
What's becoming clear is that, even with the bank's recent struggles, Wells Fargo has always remained safe. From an investment perspective, I can see the stock now reaching $52 per share by the end of the year, which would represent a 2013 return of 54%. It seems aggressive. But if interest rates are rebounding as the housing market maintains it momentum, it's riskier to bet against one of the best mortgage lenders in the country.
At the time of publication, the author held no position in any of the stocks mentioned
.
Follow @saintssense
This article was written by an independent contributor, separate from TheStreet's regular news coverage.
Richard Saintvilus is a co-founder of
where he serves as CEO and editor-in-chief. After 20 years in the IT industry, including 5 years as a high school computer teacher, Saintvilus decided his second act would be as a stock analyst, bringing logic from an investor's point of view. His goal is to remove the complicated aspect of investing and present it to readers in a way that makes sense.
His background in engineering has provided him with strong analytical skills. That, along with 15 years of trading and investing, has given him the tools needed to assess equities and appraise value. Richard is a Warren Buffett disciple who bases investment decisions on the quality of a company's management, growth aspects, return on equity, and price-to-earnings ratio.
His work has been featured on CNBC, Yahoo! Finance, MSN Money, Forbes, Motley Fool and numerous other outlets.
Follow @saintssense