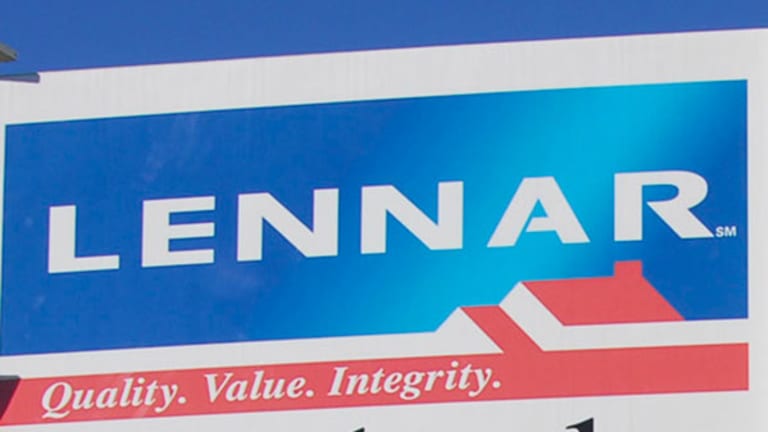 Why Homebuilder ETFs Are Outperforming and Still Have Room to Rise
Homebuilder ETFs are outperforming the stock market amid pent-up demand from a frigid winter, low-interest rates and strong job growth spurring consumer confidence and household formation.
NEW YORK (TheStreet) -- Investors in homebuilder stocks should have reason to rejoice this year after under-performing the stock market in 2014.
Homebuilders are now benefiting from pent-up demand from a frigid winter, low interest rates and strong job growth, spurring consumer confidence and household formation. In addition, income growth has been accelerating and the freefall in oil prices put extra dollars in consumers' wallets. The current savings rate, hovering at 5.7%, is the highest rate since March 2012. Home price appreciation has been moderate and lenders are easing conditions. This all points to improvement for homebuilders, which should continue as we head into the April-to-August selling season, the busiest time of year for home sales.
The premiere homebuilder ETF, iShares U.S. Home Construction ETF (ITB) - Get Report, has gained nearly 9% year-to-date, eclipsing the SPDR S&P 500 ETF's  (SPY) - Get Report 2% gain. It's a great turnaround after rising only 5% last year when the S&P 500 ETF returned 14%. SPDR S&P Homebuilders ETF (XHB) - Get Report has climbed 7% year-to-date after adding only 3% in 2014. The major stock market indexes surpassed their pre-recession peaks two years ago but homebuilder ETFs have yet to top their former high, suggesting they have room to catch up.
February housing starts in the U.S. plunged 17% month-over-month to a seasonally-adjusted annual rate of 897,000 homes, in part because the harsh winter weather kept consumers indoors. Considering that home building has been weak the past few months, homebuilder shares are pricing in a comeback in the months ahead.
Home Building Improvements
Homebuilders saw deliveries of new homes in the 2014 calendar year jump 9% to 119,741 homes from 109,659 homes the prior year, according to S&P Capital IQ. New home deliveries surged 24% in 2013 -- the fastest growth rate since the 2007-to-2009 housing crash. S&P Capital IQ projects more mild unit growth of 6.3% to 127,300 units for the 2015 calendar year.
The leading home builder by market cap, DR Horton (DHI) - Get Report, raised the number of new homes delivered by almost 19% in the 2014 fiscal year to 28,670 homes. The average sales price rose 11% as revenues vaulted 32%. The average selling price rose 7% year-on-year in the first quarter for fiscal year 2015. The delivery of new homes increased 29% to 7,973 units as revenue popped 37%.
S&P Capital IQ analysts project a 14% jump in homes delivered in fiscal year 2015 to 32,675 homes and a 3% price increase along with a 17% improvement in revenues. They forecast a 7% rise in homes delivered in fiscal year 2016 to 35,000 homes with a 3% price appreciation and 10% enhancement in revenue.
The S&P/Case-Shiller U.S. National Home Price Index booked a 4.5% year-on-year increase in January 2015, after rising 4.6% in December 2014. However on a month-to-month basis, the index fell for a fifth month in row, slipping 0.1% in January amid severe winter weather.
Multi-family housing starts have bounced back to the 2007 level and are at 97% of their pre-recession peak. Single-family housing starts, on the other hand, are at just a third of the way to their former high. Housing supplies are tight and the pace of new orders should increase unless there is a massive hike in mortgage rates. In February, there were 4.6 months of supply of homes for sale on the market, the same amount as January. That's short of the six months of supply that is deemed a healthy supply-and-demand balance.
Investing Risks
Shares of homebuilding companies are very volatile. Gross margins are very thin in the business. Prices could rise because of higher-than-expected rises in labor and materials, tightened lending conditions and higher interest rates could dampen affordability, especially for first-time buyers. In addition, home prices are increasing much faster than people's wages. Barriers to entry into home building are rather low and the industry is very fragmented. According to Morningstar, the leading five home builders in the U.S. by revenue made up only 18% of the market in 2013.
Homebuilder Mutual Funds and ETFs
Consider investing in homebuilders via the SPDR S&P Homebuilders ETF, iShares US Home Construction ETF or Fidelity Select Construction & Housing Portfolio (FSHOX) - Get Report, a mutual fund.
The SPDR ETF is a 35-stock portfolio of home builders, home-improvement retailers, home-furnishing retailers and building-materials producers.
The iShares ETF overlaps a lot with 37 holdings. The biggest difference between the two ETFs is that SPDR equal weights its holdings while iShares market-cap weights them. SPDR has more exposure to home furnishing and home improvement retailers than iShares.
UBS (UBS) - Get Report released in March ETRACS ISE Exclusively Homebuilders ETN (HOMX) and ETRACS Monthly Reset 2x Leveraged ISE Exclusively Homebuilders ETN (HOML) - Get Report. But because they're so new, they're very thinly traded.
This article is commentary by an independent contributor. At the time of publication, the author's firm held SPY.