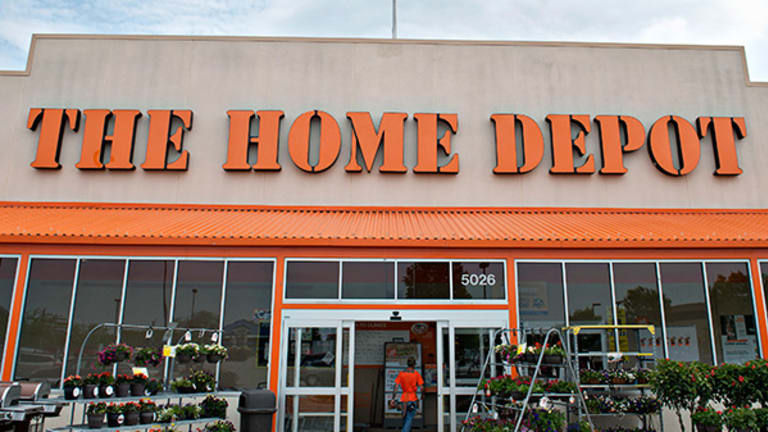 Why Home Depot Is a Buy Now
Now's the time to buy Home Depot stock. The shares have pulled back about 12% from their 52-week high, and the company's emphasis on profitability should pay off.
Judging by the nearly 13% year-to-date decline in the SPDR S&P Homebuilders ETF (XHB) - Get Free Report , investors seem to have become leery of home-related stocks. But it would be a mistake to run from Home Depot (HD) - Get Free Report -- at least not until the company shows meaningful signs that its growth momentum is slowing.
Home Depot reports fourth-quarter fiscal 2015 earnings results before the opening bell Tuesday. Shares of the Atlanta-based company have declined almost 9% year to date, and are down almost 5% over the past three months.
But the world's largest retailer of home-improvement products can still reward patient shareholders in the long term.
Home Depot's earnings-per-share estimates for both the just-ended quarter and for the full year call for double-digit profit increases. Plus the company pays a solid 59-cent quarterly dividend that yields just shy of 2% annually. There's tons of implied value in Home Depot shares.
For the quarter that ended in January, analysts on average expect Home Depot to have earned $1.10 a share on revenue of $20.37 billion, translating to year-over-year growth of 10% and 6.3%, respectively. For the full year, earnings are projected to rise 16.5% year over year to $5.34 a share. Revenue of $88.13 billion would mark an increase of 6% from the year-ago quarter.
Both quarterly and full-year earnings are projected to climb about twice the rate of revenue. That fact underscores the focus Home Depot management has placed on profitability.
In its third quarter, for instance, Home Depot's comparable-store sales rose more than 5% and its gross margin -- a predictor of profitability -- improved 40 basis points to 34.7%. At the same time, the company's sales and general and administrative expenses declined 80 basis points to around 19%.
The combined effect? Home Depot's operating margin rate climbed 130 basis points to 13.7%.
All of this means that Home Depot's business fundamentals remain strong. The company was able to achieve these metrics as it added seven new stores during the quarter, bringing its total store count to 2,273.
Although recent data by the U.S. Census Bureau on residential home construction has scared off some investors, Home Depot continues to build on its solid reputation for execution.
I'd be a buyer of Home Depot stock here, especially as the shares have pulled back about 12% from their 52-week high of $135.47.
This article is commentary by an independent contributor. At the time of publication, the author held no positions in the stocks mentioned.