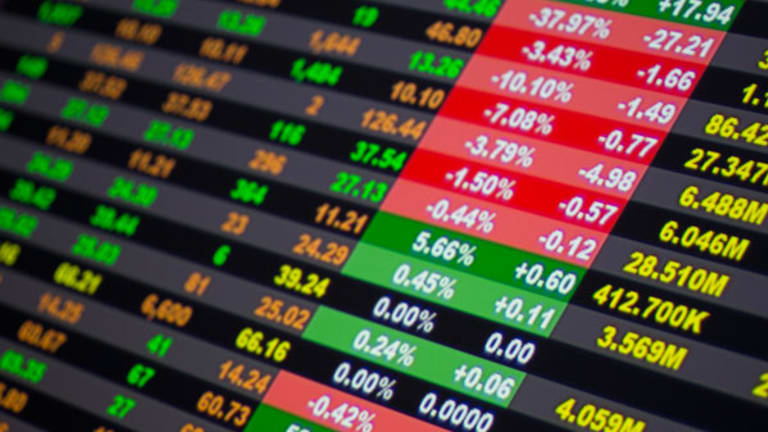 Why Have Conservative ETFs Struggled?
Successful ETF investing includes understanding what your funds are likely to do in all market conditions.
Successful ETF investing includes understanding what your funds are likely to do in all market conditions.
Editor's note: This article was corrected to change Recton to Recon.
NEW YORK (TheStreet) --The Recon Capital NASDAQ-100 (QYLD) - Get Report started trading last week and is the latest in a small, recent wave of covered-call exchange-traded funds.
QYLD will track the Nasdaq 100 BuyWrite Index which owns the Nasdaq 100 index and sells covered, index calls every month that are at the money or slightly out of the money depending on the available strike prices.
Selling covered calls is typically done as a conservative strategy to generate income and mute the impact of smaller market declines. The opportunity cost is that a covered-call strategy will lag a huge market rally.
The big idea with covered-call funds is that they are intended to smooth out the volatility of a full market cycle by going down less than the market during downtrends and going up less during rallies. That is similar to the many low volatility ETFs that have started trading in the last couple of years and can apply to dividend funds which have also proliferated in recent years.
Instead of selling calls against a broad index such as the Nasdaq Composite or the S&P 500, low volatility funds will modify a broad index such as the PowerShares S&P Low Volatility Portfolio (SPLV) - Get Report which owns the 100 least volatile stocks in the S&P 500. Other low volatility funds employ other methods to reduce volatility.
Dividend funds will typically focus on higher yielding stocks or stocks that have a track record of increasing their dividends. Dividend-paying stocks tend to have lower betas -- a measure of volatility where the lower the number, the lower the volatility -- and so the dividend funds tend to be less volatile than the broad market.
Covered-call funds, low volatility funds and dividend funds can all outperform traditional market cap-weighted funds such as the SPDR S&P 500 (SPY) - Get Report some of the time, but not all of the time as has been the case in 2013.
In the last week, Barron's had two articles noting the extent to which low volatility funds have lagged behind market cap-weighted funds this year. Barron's asked who shouldn't own this type of fund. The answer: anyone who would be upset at lagging the S&P 500 during a bull market.
I've written about most of the covered-call, low volatility and dividend funds over the years and have been sure to include similar comments about expectations for all three types of funds during the huge up years such as 2003, 2009 and 2013 that come along every so often.
A major objective of these funds is to lessen volatility. Volatility, of course, goes in both directions. SPLV has 30% in utility-sector stocks. This year, the Utility Select Sector SPDR (XLU) - Get Report is up 7% according to Google Finance, compared with 25% for SPY, and so it's no surprise that SPLV is up only 16% this year.
The discussion here really needs to be about investor behavior. People love low volatility funds when the market is struggling and they get impatient with low volatility funds during huge rallies.
Conversely, people love market cap-weighted index funds now, but in the next bear market, market cap-weighted funds will be back in the doghouse.
Many of these strategies can get the job done for the long term where the job is defined as having enough money for when it is most needed like during retirement, but none of these strategies can be the best for all market environments.
Investors will be best served by learning ahead of time when their favored strategy will likely lead the broad market and when it will likely lag. That should reduce impatience which in turn provides the opportunity for better long-term results.
At the time of publication, the author held no positions in any of the funds mentioned.
This article is commentary by an independent contributor, separate from TheStreet's regular news coverage.