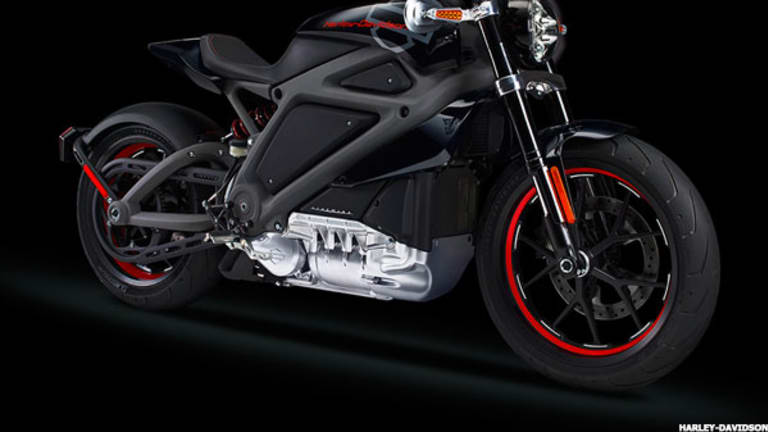 Why Harley-Davidson's First Electric Motorcycle Won't Arrive Before 2021
Harley-Davidson finally shares details on when its cool new ride will hit markets.
Editor's pick: Originally published June 16.
It takes time to do create something that breaks new ground. Just ask Tesla (TSLA) - Get Report or Apple (AAPL) - Get Report .
So it shouldn't be a shocker that bike maker Harley-Davidson (HOG) - Get Report -- known for its loud cruiser gas-powered "hogs" -- is taking it slow when it comes to launching its first-ever, Earth-friendly, electric bike called the Livewire.
After all, unlike a Tesla, finding space for high-powered batteries that offer strong range isn't exactly easy on a compact motorcycle. But the company seems to be making progress on design and production. In a talk with the Milwaukee Business Journal, Harley's senior vice president of global demand, Sean Cummings, said there will be an electric bike from Harley within the next five years. That loosely pegs the release, at the latest, in the year 2021.
Harley has been trying to drum up interest in the bike and getting consumer feedback for several years. The company unveiled Project Livewire, its marketing campaign for the electric bike, during a June 2014 U.S. tour down Route 66.  From June until year end, the company visited more than 30 Harley-Davidson dealerships. In 2015, Project LiveWire experiences continued in the U.S. expanded into Canada and Europe.
"We have gotten strong customer feedback -- 10,000 people have ridden this bike on real roads, and 10,000 people have said they want one," Harley-Davidson CEO Matt Levatich told TheStreet in a January interview. According to Levatich, consumers have told Harley they want more riding range from the battery. The LiveWire is powered by 3-phase AC electric induction motor, which produces 74 hp and 8000 rpm. The bike maxes out at 92 mph and accelerates from 0-60 mph in four seconds. A full recharge takes about 3.5 hours, and its average range so far has been 53 miles.
Added Levatich, "We have put a stake in the ground, and want to show people what's possible in an electric motorcycle from Harley-Davidson because everybody thinks oh, it must be a golf cart, or some sort of anemic thing -- now we have to deliver to those expectations we have set, which are very high, I am excited about it."
The Sons of Anarchycast would be proud.