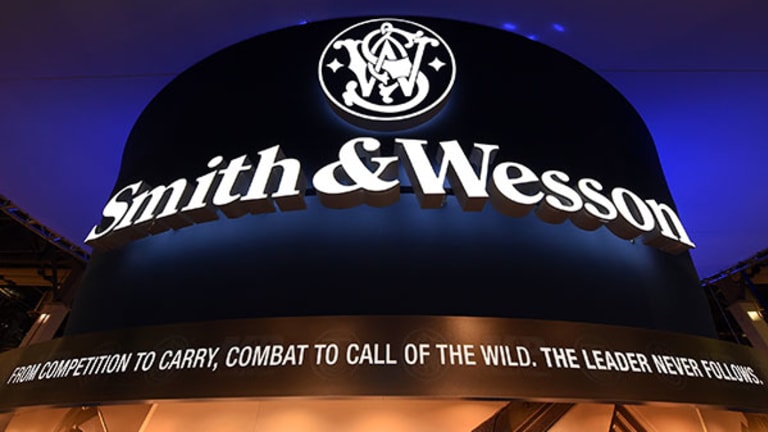 Why Gun Stocks Offer Excellent Short-Term Trading Opportunities
With the most recent mass shooting in Orlando, investors pushed gun stocks higher as the fear of tougher restrictions was seen spurring more gun sales.
We very rarely point out short-term investment opportunities, but today we're going to do just that.
Last week, following the horrific attack in Orlando, investors pushed shares of Smith & Wesson Holding (SWHC) and Sturm, Ruger & Co. (RGR) - Get Sturm, Ruger & Company, Inc. Report higher. The two stocks popped more than 5% last Monday, the first trading day following the shooting. For the week, Smith & Wesson closed up 10.5% while Sturm, Ruger ended the week up 5.6%.
We often see gun stocks get bid up following mass shootings in the U.S. That's because gun sales have soared in the wake of terrorist attacks. The motivation of purchasers seems to be fear that the president and/or lawmakers will push for new gun laws that will eventually restrict citizens' ability to acquire weapons. Some first-time buyers may emerge, too, as some people decide that owning a gun might be a way to protect themselves from future attacks.
Regardless of the reason, the fact remains that terrible events such as mass shootings are good for gun stocks. But this is usually for just a brief time, which is why Smith & Wesson and Sturm, Ruger make good bets for active traders.
For example, although both stocks jumped on Monday, the first trading day after the shooting, both stocks pulled back on Tuesday. Furthermore, the main reason each stock finished the week substantially higher was because Smith & Wesson released strong earnings and a solid forecast on Thursday.
Moving forward, traders looking to profit from the fear of gun control should begin looking for good entry points before the November presidential election. Most analysts believe that if the Democrats win the White House, guns sales will soar due to the fear of tough regulations.
Some investors might want to gain exposure to the gunmakers via an exchange-traded fund, but there isn't a fund with a high enough weighting in these stocks to be driven by their movements. For example, among ETFs, the iShares Russell 2000 ETF (IWM) - Get iShares Russell 2000 ETF Report is one of the largest owners of Smith & Wesson and Sturm, Ruger, with holdings of $19.58 million and $18.1 million, respectively. But each stock represents less than 0.1% of this ETF's holdings. 
It might seem like a better ETF option would be the iShares U.S. Aerospace & Defense ETF (ITA) - Get iShares U.S. Aerospace & Defense ETF Report . Smith & Wesson accounts for 1.1% of the fund while Sturm, Ruger accounts for 1.04%. The problem with this thinking is that while these two stocks might increase in value if Democrats win in November, stocks of defense contractors likely would decline based on perception that Democrats would put more pressure on defense spending.
So if you want to make a short-term bet on the gunmakers, your best best is to stick with their stocks. And if you want to profit from them, you need to understand that while they will rally when a shooting or an election occurs, these moves are usually quick. Investors need to get in when all is calm and get out right after the catalyst occurs, because once the stocks pop, they soon drop.
---
Looking for more trading ideas? One 85% Accurate Trader gives his Personal Guarantee: "Give Me 9 Minutes a Week and I Guarantee You $67,548 a Year." He turned $50,000 into $5 million trading this way and for a limited time, he's guaranteeing you at least $67,548 per year in profitable trades if you follow this simple step-by-step process. Click Here to see how easy it is to collect thousands of dollars in "Free Money" every month.
This article is commentary by an independent contributor. At the time of publication, the author held no positions in the stocks mentioned.