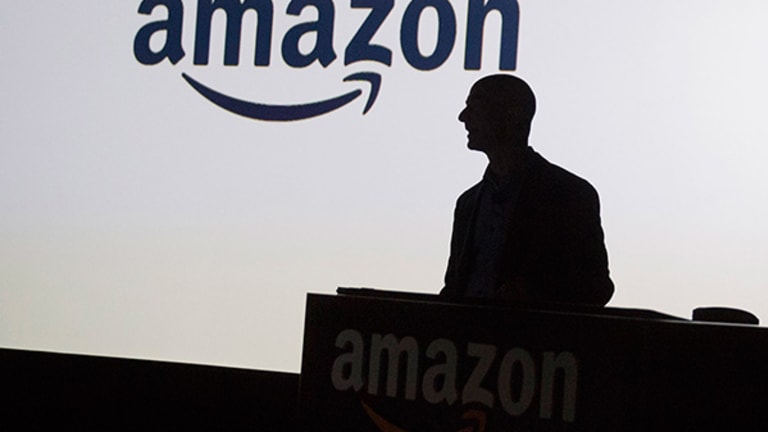 Why GrubHub and Others Should Be Worried About Amazon's Food Delivery Plans
The e-commerce giant on Tuesday rolled out restaurant delivery for Prime members in Manhattan, and it looks to be a good deal for customers, although not so much for restaurants.
The e-commerce giant on Tuesday rolled out restaurant delivery for Prime members in Manhattan, and it looks to be a good deal for customers, although not so much for restaurants.
As Amazon.com (AMZN) - Get Report continues rolling out restaurant delivery services, the e-commerce empire may be hinting at its eventual ambition to build a much wider ecosystem surrounding food delivery and further enhance the value of a Prime membership.
On Tuesday, Amazon introduced its meal delivery service for Manhattan to Prime members there. Members can now enjoy free one-hour delivery from over 350 local restaurants, including popular choices such as Blue Ribbon Fried Chicken, Junior's, Momofuku Milk Bar and John's of Bleecker Street.
The company also said that it is also expanding restaurant delivery offerings to Dallas, bringing the number of cities where the delivery service is offered to 10 (Amazon began the service in Seattle last September).
Compared to other online food delivery services providers such as GrubHub (GRUB) - Get Report , Amazon aims to differentiate itself by waiving all delivery fees for customers and not allowing restaurants to mark up their prices, although tips are encouraged and are set by default to 10%.
According to the New York Post, Amazon is reportedly charging restaurants 27.5% of each delivery order, compared to the 12% to 24% charged by GrubHub and Seamless, which merged together in 2013. The fee is also significantly more than the 15% to 23% reportedly charged by other restaurant services such as Delivery.com, DoorDash, Postmates and Square (SQ) - Get Report-owned Caviar. 
Benchmark analyst Dan Kurnos said the model is similar to that of Amazon Home Services, which takes a cut of the total fee for each project. Kurnos added that it highlights the local-oriented industry's shift to a lead-generation or advertising-based model that is free for consumers.
Burke & Quick Partners analyst Fred Moran said it's too early to see if Amazon's efforts will be succcesful, but they show the company's strategy of broaden its offerings and reach for consumers.
"Restaurants are charged more, but that doesn't stop Amazon's customers from using it," he said. "If they like Amazon, they're going to go with Amazon. Whether or not restaurants [will accept] higher fees is a different question."
Amazon's delivery efforts could pose a threat to companies like GrubHub. In fact, Cowen & Co. analysts wrote in a September note following the launch of Amazon's delivery service in Seattle that its growth could be "highly cannibalistic to GrubHub order growth."
At the heart of the expansion of Amazon's restaurant delivery service has been the company's focus on local, Benchmark's Kurnos said, adding that the steady expansion of restaurant delivery services follows Jeff Bezos' playbook of adding more and more benefits for Prime members, who are Amazon's most valuable customers.
"One of the things that's really interesting about this -- and we'll see if it links in or not -- is we're kind of moving into the shared services industry," he explained.
For instance, Amazon has introduced Amazon Flex -- an Uber-like system of delivery workers across U.S. cities including New York, Portland and Miami. Workers drive and deliver Amazon packages, in addition to picking up items from restaurants and stores in certain cities.
"I think there are a lot of ways you can leverage that," Kurnos said of Amazon Flex, adding that Amazon has the firepower to build an army of restaurant delivery workers. "There are ways you can see how this evolves into its own ecosystem."
The internet-enabled food delivery service industry, too, is still in its infancy and speaks to Amazon's growing focus on local consumers.
Meanwhile, Amazon is rolling out its food delivery offerings in the backdrop of an extremely competitive online food delivery market.
GrubHub, for one, has been trying to stay ahead of the curve partly through M&A. Earlier this month, the New York-based online company completed its previously acquisition of LAbite for $66.5 million, just after acquiring meal recommendation company Bask Labs in April.
Privately-held Postmates has also been aggressively expanding, launching Plus Unlimited subscriptions at the end of March that waive fees on all orders that are over $30 for a monthly fee of $10. Uber, too, has introduced UberEATS, a mobile application that delivers food from local restaurants. 
Still, the online food services market could have room for multiple players, Benchmark's Kurnos said.
"If I'm GrubHub, I'm not happy about it. But GrubHub has built a decent business model," he said.
Kurnos further explained that as Amazon and others experiment and build out their offerings over the next few years, the online food services market could eventually follow the path of the online travel industry, which has has consolidated over the years to a group of a few major players including Expedia (EXPE) - Get Report , Priceline and Airbnb.
Meanwhile, Amazon has been investing across its Prime platform, partnering with transportation and logistics companies in an effort to alleviate stress on internal networks and is reportedly planning to unveil its own private-label foods and household items.