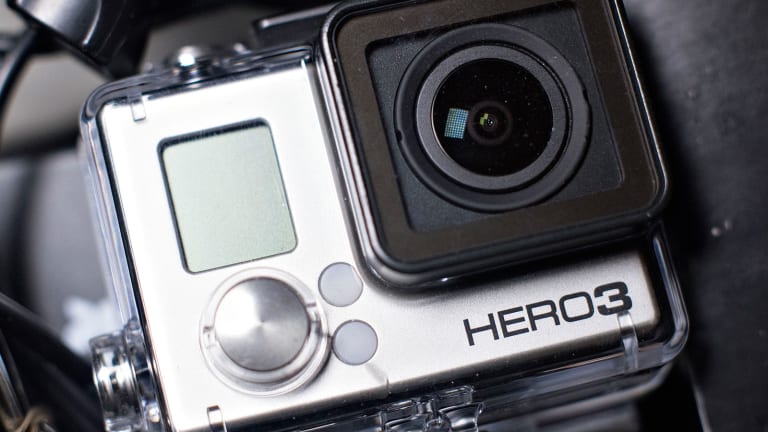 Why GoPro Thinks Content Is King
GoPro is looking to become known more for the content produced by its cameras as the company moves forward with a new video editing and sharing app.
NEW YORK (TheStreet) --Even though GoPro (GPRO) makes the majority of its money selling cameras, the company sees itself as a content company and not as a hardware company.
"First and foremost we see ourselves as a content business. People have to be able to manage that content," said GoPro CEO Nick Woodman. "For GoPro to realize its full potential we have to continue to develop from a content capture base, but also to deliver  the content management."
Content is king for GoPro as is evident by the focus the company is placing on its upcoming content sharing app that is now in the latter stages of development, company executives said Tuesday at J.P. Morgan's 43rd Annual Global Technology, Media & Telecom Conference.
Woodman said the GoPro app will enable basic editing but make it very simple for the camera's users to share their video. This is done directly through the cloud eliminating the need for the user to touch and SD card or use cables. Once in the cloud the content can be access through any device with a GoPro account.
Once everything is in place, Woodman believes GoPro will be viewed as a content company, not just a camera maker.
"The GoPro app is still in development. It is our version of 'iTunes' if you will. It is now in alpha testing by GoPro employees," Woodman said, adding that he believes GoPro cameras are now in the same place as the iPod was before iTunes was rolled out indicating that there will be a distinct difference in how the hardware will be viewed and accepted by consumers once the software is available.
While the app is being look on more as an ancillary offering now, it will be something the company can monetize at some point in the future, said CFO Jack Lazar. Meanwhile, the company expects the software's ability to easily share content, which Woodman admitted was a sticking point with some users now, will help attract even more customers to the brand.
"The number one thing we can do today is grow the hardware base. There is room to grow. The ecosystem will help accelerate unit growth quit significantly," Lazar said.
GoPro announced first-quarter GAAP revenue of $363 million, up 54% from the same period last year, with net income of $16.8 million, thanks to its new Hero3 and Hero4 cameras. Earlier in the year the company announced it had shipped over 5 million units in 2014. More than half of all the cameras sold are the company's higher end Silver and Black models, Lazar said.
Woodman also discussed the company's acquisition of Kolor during the first quarter. Kolor has developed virtual reality and spherical media solution that allows videos and still photos to be stitched into 360 degree panoramas which can be viewed through a virtual reality device.
"The Kolor purchase shows we have an eye on the future. Google (GOOG) , Microsoft (MSFT) and others are looking to GoPro to deliver content for their VR platforms. It was a natural for us to match the capabilities of our hardware with their software," Woodman said.
The executives also spoke highly of the company's move into China, saying GoPro cameras are in 300 storefronts and that sell through is meeting their expectations crediting the fact that many Chinese customers were already familiar with the company through videos they had seen online.
This article is commentary by an independent contributor. At the time of publication, the author held no positions in the stocks mentioned.