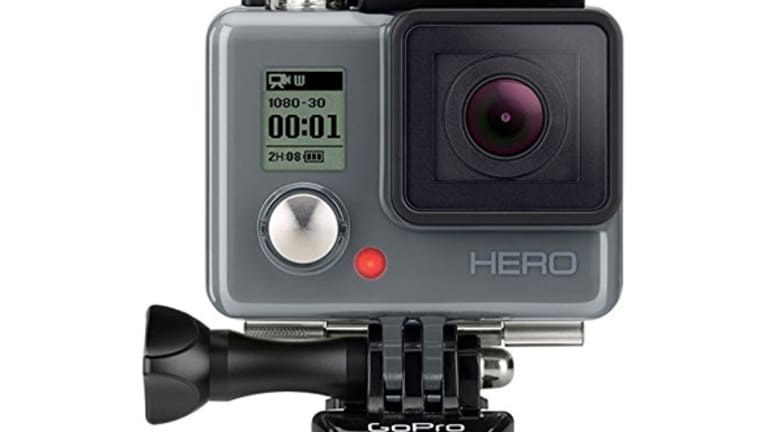 Why GoPro's Big Selloff Offers a Great Opportunity to Buy This Stock
GoPro's weak third-quarter results have turned this stock into a beaten-down pariah, but that just creates a compelling buying opportunity. Here's why.
Once a Wall Street darling, GoPro (GPRO) has turned into a pariah. But the recent negativity on the stock, which has pressured its price to all-time lows, presents a buying opportunity for savvy investors.
True, recent headlines about GoPro haven't seemed encouraging. Last week, the company missed top- and bottom-line estimates for its quarterly earnings. That came after other developments, as summarized by CNBC: The company cut the price of its newest extreme sports video camera, the HERO4Session, in September. Coming just a couple of months after the camera's launch, this suggested demand for the device wasn't so hot. What's more, the CFO of Ambarella, which supplies chips to GoPro, said in a September conference call that the company expected declining revenue from its wearable camera business in the third quarter.
Meanwhile, Wall Street analysts have been reducing price targets and lowering ratings on GoPro's stock.
Those analysts dropping price targets say GoPro's best days of rapid growth may be past, as well-established corporate heavyweights begin to take market share. And questions raised by GoPro's harshest Wall Street critic, Morgan Stanley, about whether the company should be valued as a dynamic growth leader or just another camera company have added to the already anxious sentiment.
But GoPro remains the leader in its field, and there remain so many untapped markets around the world for its products and technology. Second, as explained below, some of those recent headlines aren't as bad as they seem. What's more, this is a consistently profitable company, and its earnings are expected to have a compounded annual growth rate of 17.2%.
GoPro's shares also are cheap compared to other stocks in the Nasdaq 100 stock index. GoPro was trading at nearly $100 in October 2014. One can argue that the stock was overvalued then. But its recent share price gives it a forward price-to-earnings ratio of 16.9. That means it's trading at a discount to the Nasdaq 100, which has a forward P/E of 19.9. It's also trading at a discount to the S&P 500, which has a forward P/E of 18.7.
Some traders rightly place more emphasis upon a stock's price-to-earnings-to-growth ratio. Right now, GoPro's PEG ratio is 0.72. Traders should not feel like they're taking a flyer on GoPro if they accept that analysts still predict this stock to have average annual earnings growth of 17.2% over the next five years.
The stock has fallen about 70% over the past year, and it seems difficult to justify that kind of decline when the marketplace for GoPro's products is growing and there are future products planned for the sizable virtual reality, drone, cloud, media and Chinese markets.
It gets harder to justify if you note that GoPro had more than $1.8 billion in revenue over the past four quarters, has just $32.8 million in long-term liabilities, and has cash and marketable securities of more than $500 million. Add to that a gross margin that ranges from 44% to 48%, operating margins of between 15% and 18'%, and adjusted earnings before interest, taxes, depreciation and amortization of about 20%, and it gets even more difficult.
Apparently, enough traders have now come to believe the narrative that says GoPro has seen its best days, and that excellent financial results won't be easy to come by when meaningful competition emerges from Garmin, Sony, Canon, Nikon and others. But look at what's selling at Best Buy's online store right now. GoPro's HERO cameras rank No. 1, No. 2 and No. 4 for popularity in the "All Camcorders" category, and occupy six of the top 10 spots in this category. In Best Buys' "Action Camcorders" category, HERO cameras hold the top six slots, ranked by popularity. Has anyone shown why this trend is imminently in danger of not continuing?
Could GoPro's hegemony in the action camera business unravel? Of course it could, but investors should wait until they see a meaningful decline in the sales rate before selling this stock. And evidence of a crack developing in GoPro's dominance in the action camera space is scant, even though Morgan Stanley analyst James Faucette suggested the September price cut in the HERO4 Session was such evidence.
According to GoPro CEO Nick Woodman, the cut in price for the Session was decided after company intelligence revealed that the Session was not selling as well as projected due to stiff competition from two other high-end competing cameras. Well, guess which cameras those were? The HERO4 Silver and HERO4 Black by GoPro. These two cameras are two of GoPro's most popular products and represent more than 50% of GoPro's revenue.
Faucette's note came after there was already nervousness about GoPro's future growth because of comments by Ambarella's CFO during that company's second-quarter earnings conference call. CFO George Laplante said during the call that he expected a decline in wearable camera revenue in the third quarter.
Investors interpreted Laplante's comment to mean that GoPro's revenue must therefore be slowing as well. But Dougherty & Company analyst Charles Anderson said in a research note that Ambarella's wearable camera business was higher than expected in the second quarter, indicating that GoPro was simply stockpiling inventory during that quarter to prepare for the coming holiday season, Investor's Business Daily reported.
The Ambarella CFO also noted that he doesn't expect any new launchings from customers in the wearable camera business, which was interpreted by investors to mean that there will be no surprise launches from GoPro before to the holiday season. And after Morgan Stanley reported Session's lackluster sales, investors who were looking for a big launch into the holiday season will now have to wait until the first half of 2016 for new product launches. The message is: The HERO4 Session is the last product launch for 2015, and don't expect any surprise revenue additions from a hot product during the holiday season to replace the disappointing sales from the HERO4. 
So what? Does a misjudgment about the potential revenue of the HERO4 Session action camera now imply that the company has peaked and warrants a 70% cut to the company's market capitalization? 
New products are scheduled for 2016. With the company's horrific guidance, you can expect a new series of high-end action cameras to rejuvenate revenue and surprise Wall Street. Investors should consider that GoPro intends to launch HERO5 and a drone product, named quadcopter, during the first half of calendar year 2016. Piper Jaffray analyst Erinn Murphy has said that the drone business could initially add at least 20 cents to EPS in 2016.
Then there is the virtual reality business that Cowen & Company has said is an "underappreciated driver" of GoPro's future revenue.
And then there's China. With 1.3 billion people and a large and growing middle class, GoPro's China revenue might overtake that from all other countries -- with the exception of the U.S. -- by 2020.
GoPro CEO Nicholas Woodman had the following to say about China during the company's second-quarter conference call in July: "China has become a Top 10 revenue generating country for GoPro, and our store count grew 31% sequentially. Later this quarter we will launch a simplified Chinese user interface for our Hero4 line of cameras and a simplified Chinese version of our mobile app."
Lastly, there's another factor that could boost this stock. GoPro has a very large short interest, with 31.7 million shares of its stock sold short as of Oct. 15. That's 48% of the stock's float. When such a large percentage of shares is sold short, any positive news could easily set off a significant short squeeze, in which short-sellers scramble to cover their positions by buying the stock. All of these shares must be bought back at some point, and any reason for the stock to move higher may create a panic-buying scenario.
Since GoPro's earnings release, analysts have been busy slashing future estimates. This is normal and expected, but the opportunity to accumulate this stock now is compelling. Shares are now priced for a near-disaster scenario in 2016. But there should be a return to a double-digit growth rate to the company's top and bottom line in 2016 with the launch of a new series of next-generation action cameras, drones, and virtual reality products, as well strong sales from China. A return to double-digit revenue and earning growth will most likely bring the stock back to its previous price ranges and make it a Wall Street darling once again.
This article is commentary by an independent contributor. At the time of publication, the author held GPRO.