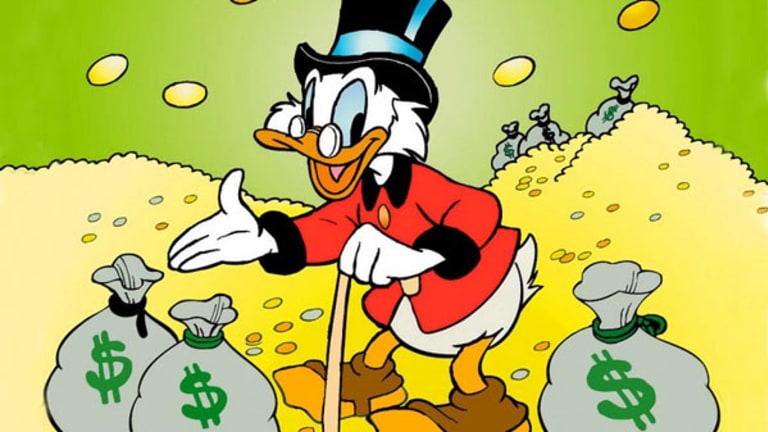 Publish date:
Why Google, Apple and Facebook Love to Hoard
Capitalism rewards innovation and smart management with big profits. But the issue isn't the wealth gathering; it's the dispensing.
Capitalism rewards innovation and smart management with big profits. But the issue isn't the wealth gathering; it's the dispensing.
NEW YORK (TheStreet) -- In this season of giving, why are the smartest and most successful companies on the planet such penny-pinching Scrooges when it comes to spending down their cash?
Apple (AAPL) - Get Apple Inc. (AAPL) Report, the world's most valuable company, sits atop a cash hoard of $147 billion, which, to put the outrage in Dickensian proportions, represents 10% of all corporate cash held by nonfinancial companies, according to Moody's.
And Apple isn't alone atop the Miserly Index. Microsoft (MSFT) - Get Microsoft Corporation (MSFT) Report holds more than $68 billion in cash and Google (GOOG) - Get Alphabet Inc. Class C Report nearly $50 billion. In fact the combined cash and liquid assets of the giants of tech -- Apple, Microsoft, Google, Cisco (CSCO) - Get Cisco Systems, Inc. Report, Oracle (ORCL) - Get Oracle Corporation Report and Facebook (FB) - Get Facebook, Inc. Class A Report -- accumulates to more than $340 billion, a fivefold increase in unspent corporate wealth since the turn of the century.
To be sure, capitalism rewards innovation and smart management with big profits. Companies who by dint of hard work and good stuff make tons of money are doing precisely what they are supposed to be doing.
But the issue isn't the gathering of wealth; it's the dispensing.
"Academic research shows that companies with the highest levels of cash go on to become less profitable in the long term," writes the Wall Street Journal's Jason Zweig. "One recent study found that high-cash firms earn future profit margins 1.5 percentage points lower than those that carry the least cash."
Not only is hoarding cash dumb for business, it's hurtful to the economy.
"This extraordinary [tech] penchant for savings has been antisocial," says John Plender of the Financial Times, especially in the wake of the 2008-2009 financial crisis "when the world was suffering from deficient demand."
Why, he asks, are the juggernauts of technology, flag carriers in the world's digitization revolution, "acting like misers in a Balzac novel."
Surely there are plenty of brainy young companies worthy of being acquired, and surely plenty of stockholders -- whose faith often sustained the tech companies during the lean years -- worthy of being rewarded through dividends or other paybacks.
Yet that is seldom the case. Often a good deal of the money goes into imperial trappings for the company's executives or headquarters, giant pontooned yachts for an Oracle chieftain or redwood-clad mansions for lucky elite of Microsoft or Google or Facebook.
"Excess cash can goad chief executives into making impulsive acquisitions at high prices," writes Zweig, "splurging on palatial headquarters or overfunding underwhelming projects."
Economist John Maynard Keynes found only one reason for the keeping of large volumes of cash in company coffers: "the love of money as a possession."
That possession "distinguished from the love of money as a means to the enjoyments and realities of life," he wrote, "will be recognized for what it is, a somewhat disgusting morbidity, one of those semi-criminal, semi-pathological propensities which one hands over with a shudder to the specialists in mental disease."
How to heal the disease?
One cure might be to restructure corporate governance of the Big Techs. Many of them -- notably Apple and Facebook -- created two-tiered voting mechanisms that allow the founders to weigh in all major decisions, in some cases keep effective control, no matter the interests of the majority of stockholders.
"They are under little pressure," says Plender, "to raise payouts."
Another cure might be to hand back cash to the investors. Apple and Google have begun to do so via their dividend programs. Google, however, has never paid a dividend, which has become more the rule than the exception in the industry.
Perhaps the best reason to spend down the cash is that it's the right thing to do -- for survival.
Google and Apple and Facebook might look at the trajectories of the many tech companies who were skinflints with their piles of cash -- once lustrous names like Blackberry undefined, Sun Microsystems, Kodak (KODK) - Get Eastman Kodak Company Report (Kodak: The End of an American Moment) and DEC -- and got Scrooged themselves.
--By William Inman in New York