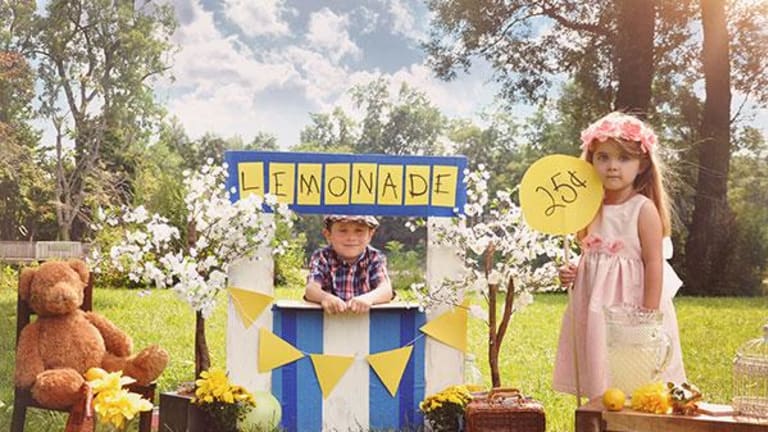 Why General Mills' Senior Executives Are Working at Lemonade Stands
To more quickly find the next must-eat food, execs at the cereal giant have adopted an unconventional approach.
General Mills (GIS) - Get Report may soon have a hot new product on supermarket shelves in a Larabar nut butter.
But the cereal and snack giant hasn't arrived to this point of widespread distribution for a nut butter after subjecting it to hundreds of rounds of expensive focus group tests at its Minneapolis-based headquarters.
Instead, General Mills' senior most executives have set up shop on three occasions at a retail store to hand out free samples and gauge the consumer response. General Mills calls the product demos "lemonade stands" where execs -- even long-time Chairman and CEO Ken Powell -- go into cooking schools, farmers markets or a retailer for a day to test out a product concept.
The company is using the lemonade stands to develop and get new products out faster in an industry where food entrepreneurs seem to be popping up each day with a potentially hot healthy-for-you item. According to General Mills, the shift in how products are tested -- more lemonade stands, less focus groups -- have increased speed to market in some instances from about 24 months to less than 12 months.
Wall Street appears to appreciate General Mills' renewed commitment to pounding the pavement to test a product, as well its continued cost-cutting efforts. Shares of General Mills have gained an impressive 25% over the past year, out-performing the S&P 500's increase of 2%.
TheStreet sat down with several General Mills execs at the New York Stock Exchange Wednesday to discuss their experiences from operating these lemonade stands why they are so important. What follows is a condensed and edited version of our conversation.
Larabar may have a nut butter out soon, after it was tested on a lemonade stand.
Bethany Quam, president, Convenience & Food Service: I did one in a convenience store of a gas station, which was my favorite one. So I am standing there at 6:00 a.m. in the morning because that's when they are the busiest, and it was full of young millennial males. We were trying to give them a hot cinnamon roll. You learn, first of all, they do not to make eye contact with you because they think you may give them something. Their hands are full because if you go into a convenience store you will do two things -- get a beverage and something for breakfast. So, unless you throw the sample in their mouth it's challenging.
While this was funny, it provided some great learning. We were trying to see if we could sell a Pillsbury hot cinnamon roll inside a convenience store bakery case. What we learned was that there was no way we would because the shopping pattern is that people are in the store for two minutes and thirty seconds and that's it. If they were going to get a warmer product, they would get something savory such as a biscuit sandwich with an egg in it. If I wanted something sweet, they would go to the bakery case [to buy a roll or donut]. We ultimately saved a lot of money by not launching a product that may not have been right.
We ended up launching a Pillsbury cinnamon roll that sits by the bakery case versus under the hot warmer.
Ken Powell, chairman and CEO: The most recent one I did was a Nature Valley peanut butter snack, which I did at a very early stage at a store in Minneapolis. We learned a lot, it was a great experience. You have the marketing people and the research and development team that created the product on hand observing the interaction with consumers. They are looking to see if people notice the product, which is interesting because that is really a good test of a product even if it's semi artificial [of a setting]. Then people often try the product right there.
So this is a great way to get early, rapid feedback for the people who are creating the product without any intermediaries. We went onto launch that product.
New products are now being incubated differently at General Mills.
Jeff Harmening, president and chief operating officer: A couple of important things to these lemonade stands is that the entire team goes through it together, so you don't end up getting one version of the truth. You have R&D, marketing and finance people all there learning at the same time so things don't have to be passed down from generation to generation.
We got started down this track because when we looked at our innovation, we were wondering how we can make it even better. We noticed that people winning in the marketplace were small companies, so we looked at startups and entrepreneurs and how they do things. I can tell you that they don't field $50,000 consumer research tests -- they go out and try to sell their products to people. When it doesn't work out like they thought it would, they adapt and keep doing so until they get it right.
We felt there was a better, faster way to innovate, and we can scale up products better than anyone else. It's about getting the right insight upfront. And I can tell you from a team perspective, once you try to sell something you get a pretty good idea if a product will work -- it's not just a theory on paper.
Shawn O'Grady, president, Sales and Channel Development: There is a huge benefit to doing these tests with the customer. When you launch something with the consumer, they expect it to just work. If you do a lemonade stand with a customer, they expect it to fail. But then they feel like they are part of changing the product, developing the product with you so when you do launch it, they feel as if they are committed to the success of that product.
We mostly do these with warehouse club stores and in the natural and organic channel because they have consumers that are at the cutting edge of new products. But also because they have a mentality of let's try a product and let it fail, and then we will be with you when the final product launches.
Alexandra Heffern contributed to this report.