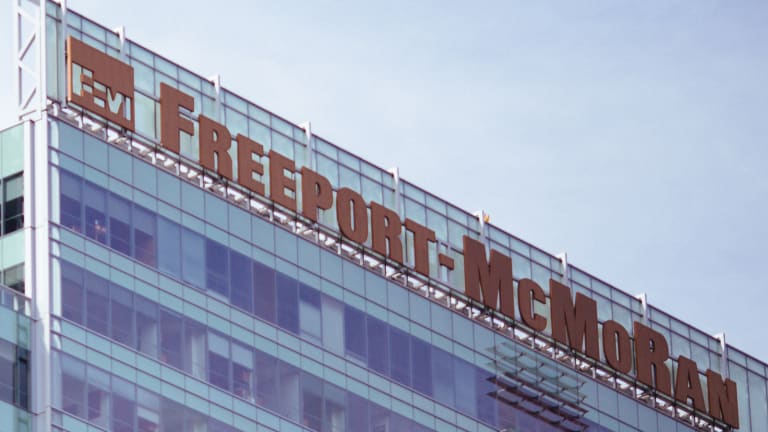 Why Freeport-McMoRan Is the Worst Stock in the World
The trend is definitely not Freeport-McMoRan's friend. This post is part of TheStreet's ongoing search to find the Worst Stock in the World.
In what could be the most important election of 2016, TheStreet is looking for the Worst Stock in the World and we need your help. In these times of market turbulence, it's our job to watch out for the worst investments that can sink your portfolio. Our search is not merely limited to the worst stock in the Dow or S&P. We are going global and accepting nominations from our readers for the absolute worst stock in the world. This article is part of an ongoing series talking about these stocks and why they're the worst. If you have an idea as to what the worst stock in the world is, email us at worststock@thestreet.com.
The normally staid Economist magazine made a rather bold call in its July 21, 2015, issue when it said we were entering into a "great bear market" in commodities. And as most commodities traders know, copper is considered a bellwether for the state of the commodities markets in general. That's why copper is known as "Dr. Copper."
So, it is only logical that one of the world's largest producers of copper and other base metals -- Freeport-McMoRan (FCX) - Get Freeport-McMoRan, Inc. (FCX) Report -- should be negatively impacted. As copper is down over 50% from 2014, Freeport-McMoRan has been more than hard hit. In 2015, Freeport-McMoRan stock price lost over 71% of its value and it has continued that trend into 2016.
data by
Dr. Dividend
Just as the price of copper is a strong tell for the general commodity markets, so too is the dividend policy and performance of a company. When a company cuts its dividend rate or payout ratio, the company is signaling financial problems and the stock price goes down as investors seek more stable total return elsewhere. This action puts even more downward pressure on the stock's price as others react to the downward price movement. As a matter fact, at the start of 2015, the Reality Shares DIVCON dividend health rating and market research tool rated the stock DIVCON 2, predicting a high probability of Freeport-McMoRan reducing its dividend. And within the last year, Freeport-McMoRan has completely suspended its dividend until further notice (Dec. 9, 2015).
Freeport-McMoRan, China and Growing Debt Load
China's new economic paradigm of focusing less on manufacturing and more on domestic consumption has hit Freeport-McMoRan hard as China formerly purchased 50% of Freeport-McMoRan's copper production. But what has really made Freeport-McMoRan a candidate for one of the worst current investments is what has happened to its balance sheet.
With interest rates so low, the board of Freeport-McMoRan decided several years ago to go on a buying spree and increased its debt by $20 billion. One of its largest purchases was made up of two oil and gas companies just about the time oil and gas prices started their downward move.
Moody's Downgrades FCX Bonds to Junk Status
To pour salt on the wound, Moody's recently cut Freeport-McMoRan senior credit ratings from B1 to BAA3, making the bonds a "dangerous" investment. Apparently, the recent cut is based on the belief that the current deflationary scenario in copper and oil is likely to continue. At the same time, one remedy for Freeport-McMoRan to reduce its debt would be to sell some assets, but the only assets being considered for sale are the two recent purchases of oil and gas companies, selling into a weak market. Sensing weakness, Wall Street activist investor and disrupter Carl Icahn has taken an interest in Freeport-McMoRan.
Freeport-McMoRan and Pollution
Another less tangible factor in the ugly fundamentals backdrop for Freeport-McMoRan is the environmental impact of its business. Many of its 21 different subsidiaries operate highly polluting mining operations in emerging and developing countries. This extreme local pollution created by mining operations is starting to meet with local upheaval from farmers and unions. In fact, Freeport-McMoRan has been forced to buy protection by contracting some of the host nations' military to keep violence under control at some of its mining operations. Given the growing preoccupation with the environment and public health, Freeport-McMoRan also has to spend high dollar amounts to stay in compliance as well as to fight against a myriad of new and proposed environmental regulations around the globe.
Freeport-McMoRan and the 1%
While it may not have a direct effect on the current situation, geopolitics in the global scheme of things can impact multinational enterprises like Freeport-McMoRan. According to a study by Project Censored, "The board represents a portion of the global 1% who not only control the largest gold and copper mining company in the world, but who are also interconnected by board membership with over two dozen major multinational corporations, banks, foundations, military and policy groups. This 12-member board is a tight network of individuals who are interlocked with-and influence the policies of-other major companies controlling about $200 billion in annual revenues." While some might say this is a good thing, others may say that very soon the poor may be eating the rich.
Freeport-McMoRan is not a company investors should own at this time. In fact it represents what can happen to a century-old company and leader in its field when the macroeconomics of its sector goes against its interests. The trend is definitely not Freeport-McMoRan's friend. When Dr. Copper starts to regress back toward its mean and it starts to raise its dividend rate, then it just might turn into a butterfly. But until then, it is recommended that investors stay away from Freeport-McMoRan.
This article is commentary by an independent contributor. At the time of publication, the author held was short FCX.
This material is for information purposes only, and does not constitute an offer to sell securities.
This publication has been prepared and issued by Reality Shares, Inc. ("Reality Shares"). Reality Shares makes no express or implied warranties, and expressly disclaims all warranties of merchantability or fitness for a particular purpose or use with respect to any data included in this publication. Without limiting any of the foregoing and to the extent permitted by law, in no event shall Reality Shares, nor any affiliate, nor any of their respective officers, directors, partners, or employees, have any liability for (a) any special, punitive, indirect, or consequential damages; or (b) any lost profits, lost revenue, loss of anticipated savings or loss of opportunity or other financial loss, even if notified of the possibility of such damages, arising from any use of this publication or its contents.
This publication does not constitute general or personal investment advice or take into account the individual financial circumstances or investment objectives, or financial conditions of the users who receive it. This does not constitute an offer or solicitation to purchase or sell any securities or funds, nor shall any securities be offered or sold to any person in any jurisdiction in which an offer, solicitation, purchase, or sale would be unlawful under the securities laws of such jurisdiction. Investing involves risks, including possible loss of principal. Past performance is not necessarily indicative of future results.
Dividends are not guaranteed, and a company's future ability to pay dividends may be limited. A company currently paying dividends may stop paying dividends at any time.
Other than disclosures relating specifically to Reality Shares, the information, statistical data and material contained in this publication has been obtained from publicly available sources that Reality Shares believes to be reliable, but Reality Shares does not represent or warrant that it is accurate or complete.
Copyright © 2016 Reality Shares, Inc. All rights reserved.